West Virginia
Trillion Dollar Highway Plans
= Multiple Bypass Surgery
a state by state list
High Priority Corridors
specified by Congress in 1991, 1995, 1998, 2005, 2012
NAFTA Superhighways
Corridors of the Future
J. Edgar Hoover Parkway: transportation surveillance,
mileage taxes, RFID & video tolling
Paving Appalachia:
Corridor A to X in AL, GA, MD, MS, NC, NY, OH, PA, SC, TN, VA, WV
Alabama
Nebraska
Alaska
Nevada
Arizona
New Hampshire
Arkansas
New Jersey
California
New Mexico
Colorado
New York
Connecticut
North Carolina
Delaware
North Dakota
Florida
Ohio
Georgia
Oklahoma
Hawai'i
Oregon
Idaho
Pennsylvania
Illinois
Rhode Island
Indiana
South Carolina
Iowa
South Dakota
Kansas
Tennessee
Kentucky
Texas
Louisiana
Utah
Maine
Vermont
Maryland
Virginia
Massachusetts
Washington
Michigan
Washington, D.C.
Minnesota
West Virginia
Mississippi
Wisconsin
Missouri
Wyoming
Montana
High Priority Corridor 3: East - West Transamerica Corridor
I-66, US 460, Kentucky 80, US 400, US 54, I-40
East-West Transamerica Corridor commencing on the Atlantic Coast in the Hampton Roads area going westward across Virginia to the vicinity of Lynchburg, Virginia, continuing west to serve Roanoke and then to a West Virginia corridor centered around Beckley to Welch as part of the Coalfields Expressway described in section 1069(v), then to Williamson sharing a common corridor with the I-73/74 Corridor (referred to in item 12 of the table contained in subsection (f)), then to a Kentucky Corridor centered on the cities of Pikeville, Jenkins, Hazard, London, Somerset; then generally following the Louie B. Nunn Parkway corridor [I-66] from Somerset to Columbia, to I-65; then to Bowling Green, Hopkinsville, Benton, and Paducah, into Illinois, and into Missouri and exiting western Missouri and moving westward across southern Kansas.
High Priority Corridor 5: I-73/74 North-South Corridor
I-73, I-74, routes 27, 127, 223, 23, 52, 220, 501
In the States of West Virginia, Kentucky, and Ohio, the Corridor shall generally follow--

United States Route 460 from the West Virginia State line to United States Route 52 at Bluefield, West Virginia; and
United States Route 52 to United States Route 23 at Portsmouth, Ohio.
Part of this High Priority Corridor would include the "King Coal Highway." www.wvkingcoal.com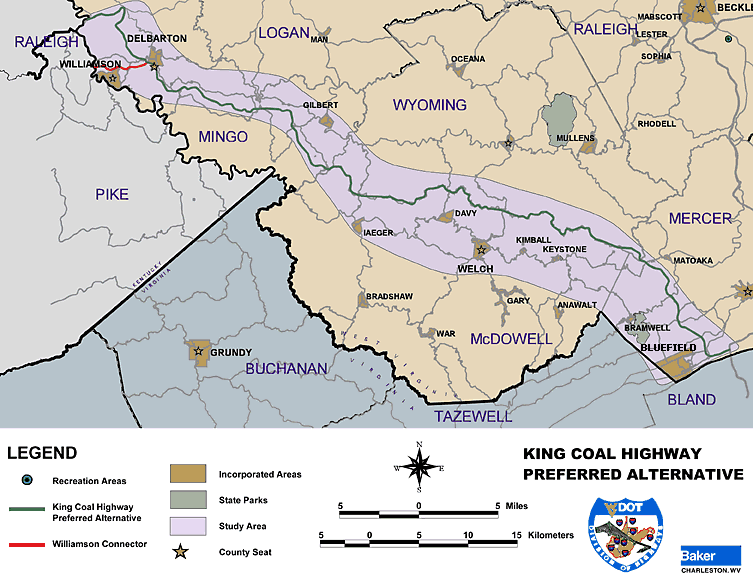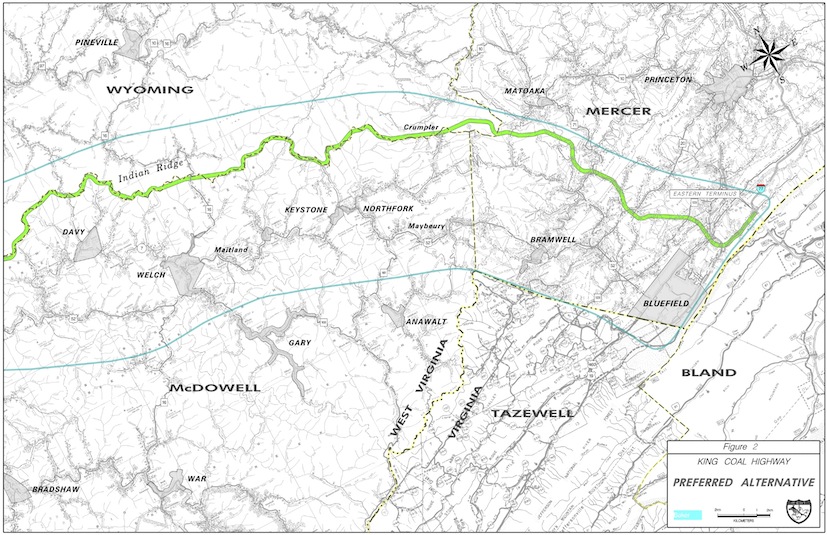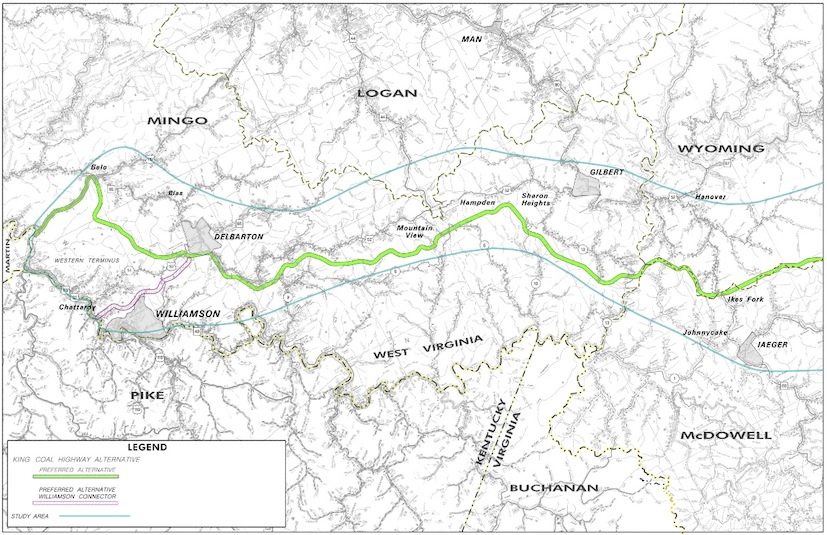 ---
High Priority Corridor 29: Coalfields Expressway
The Coalfields Expressway beginning at Beckley, West Virginia, to Pound, Virginia, generally following the corridor defined as State Routes 54, 97, 10, 16, and 83.
www.coalfieldsexpressway.com West Virginia Department of Transportation
Brief Narrative about the Project

Proposed 4-lane partial access control divided highway between the WV Turnpike (I-64/77) near Beckley and Appalachian Corridor B (US 23) at Pound, VA; approximate length in WV is 60 miles
Identified in NHS Act of 1995 as High Priority Corridor #29
Designated as part of National Highway System by NHS Act of 1995
Coalfields Expressway Authority (advisory only) created by WV Legislature (S.B. 409) in 1996
Estimated remaining construction cost of WV portion (excluding R/W)-- $1 billion
Federal Record of Decision rendered June 2000
www.coalfieldsexpressway.com/route/index.html
Congress in 1995 designated the Coalfields Expressway as a "Congressional High Priority Corridor." At the same time, Congress extended the Expressway concept further into Virginia, generally following Virginia Route 83 through not only Buchanan but also Dickenson and Wise counties.
www.virginiadot.org/projects/bristol/coalfields_expressway_ppta_project.asp - Virginia DOT
Designated as part of the national highway system, the new road will link Interstates 64 and 77 in West Virginia with Route 23 in Virginia, which links to interstates in Kentucky and Tennessee.

Cost
Approximately $2.8 Billion (2008 estimate)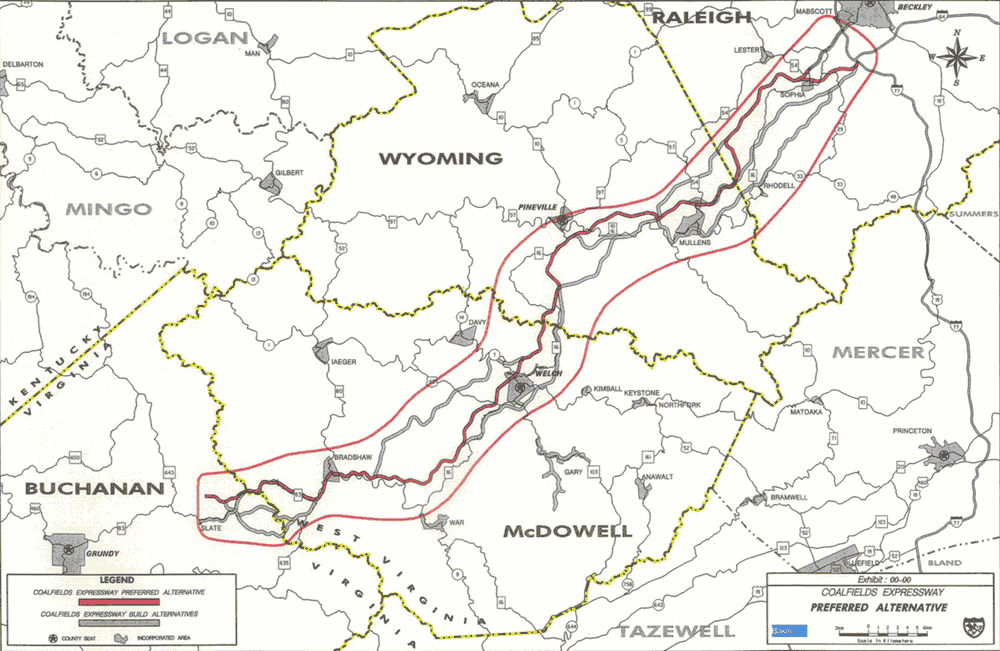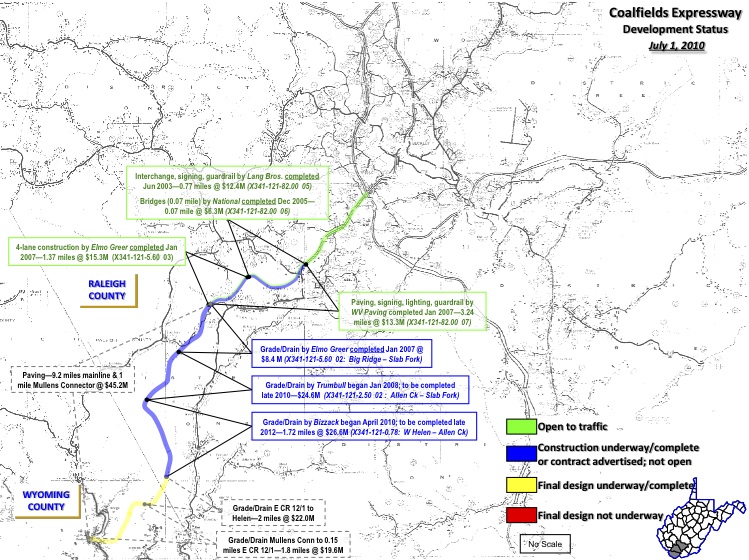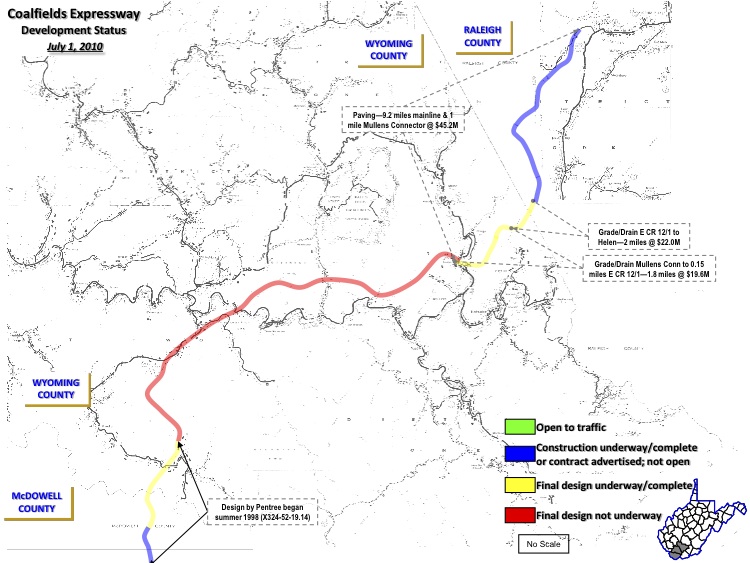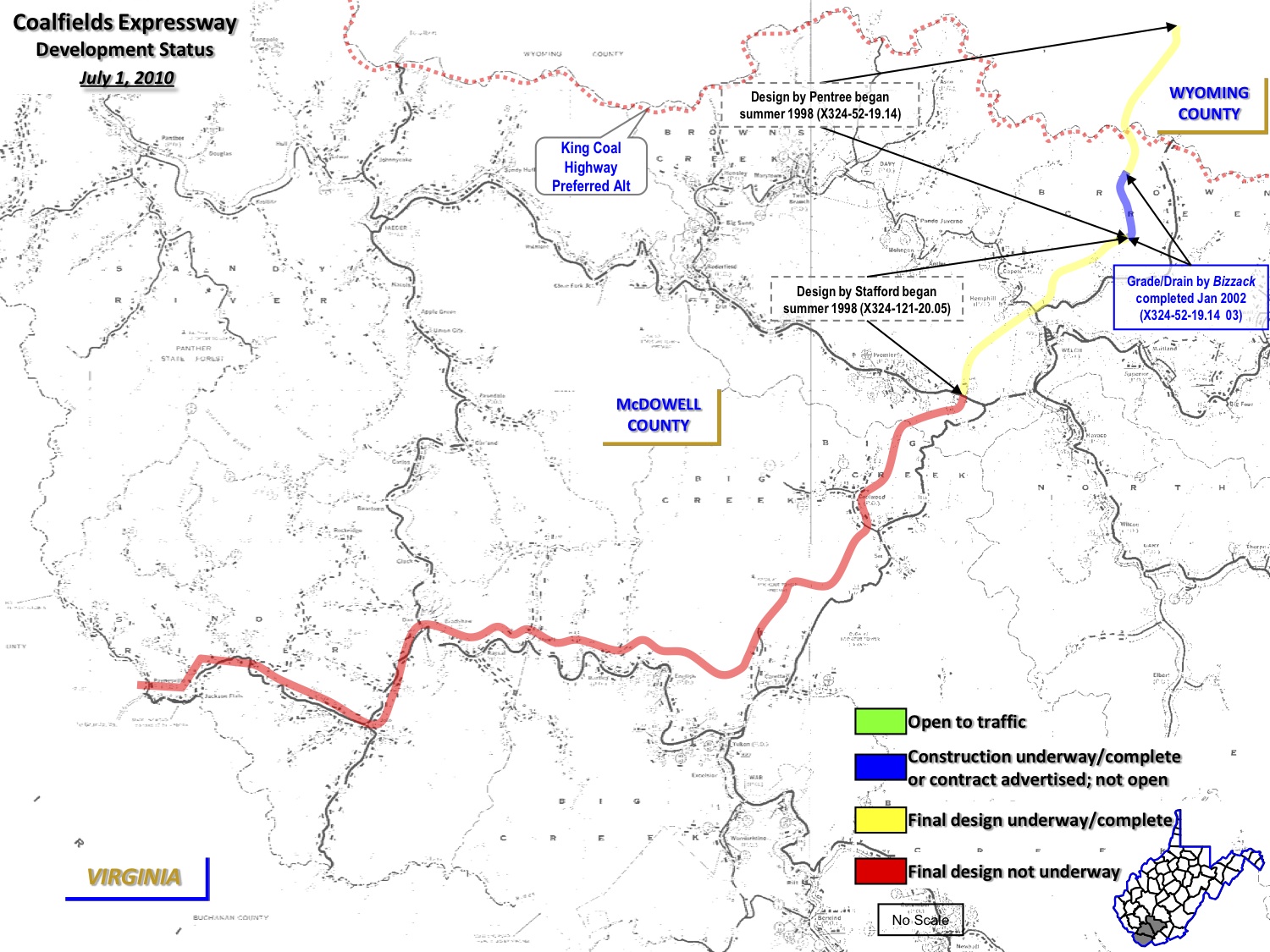 High Priority Corridor 31: Mon-Fayette Expressway and Southern Beltway
The Mon-Fayette Expressway is Tollroad 43.
see Pennsylvania section
---
Corridor H (being built, lawsuit unsuccessful) long fought highway, now partly built, very rural but extremely destructive to central Appalachians. It's also costing much more to build than was claimed.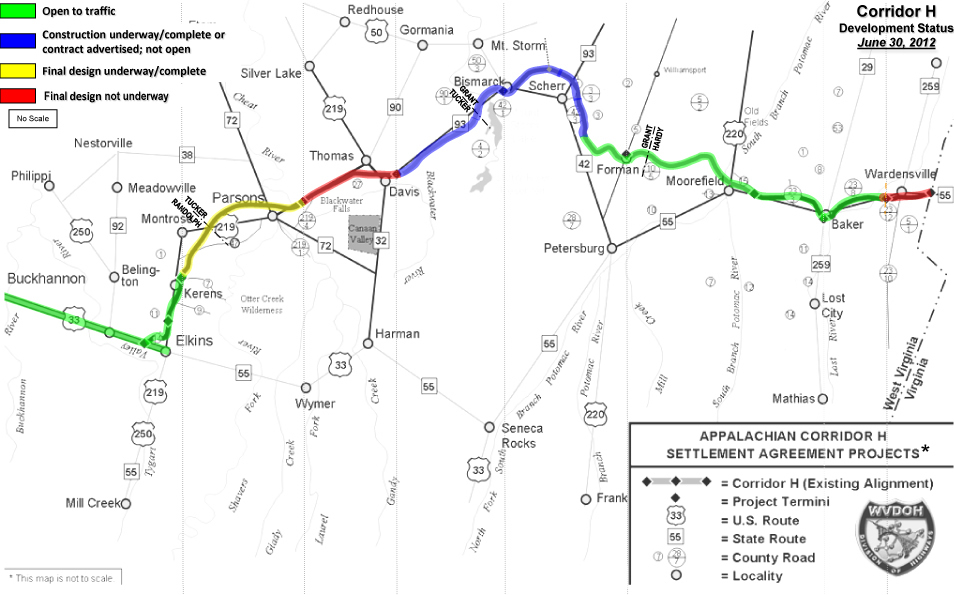 www.wvcorridorh.com
official site
potomacstewards.com/corridorh
Stewards of the Potomac Highlands - page on Corridor H construction
www.users.cloud9.net/~kenner/cha/CHhome.html
archived site of Corridor H Alternatives
---
www.transportation.wv.gov/highways/programplanning/preliminary_engineering/corridorstudies/Pages/default.aspx
Major Corridor Studies
King Coal Highway, Williamson to Bluefield (Completed)
Coalfields Expressway, Beckley to VA State Line near Grundy, VA (Completed)
North South Appalachia Corridor Feasibility Study - (North/South Appalachian Corridor Study)
---
Elkins Bypass
---
West Virginia Highway 9 (outer suburbs of Washington area) - mostly built
www.transportation.wv.gov/highways/Highways-Projects/WV_Route_9/Pages/default.aspx
Project Sections
- Charles Town to the Virginia State Line
- Charles Town to Martinsburg
- Martinsburg Bypass
- Berkeley Springs to Martinsburg

One of the key elements of improving highway travel in the Eastern Panhandle is a new Martinsburg Bypass. The Division of Highways proposes to construct an approximate 5-mile bypass around Martinsburg in Berkeley County. The project is designed to improve traffic safety in the area while freeing Martinsburg from its current traffic congestion problems. The Bypass would also improve access throughout the study corridor.

The Division of Highways conducted a public information workshop meeting on the project January 28, 2003 and received public comments through February 28, 2003. Nine build alternatives ranging in cost from $110 to $161 million were presented to the public at the meeting. In addition, four Raleigh Street Extension alternatives were studied and presented, as requested by local public officials. [additional cost to the much more expensive Route 9 freeway]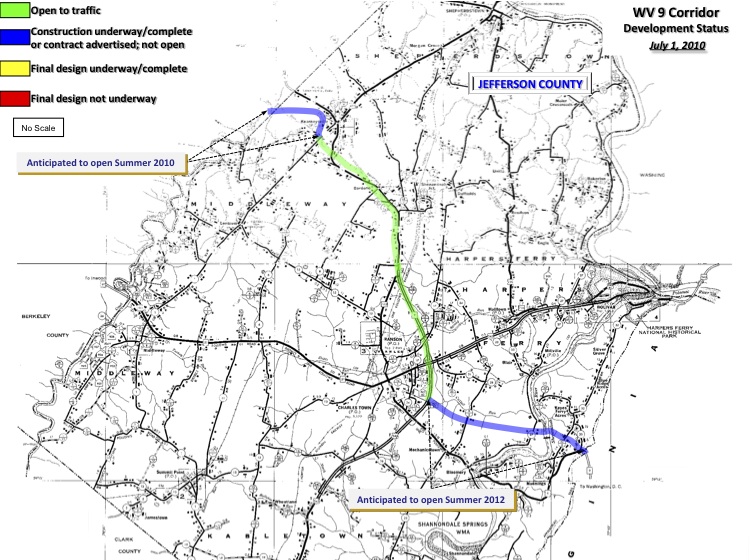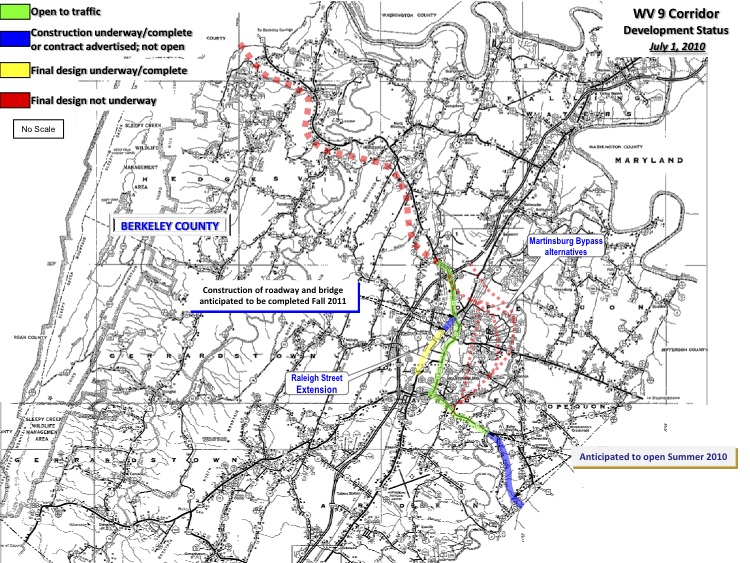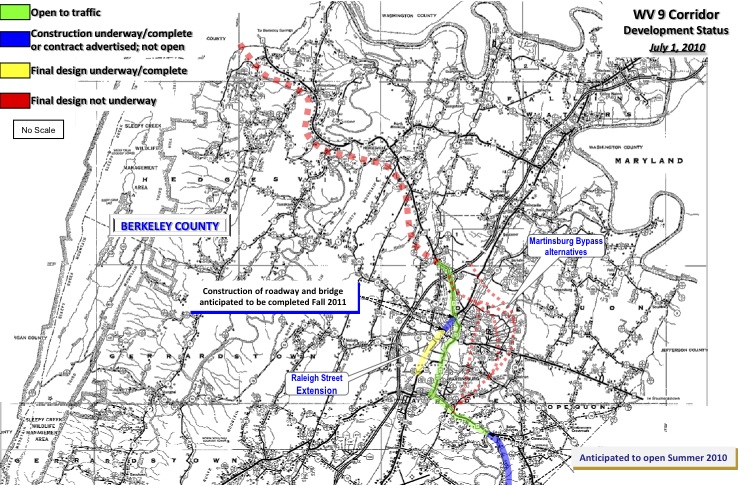 I-68 extension west of Morgantown
Route 220
http://roadapp.org/us-220-deis-corridors-study
North-South Appalachian Highway Coalition
This coalition was formed as a result of action taken by The Greater Cumberland Committee (TGCC), a regional business-based organization representing five counties in three states, including Maryland (Allegany & Garrett), Pennsylvania (Bedford & Somerset) and West Virginia (Mineral). The effort of TGCC to foster major regional economic development projects and policies has moved the North-South Appalachian Corridor project forward dramatically since 2009.
The North-South Appalachian Highway Coalition members now include the County governments of Cambria and Somerset Counties in Pennsylvania, the County governments of Garrett and Allegany in Maryland, and the Mineral County government in West Virginia. Those County Governments represent well over 354,000 citizens, numerous businesses and their employees. The business representation includes those both small and large, corporate and private and boasts an employee representation of over 26,000.