Virginia
Trillion Dollar Highway Plans
= Multiple Bypass Surgery
a state by state list
High Priority Corridors
specified by Congress in 1991, 1995, 1998, 2005, 2012
NAFTA Superhighways
Corridors of the Future
J. Edgar Hoover Parkway: transportation surveillance,
mileage taxes, RFID & video tolling
Paving Appalachia:
Corridor A to X in AL, GA, MD, MS, NC, NY, OH, PA, SC, TN, VA, WV
Alabama
Nebraska
Alaska
Nevada
Arizona
New Hampshire
Arkansas
New Jersey
California
New Mexico
Colorado
New York
Connecticut
North Carolina
Delaware
North Dakota
Florida
Ohio
Georgia
Oklahoma
Hawai'i
Oregon
Idaho
Pennsylvania
Illinois
Rhode Island
Indiana
South Carolina
Iowa
South Dakota
Kansas
Tennessee
Kentucky
Texas
Louisiana
Utah
Maine
Vermont
Maryland
Virginia
Massachusetts
Washington
Michigan
Washington, D.C.
Minnesota
West Virginia
Mississippi
Wisconsin
Missouri
Wyoming
Montana
High Priority Corridor 3: East - West Transamerica Corridor
I-66, US 460, Kentucky 80, US 400, US 54, I-40
East-West Transamerica Corridor commencing on the Atlantic Coast in the Hampton Roads area going westward across Virginia to the vicinity of Lynchburg, Virginia, continuing west to serve Roanoke and then to a West Virginia corridor centered around Beckley to Welch as part of the Coalfields Expressway described in section 1069(v), then to Williamson sharing a common corridor with the I-73/74 Corridor (referred to in item 12 of the table contained in subsection (f)), then to a Kentucky Corridor centered on the cities of Pikeville, Jenkins, Hazard, London, Somerset; then generally following the Louie B. Nunn Parkway corridor [I-66] from Somerset to Columbia, to I-65; then to Bowling Green, Hopkinsville, Benton, and Paducah, into Illinois, and into Missouri and exiting western Missouri and moving westward across southern Kansas.
High Priority Corridor 5: I-/74 North-South Corridor
I-73, I-74, routes 27, 127, 223, 23, 52, 220, 501
In the Commonwealth of Virginia, the Corridor shall generally follow--

United States Route 220 from the Virginia-North Carolina border to I-581 south of Roanoke;
581 to I-81 in the vicinity of Roanoke;
I-81 to the proposed highway to demonstrate intelligent transportation systems authorized by item 29 of the table in section 1107(b) in the vicinity of Christiansburg to United States Route 460 in the vicinity of Blacksburg; and
United States Route 460 to the West Virginia State line.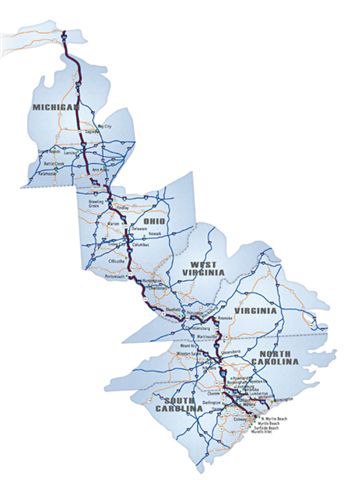 High Priority Corridor 12: United States Route 25E Corridor
United States Route 25E Corridor from Corbin, Kentucky, to Morristown, Tennessee, via Cumberland Gap, to include that portion of Route 58 in Virginia which lies within the Cumberland Gap Historical Park.
High Priority Corridor 13: Raleigh - Norfolk Corridor State Route 64 and 17
High Priority Corridor 17: US 29
US 29, I-785 (future)
Greensboro, NC to Washington, DC
High Priority Corridor 25: State Route 168
State Route 168 (South Battlefield Boulevard), Virginia, from the Great Bridge Bypass to the North Carolina State line.

A new tollroad has been completed on this route. The notorious Blackwater mercenary firm (now named "Xe") is near the southern terminus, near Moyock, NC.
High Priority Corridor 29: Coalfields Expressway
The Coalfields Expressway beginning at Beckley, West Virginia, to Pound, Virginia, generally following the corridor defined as State Routes 54, 97, 10, 16, and 83.

www.virginiadot.org/projects/bristol/coalfields_expressway.asp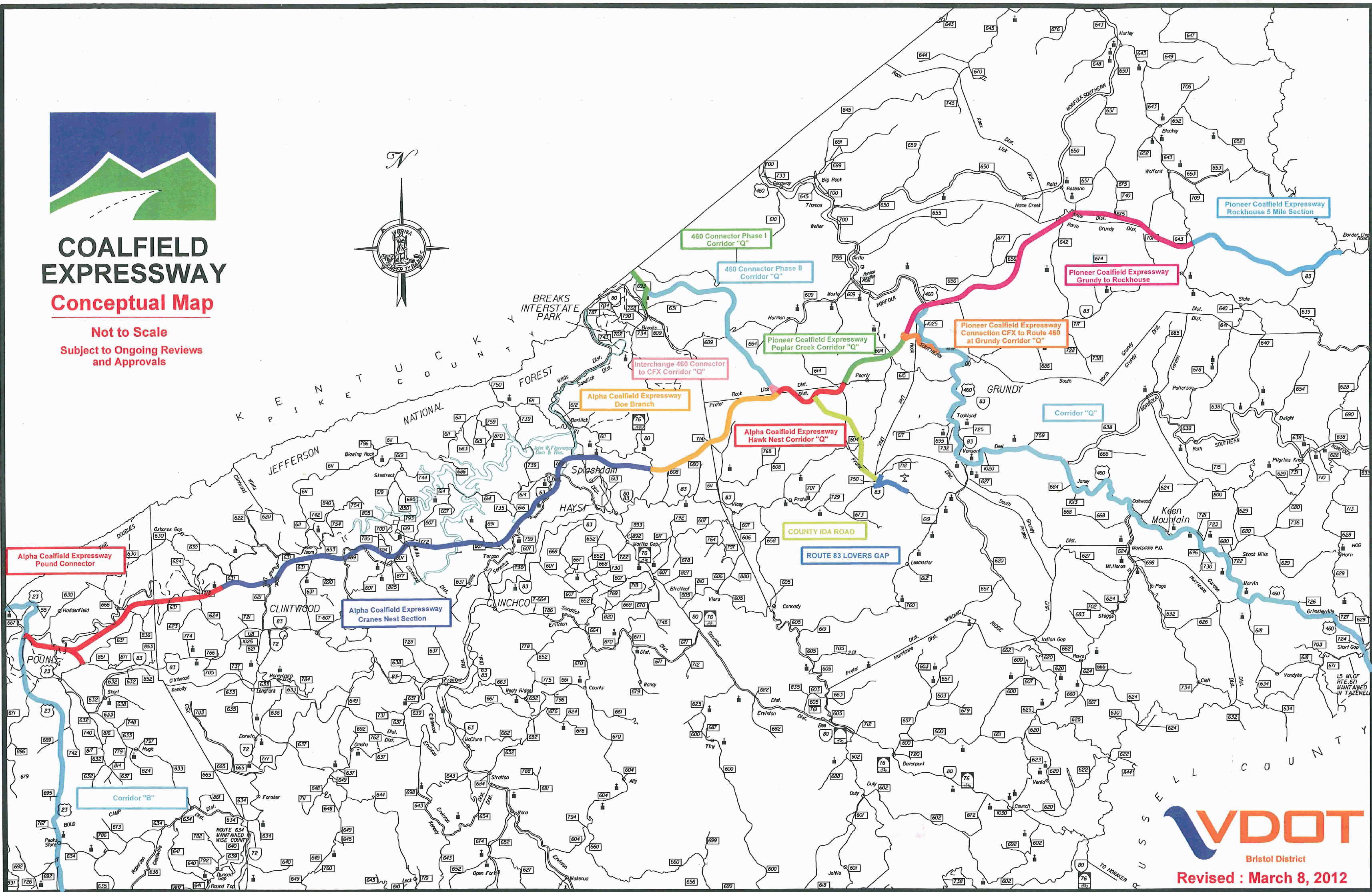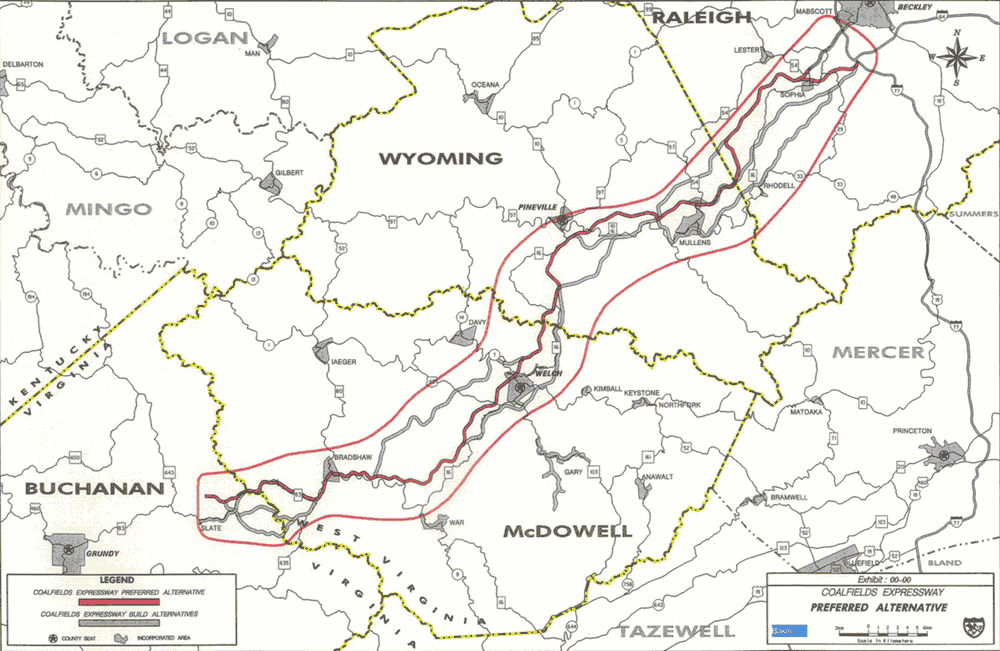 from: Smart Choices, Less Traffic: The 50 Best and Worst Transportation Projects In the United States, Sierra Club Beyond Oil Campaign, November 2012
http://content.sierraclub.org/beyondoil/content/smart-choices-less-traffic

The Coalfields Expressway, located in Southwest Virginia, is a proposed project to construct a new four-lane highway through rural areas of the Appalachian Mountains via mountain top removal coal mining methods. This project is a partnership between the Virginia Department of Transportation and the coal industry, which will benefit from easier permitting requirements and the coal extracted from the project. The project is expected to cost $2.1 billion, not including the external costs of mountaintop removal, which pollute ground and surface water, fills valleys and flattens mountains, destroys habitat, and negatively impacts the health of the region's inhabitants. A recent study has shown that birth defects are almost twice as common in areas subject to mountaintop removal mining. Although the CFX is touted as an economic development activity, the region has little traffic demand, and the road will bypass existing economic centers. The State of Virginia has allocated over $250 million for the project rather than use the money to maintain current roads and expand public transportation.
High Priority Corridor 40: the Greensboro Corridor
The Greensboro Corridor from Danville, Virginia, to Greensboro, North Carolina, along United States Route 29. [seems to be a duplicate of Corridor 17]
---
Fairfax County Parkway
extension to I-95 being built for the new compound of the National Geospatial-Intelligence Agency (formerly called Defense Mapping Agency), also under construction at Fort Belvoir.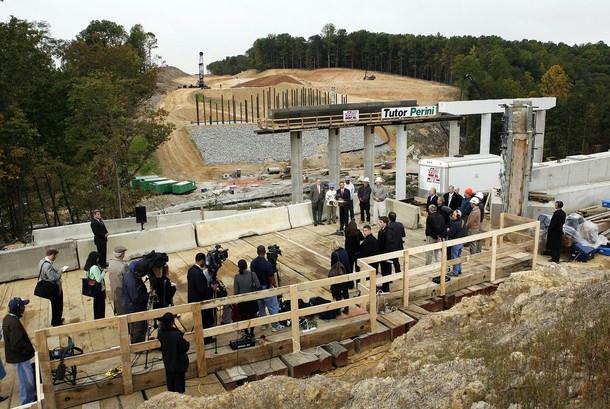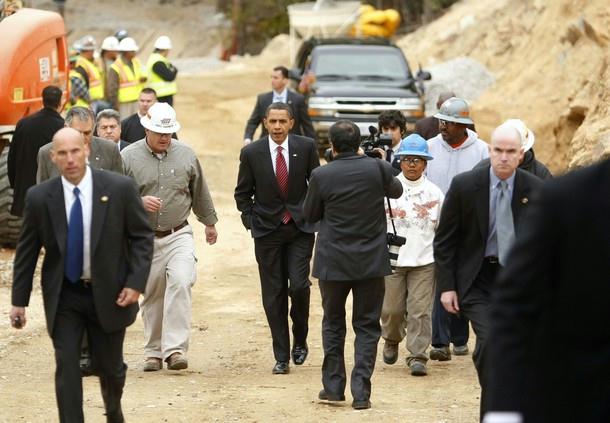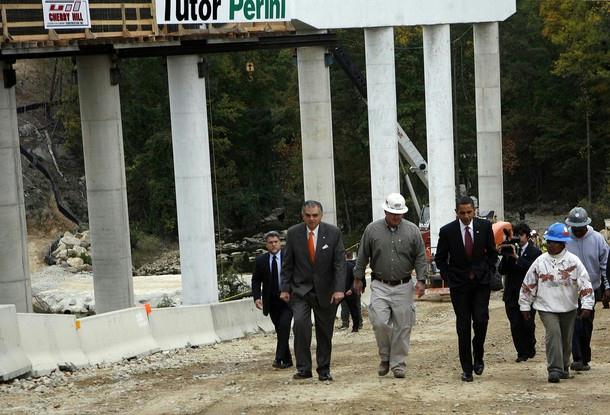 ---
Northern Virginia / Washington, D.C. suburbs:
Dulles Airport recently added a fourth runway with a fifth planned.
Capitol Beltway widening underway in Virginia for toll lanes
Springfield interchange - I-95 / I-395 / I-495 - one of the largest interchanges ever built
numerous other widenings, bypasses and upgrades underway or finished in Northern Virginia to serve Military Industrial Complex bases and contractors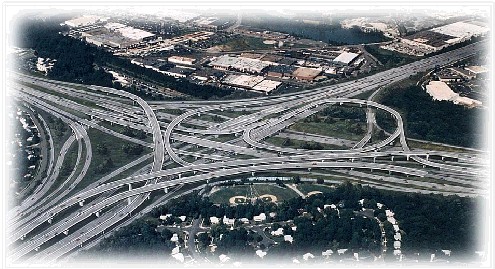 Washington Board of Trade promotion of Potomac River bridges and Outer Beltway segments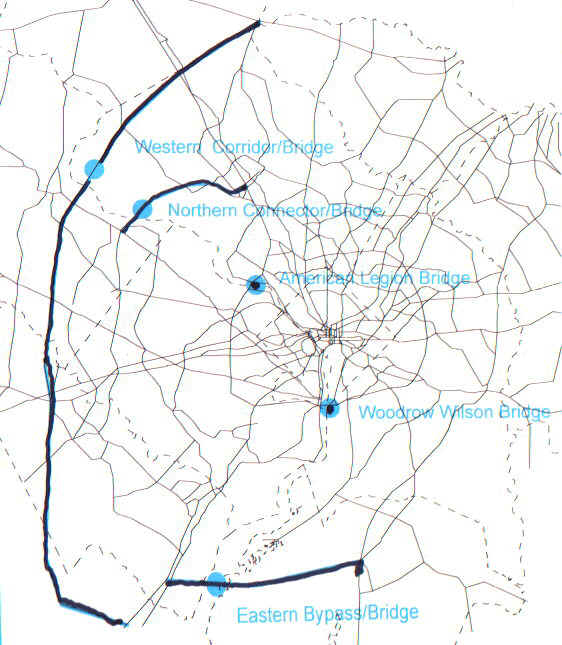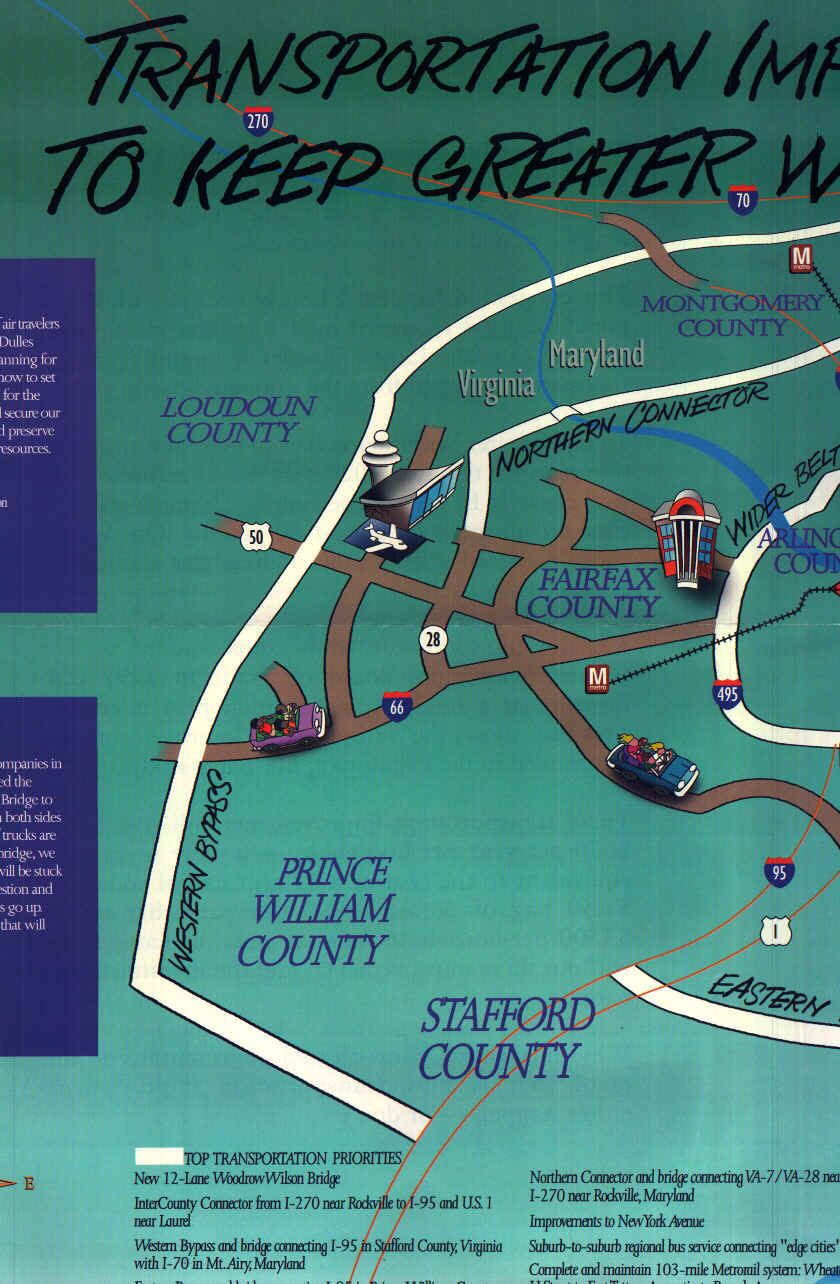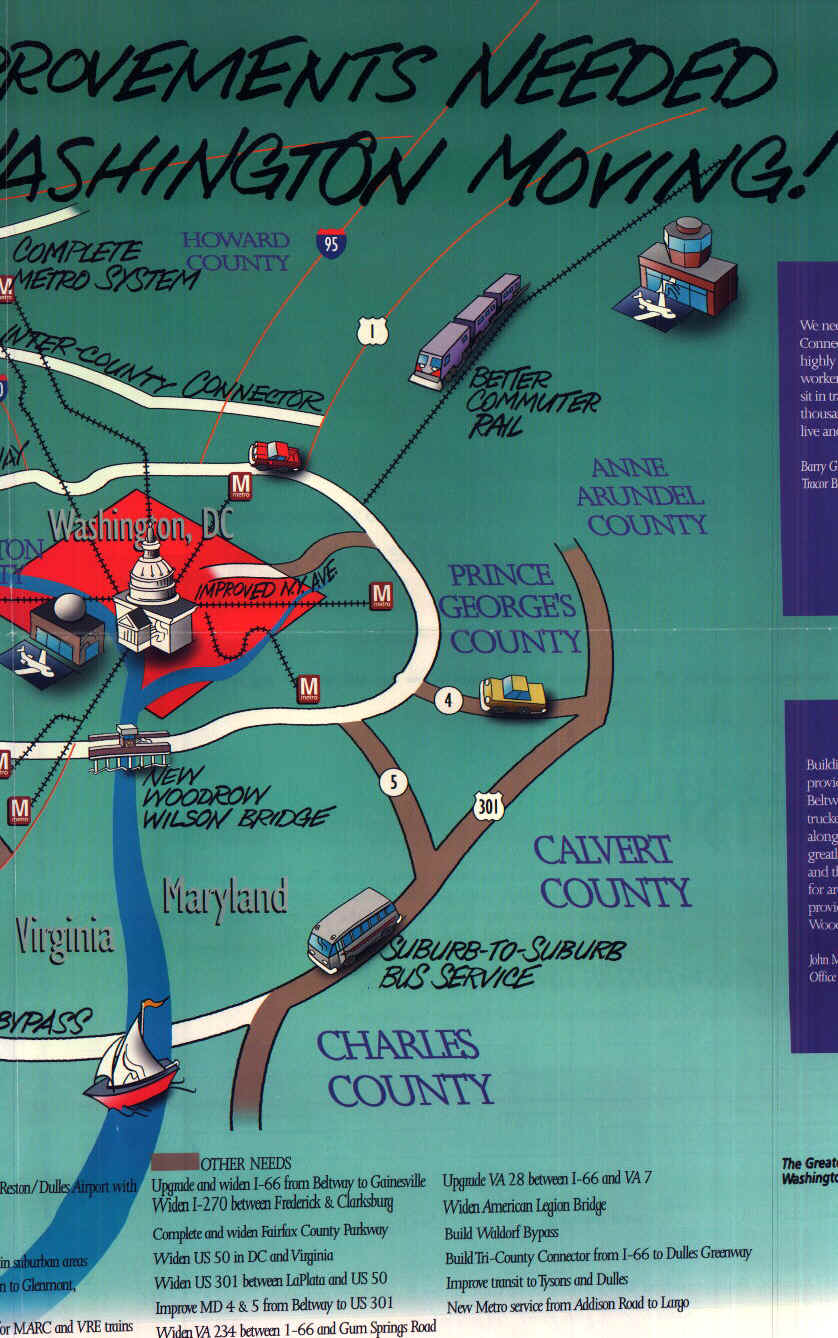 Arlington
I-66 (scaled back but built - widening under consideration)

I-266 (canceled)
---
Wilson Bridge expansion (built)
---
Western Transportation Corridor (Washington Bypass)
part of an Outer Outer Beltway for the Washington, D.C. National Capital Region.
The WTC could be named I-666 per FHWA / AASHTO rules for naming interstate highways. The road to hell is paved.
map from Piedmont Environmental Council, lead group challenging the Western Transportation Corridor and tributary roads. I-666 shield from PeakTraffic.org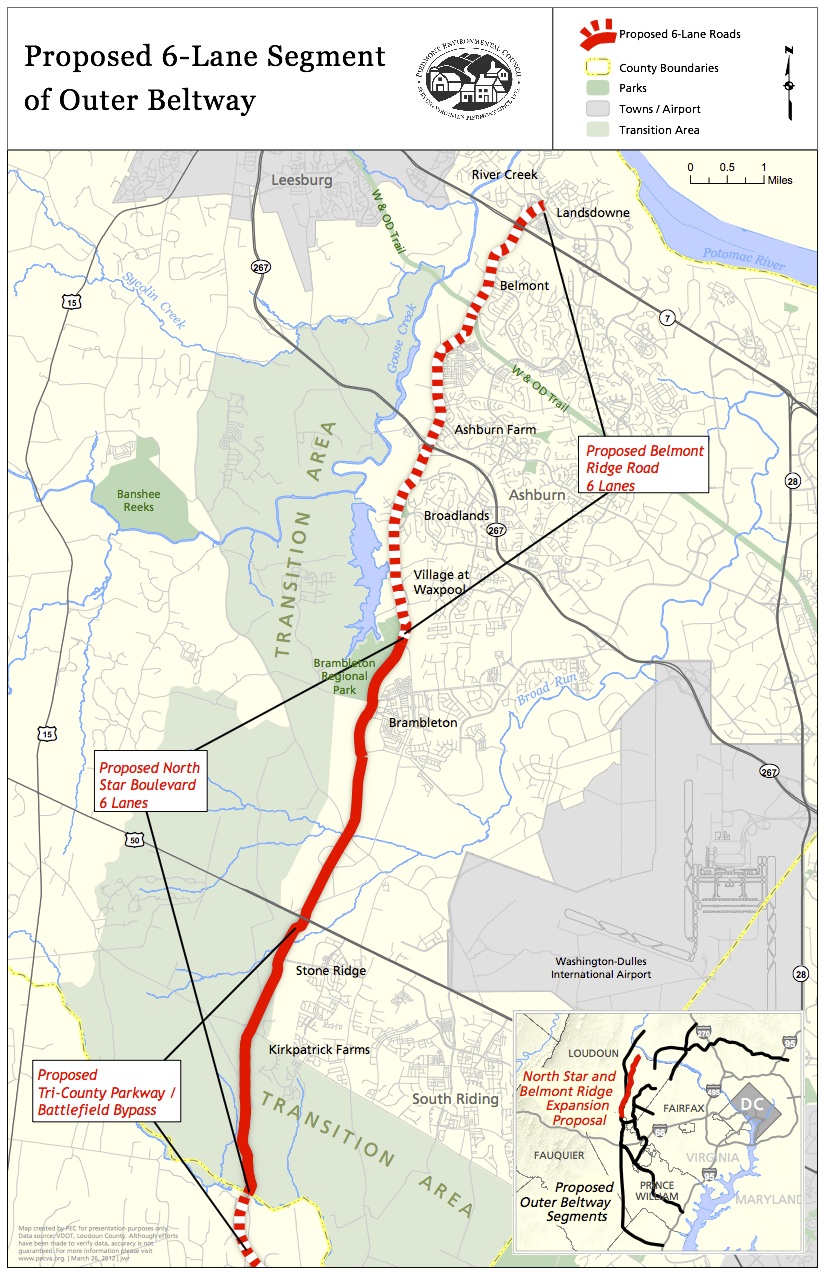 from: Smart Choices, Less Traffic: The 50 Best and Worst Transportation Projects In the United States, Sierra Club Beyond Oil Campaign, November 2012
http://content.sierraclub.org/beyondoil/content/smart-choices-less-traffic
This proposed 50-mile project connecting I-95 in Prince William County to Route 7 in Loudoun County, will serve as a second beltway to the Washington, D.C. area. The project has been repeatedly rejected because it doesn't relieve traffic on the overly congested Washington D.C. Beltway, I-95, or I-66. It will induce greater traffic demand by encouraging housing developments, strip malls and office parks along its route in the now rural areas of western Prince William and Loudoun Counties. This will, in turn, exacerbate environmental problems as auto-dependency and congestion in the region worsen. The proposed beltway will desecrate historic landscapes and historic districts on the western boundary of the National Battlefield of Manassas, a valuable tourist attraction in the region. The Outer Beltway project was originally proposed in the early 1960s when gas prices were $0.31/gal. It could cost between $3.5 and 5 billion, depending, in part, on whether proponents succeed in extending it across the Potomac River to Maryland. The state has begun setting aside funds and preparing plans for this on again, off again project.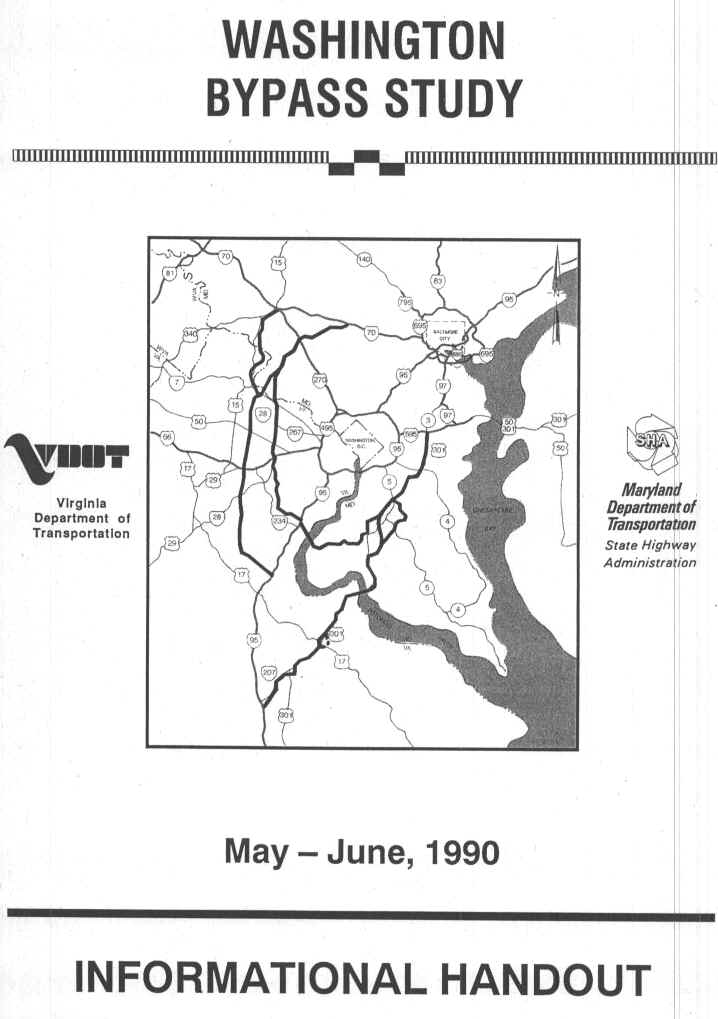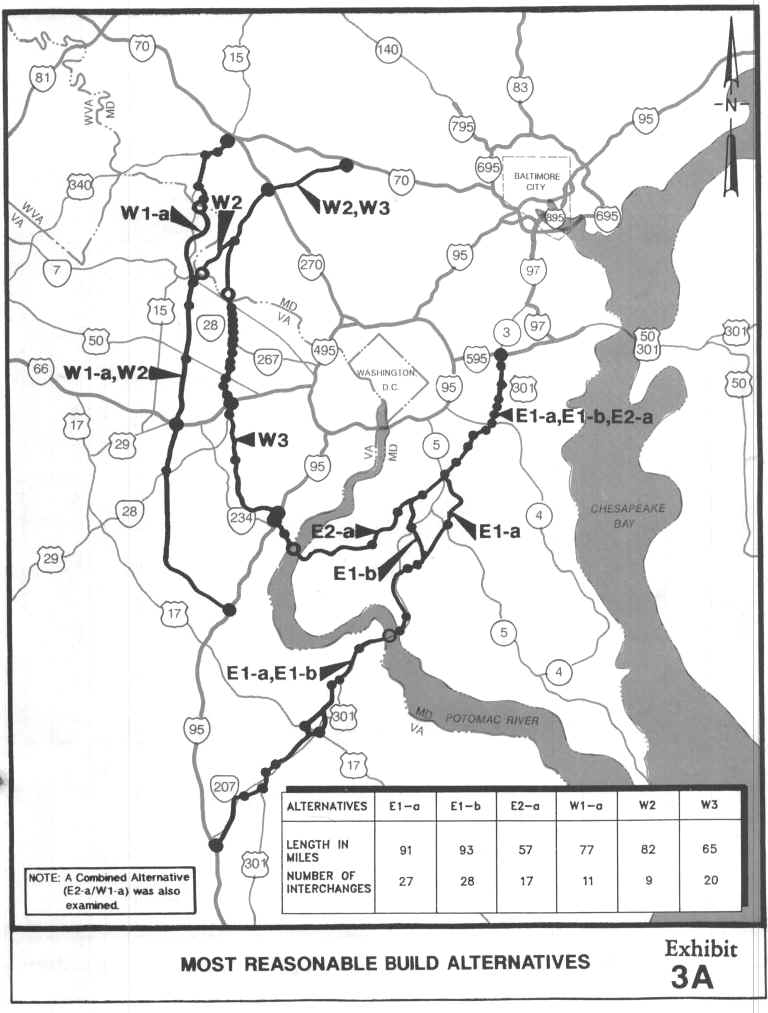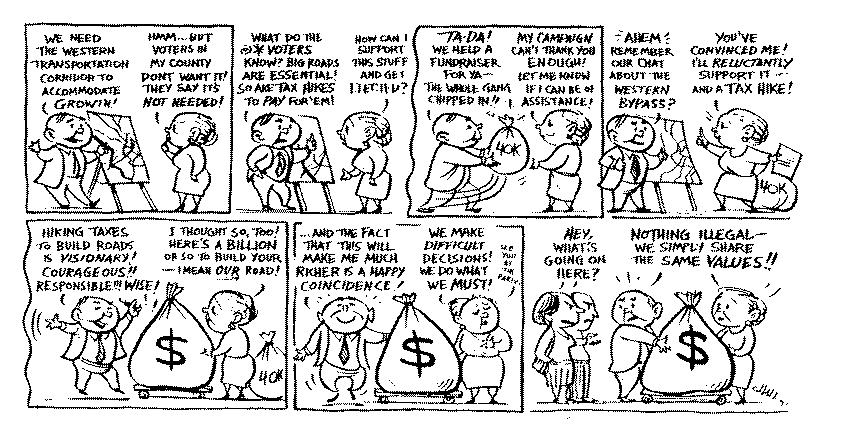 ---
Outer Connector (Fredericksburg)
http://fredericksburg.com/News/FLS/2012/022012/02282012/685611
Outer Connector plan still dead
FAMPO votes on whether to rehash the outer connector; makes move on the massive HOV/HOT lanes project
Date published: 2/28/2012
BY SCOTT SHENK
The old Outer Connector project will not be raised from the dead. At least not officially.

The Fredericksburg Area Metropolitan Planning Organization on Monday voted against spending $5,000 to have a consultant present portions of the defunct connector project at next month's George Washington Toll Road Authority meeting. ....

The idea of rehashing facets of the Outer Connector emerged recently as transportation and local elected officials struggle to find ways to fix area congestion after a proposed I-95 interchange and toll road project hit the skids.

The massive project aimed at fixing congestion problems along I-95, U.S. 17 and State Route 3 had been making its way through the planning process, but hit a snag after a new majority of the Spotsylvania supervisors voted against a parkway that would run through the county.

That move put the estimated $300 million project in jeopardy because state and federal authorities would not fund it without local support.

The project calls for a new interchange at the welcome center and rest area and an improved interchange at U.S. 17 in Stafford.

Plans also include feeder roads along I-95 from U.S. 17 to the new rest area exit. Those roads would include a pair of two-lane bridges next to the existing bridges over the Rappahannock River.

The parkway portion of the project would connect to the new Fredericksburg exit, run through Celebrate Virginia in the city, continue west between Route 3 and the Rappahannock River and tap back into Route 3 near Gordon Road. Plans called for a possible toll on the parkway.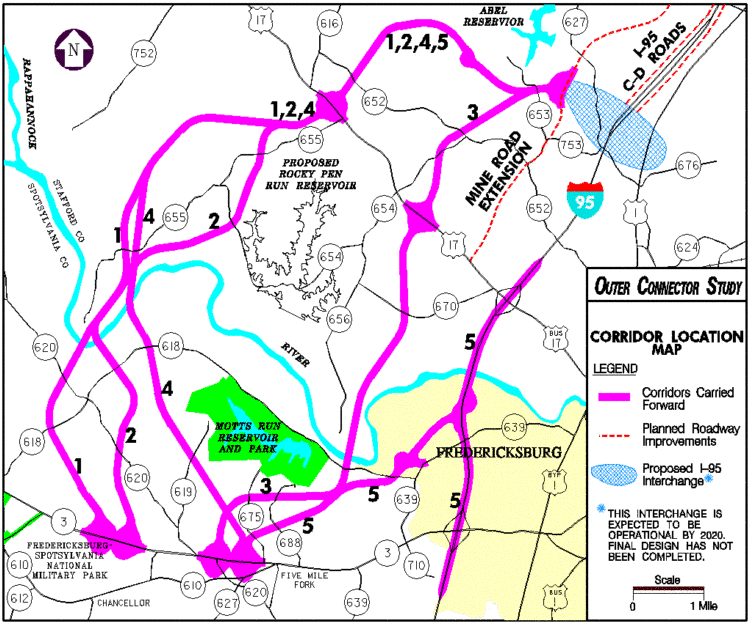 late 1990s plan for "Outer Connector"
Route 29 freeway (possible future I-83)
---
I-81 expansion - separate truck lanes
---
US 29 Charlottesville Bypass
www.southernenvironment.org/cases/charlottesville_bypass
pecva.org/index.php/our-region/albemarle-charlottesville/western-bypass
www.virginiadot.org/projects/culpeper/rt._29_bypass.asp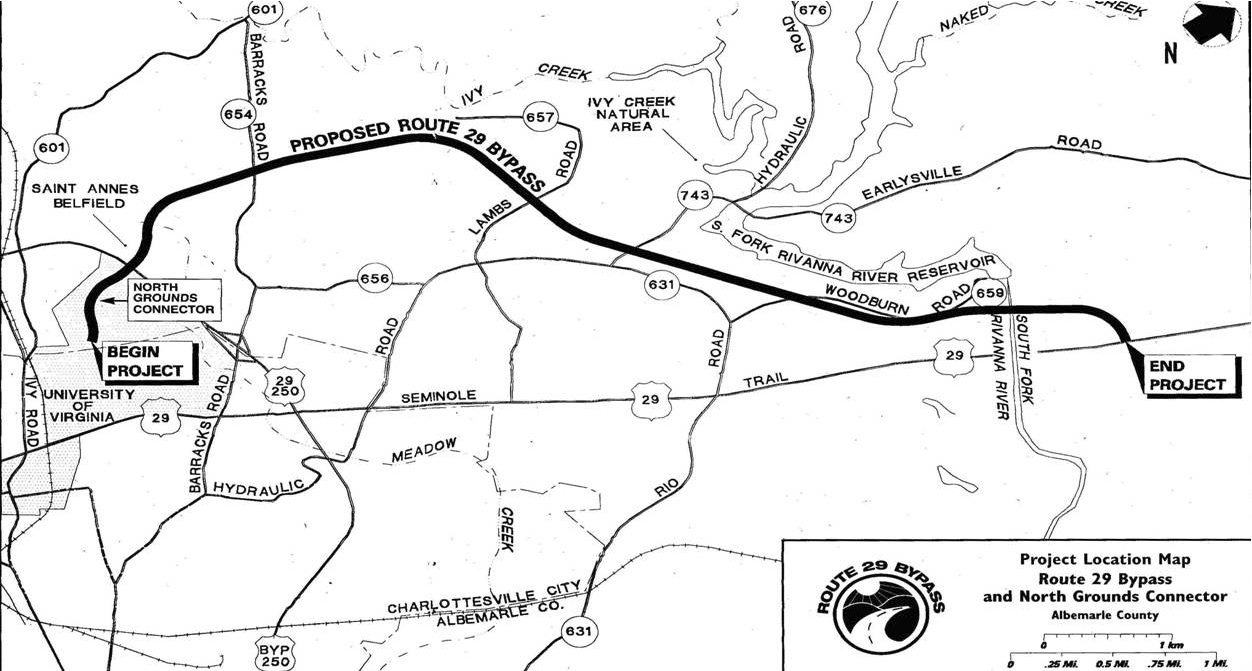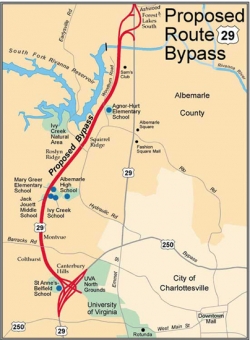 Environmental Assessment currently under consideration even though Federal Highway generally requires an Environmental Impact Statement (more stringent) for "new terrain" highways, especially for a project that has had a long history of controversy.
Second bridge built for Chesapeake Bay Bridge Tunnel
---
Smart Road (Blacksburg to Roanoke) - built, lawsuit unsuccessful
Richmond VA Outer Beltway (Route 288) recently finished
new bypass around Williamsburg recently finished
new and wider roads planned for Tidewater area
Route 58 - Virginia's longest road, the highway is slowly being made a four lane expressway across the whole state
---
Route 460 Connector - $1.4 billion interstate grade highway in southeast Virginia
official site: www.route460ppta.org
"The project entails the new construction of approximately 55 miles of four-lane divided limited access highway between Petersburg and Suffolk Virginia. The project will extend from the existing U.S. Route 460 near its interchange with Interstate 295 (I-295) in Prince George County to the U.S. Route 58 bypass just south of the existing U.S. Route 460 in the City of Suffolk. The corridor alignment for this project runs south of the existing U.S. Route 460 for its entirety and has been approved by the Commonwealth Transportation Board. The Final Environmental Impact Study and Record of Decision have been approved by the Federal Highway Administration."
www.baconsrebellion.com/2012/10/new-criticisms-of-u-s-460-connector.html
www.baconsrebellion.com/2012/11/uh-oh-irresistible-force-meets-immovable-object.html
from: Smart Choices, Less Traffic: The 50 Best and Worst Transportation Projects In the United States, Sierra Club Beyond Oil Campaign, November 2012
http://content.sierraclub.org/beyondoil/content/smart-choices-less-traffic
The US Route 460 Corridor Improvements Project is a proposed 55-mile, four-lane, divided toll highway with an estimated cost between $1.5 and $2 billion. Rather than dedicating these funds to improving the existing Rt. 460 and making needed transit and road improvements to Hampton Roads, which transportation advocates say will provide real benefit to the region, Governor McDonnell has made the new highway project a top priority, allocating $750 million to the project. The remainder of the project cost would be financed by tolls. The proposed highway would parallel an existing undivided 4-lane highway connecting the greater Richmond area to the Port of Virginia, passing through small towns en route. The toll road would traverse a low- lying, lightly populated area containing many streams and wetlands, degrading and destroying these wetlands and streams and encouraging continued auto-dependence and low-density sprawl. The new parallel highway is intended to serve as a truck corridor for the Port of Virginia, detracting from a less oil-intensive freight rail alternative for the port. This project was originally proposed in 1995 and is expected to have accrued the necessary funding to proceed by the end of 2012.