New York
Trillion Dollar Highway Plans
= Multiple Bypass Surgery
a state by state list
High Priority Corridors
specified by Congress in 1991, 1995, 1998, 2005, 2012
NAFTA Superhighways
Corridors of the Future
J. Edgar Hoover Parkway: transportation surveillance,
mileage taxes, RFID & video tolling
Paving Appalachia:
Corridor A to X in AL, GA, MD, MS, NC, NY, OH, PA, SC, TN, VA, WV
Alabama
Nebraska
Alaska
Nevada
Arizona
New Hampshire
Arkansas
New Jersey
California
New Mexico
Colorado
New York
Connecticut
North Carolina
Delaware
North Dakota
Florida
Ohio
Georgia
Oklahoma
Hawai'i
Oregon
Idaho
Pennsylvania
Illinois
Rhode Island
Indiana
South Carolina
Iowa
South Dakota
Kansas
Tennessee
Kentucky
Texas
Louisiana
Utah
Maine
Vermont
Maryland
Virginia
Massachusetts
Washington
Michigan
Washington, D.C.
Minnesota
West Virginia
Mississippi
Wisconsin
Missouri
Wyoming
Montana
High Priority Corridor 9: United States Route 220 and the Appalachian Throughway Corridor
United States Route 220 and the Appalachian Thruway Corridor from Business 220 in Bedford, Pennsylvania, to the vicinity of Corning, New York , including United States Route 322 between United States Route 220 and I-80. [I-99]

Appalachian Corridors O and U
High Priority Corridor 21: United States Route 219
United States Route 219 Corridor from Buffalo, New York, to the intersection of Interstate Route 80.
High Priority Corridor 36: New York and Pennsylvania Route 17 (I-86)
I-90 to Harriman, NY
converting an expressway to a full interstate, several cities would have urban impacts
High Priority Corridor 46: Interstate Route 87
I-87 upgrades from Quebec to New York City
High Priority Corridor 50: East-West Corridor
New York: US 11 - Watertown to Rouses Point
Vermont: US 2 - Burlington, Montpelier, St. Johnsbury
New Hampshire: US 2
Maine: US 2, I-395 (Bangor), Route 9 to Calais (Canadian border)
---
New Tappan Zee bridge (north of New York City)
official site: www.newnybridge.com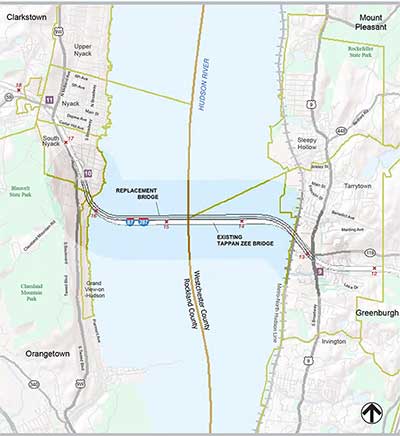 www.newnybridge.com/news/2013-01-18-contract-approval.html
NEW NY BRIDGE PROJECT TO REPLACE TAPPAN ZEE GETS FINAL CONTRACT APPROVAL
The project to build a new New York Bridge to replace the Tappan Zee took a major step forward following approval of the design-build contract, New York State Thruway Board of Directors Chairman Howard P. Milstein announced today.

The $3.142 billion contract with Tappan Zee Constructors (TZC) – a consortium including Fluor Enterprises, American Bridge Company, Granite Construction Northeast, and Traylor Bros – was reviewed and approved by the State Attorney General and the State Comptroller. The TZC bid was at least 20 percent lower in cost than the two other bids that were submitted for the project. ....

The new New York Bridge to replace the Tappan Zee will include eight general traffic lanes plus emergency lanes and extra-wide shoulders for immediate express bus service when opened; A new toll plaza with at least three highway speed E-ZPass lanes (the current toll plaza includes only two 35mph lanes, as well as 5mph E-ZPass lanes); and a dedicated bicycle and pedestrian path with safe scenic overlooks, with anti-climb fencing and security cameras to be monitored 24 hours a day. Construction is expected to begin in the next few months.

The new bridge will be built with the strength and capacity to accommodate mass transit modes including bus rapid transit, light rail or commuter rail. Last month, the Thruway Authority announced the establishment of a Mass Transit Task Force, which will work to identify short, medium and long-term transit solutions for the bridge and the I-287 corridor in Westchester and Rockland Counties including the bridge; develop funding strategies to implement and sustain transit operations; and create a corridor management plan to ensure a viable transit program.

The task force is comprised of state and local officials and transit and planning experts, and will have one year to complete its work and make recommendations. It will hold public presentations and provide opportunities for residents, commuters and others to have input on the process.

The new New York Bridge project is the largest transportation design-build project to date in the United States and one of the largest construction contracts in New York State history. Under the design-build process, engineering and construction firms join forces to compete for a single contract that covers both design and construction, and bids are selected based on best value offered. Design-build contracts foster private-sector creativity and innovation, shift risk, limit project delays and keep costs down.
http://nymag.com/news/features/tappan-zee-bridge-2013-2/
Falling Down
The Tappan Zee Bridge, as one expert calls it, is the "scary of scaries."
By Andrew Rice Published Jan 27, 2013
... For the record, the New York State Thruway Authority, which controls the Tappan Zee, insists the bridge is in no immediate danger of falling down. But the 140,000 or so people who travel daily across the seven-lane span, which was built to handle a fraction of that traffic load, can be forgiven for having their doubts. The Tappan Zee routinely sheds chunks of concrete, like so much dandruff, into the river below. Engineering assessments have found that everything from steel corrosion to earthquakes to maritime accidents could cause major, perhaps catastrophic, damage to the span. Last July, one of Governor Cuomo's top aides referred to the Tappan Zee as the "hold-your-breath bridge."

After years of dithering, stopgap maintenance, and $88 million worth of studies, Cuomo fast-tracked plans to replace the bridge shortly after taking office in 2011. In December, state officials selected a design for a proposed new, $3.1 billion span. Construction, scheduled to begin this year, could be completed as soon as 2017.

The last hurdle to clear is financing. Last year, an analysis by a group co-chaired by Richard Ravitch and Paul Volcker questioned whether the Thruway Authority was creditworthy enough to fund the project, budgeted at the time to cost $5 billion. But then the winning $3.1 billion bid came in. State officials say they are confident they can cover that amount by securing a federal highway loan from the Obama administration and raising enough state funds, presumably from bonds backed by increased tolls (last week, they approved an initial $500 million issue). LePatner, for his part, questions the adjusted price tag. "Those of us who know," he says, "know you can't do it for $3 billion." But state officials say they have built an appropriate cushion into the budget, and note that they are protected by a new state law that shifts financial responsibility for cost overruns to the builder. ...

More than 50 million vehicles traversed the Tappan Zee in 2010, up from 10 million in 1960, and while the bridge was designed to carry the 36-ton trucks of the fifties, it must now withstand today's 45-ton behemoths. Thus the deteriorating concrete, which falls off the bridge in chunks, sometimes creating holes in the roadway through which the river below can be seen. Forty-five such "punch-throughs" were recorded in the eighteen months prior to a 2009 engineering assessment of the bridge, which estimated that nearly 60 percent of the deck needed to be replaced. The state has spent $750 million over the past decade on maintenance and estimates it would cost around $100 million a year to keep it operating in the absence of a replacement.

7. Strong As Steel (Which Turns Out to Be Not That Strong)
Steel, like concrete, is vulnerable to the corrosive effects of rainwater, especially when it mixes with road salt used to melt snow. The 2009 engineering assessment found that the Tappan Zee's rate of deterioration is "unusually high." The bridge's drainage system was designed to dump water onto the substructure below the highway, causing major corrosion in crucial components like its "stringers," horizontal beams that hold up the deck, and joints. Replacement deck joints manage to last only about ten years. Particular concern surrounds the stringers along the causeway section, which the assessment identified as "high risk." Major cracking has also been observed on the causeway's outer columns, reappearing soon after repairs. ...

In December, a selection committee that included Richard Meier and Jeff Koons recommended a design for the new Tappan Zee. The winning bid came from a consortium of companies that handled the complex—and notoriously overbudget and behind schedule—$6 billion replacement of San Francisco's Bay Bridge. The design consists of two parallel roadways, with the main span supported by cables strung from eight columns that jut distinctly outward, like chopsticks. Though the cheapest of three finalists, at $3.1 billion, the bridge will still be one of the largest infrastructure projects in New York State. In response to complaints from transit advocates, state officials say the bridge will be built with the capacity to add light rail or bus lanes—features cut from the project for now because of the additional cost. The new bridge, state officials say, is designed to last 100 years before it needs major repairs.
http://abclocal.go.com/wabc/story?section=news/local/northern_suburbs&id=8967587
New Tappan Zee Bridge to have all-electronic tolls
Friday, January 25, 2013
NEW YORK (WABC) -- The New York State Thruway Authority says the new Tappan Zee Bridge will have an all-electronic toll collection system.

The first step in preparing for that is to switch the existing bridge over to an all-electronic system.

For drivers who don't have an E-ZPass, cameras will photograph their license plates and a bill will be sent via mail.

The board on Thursday approved issuing $500 million in short-term bonds to jump-start construction of the new $3.14 billion bridge.
New York City
Westway (Jane Jacobs vs. Robert Moses)