Kansas
Trillion Dollar Highway Plans
= Multiple Bypass Surgery
a state by state list
High Priority Corridors
specified by Congress in 1991, 1995, 1998, 2005, 2012
NAFTA Superhighways
Corridors of the Future
J. Edgar Hoover Parkway: transportation surveillance,
mileage taxes, RFID & video tolling
Paving Appalachia:
Corridor A to X in AL, GA, MD, MS, NC, NY, OH, PA, SC, TN, VA, WV
Alabama
Nebraska
Alaska
Nevada
Arizona
New Hampshire
Arkansas
New Jersey
California
New Mexico
Colorado
New York
Connecticut
North Carolina
Delaware
North Dakota
Florida
Ohio
Georgia
Oklahoma
Hawai'i
Oregon
Idaho
Pennsylvania
Illinois
Rhode Island
Indiana
South Carolina
Iowa
South Dakota
Kansas
Tennessee
Kentucky
Texas
Louisiana
Utah
Maine
Vermont
Maryland
Virginia
Massachusetts
Washington
Michigan
Washington, D.C.
Minnesota
West Virginia
Mississippi
Wisconsin
Missouri
Wyoming
Montana
High Priority Corridor 3: East - West Transamerica Corridor
I-66, US 460, Kentucky 80, US 400, US 54, I-40
East-West Transamerica Corridor commencing on the Atlantic Coast in the Hampton Roads area going westward across Virginia to the vicinity of Lynchburg, Virginia, continuing west to serve Roanoke and then to a West Virginia corridor centered around Beckley to Welch as part of the Coalfields Expressway described in section 1069(v), then to Williamson sharing a common corridor with the I-73/74 Corridor (referred to in item 12 of the table contained in subsection (f)), then to a Kentucky Corridor centered on the cities of Pikeville, Jenkins, Hazard, London, Somerset; then generally following the Louie B. Nunn Parkway corridor [I-66] from Somerset to Columbia, to I-65; then to Bowling Green, Hopkinsville, Benton, and Paducah, into Illinois, and into Missouri and exiting western Missouri and moving westward across southern Kansas.

In Kansas, this is the Route 400 upgrade.
High Priority Corridor 23: Interstate 35
The Interstate Route 35 Corridor from Laredo, Texas, through Oklahoma City, Oklahoma, to Wichita, Kansas, to Kansas City, Kansas/ Missouri, to Des Moines, Iowa, to Minneapolis, Minnesota, to Duluth, Minnesota, including I-29 between Kansas City and the Canadian border and the connection from Wichita, Kansas, to Sioux City, Iowa, which includes I-135 from Wichita, Kansas to Salina, Kansas, United States Route 81 from Salina, Kansas, to Norfolk, Nebraska, Nebraska State Route 35 from Norfolk, Nebraska, to South Sioux City, Nebraska, and the connection to I-29 in Sioux City, Iowa.
High Priority Corridor 48: Route 50 High Plains Corridor
United States Route 50 corridor from Newton, Kansas (I-135), to Pueblo, Colorado (I-25).
High Priority Corridor 51: SPIRIT Corridor
The SPIRIT Corridor on United States Route 54 from El Paso, Texas, through New Mexico, Texas, and Oklahoma to Wichita, Kansas. [partial overlap with Corridor 3]
---
South Lawrence Trafficway
the SLT was defeated in court in the late 1990s, but it has risen from the dead.
SLT would slice through rare wetlands next to a Native American school, part of connecting Lawrence to Kansas City sprawl. The west side of the SLT has been built, the eastern connector is the controversial segment.
http://kdotapp.ksdot.org/TWorks/Projects/CurrentProjects
SLT cost estimate is $177 million, construction to start in 2013 after decades of opposition.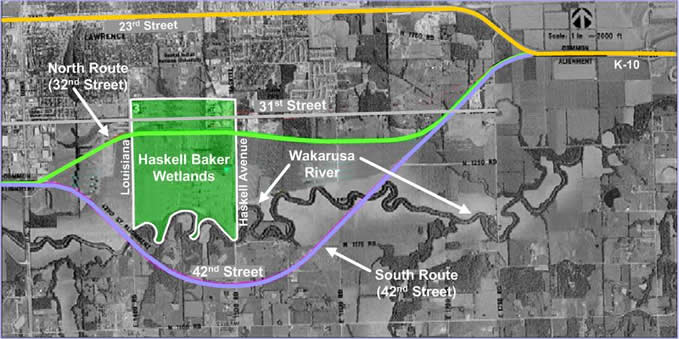 www2.ljworld.com/photos/2014/aug/26/278034/
www2.ljworld.com/news/lawrence/slt/
Lawrence Journal World coverage of SLT
October 9, 2012
The more than 20-year legal battle to stop the South Lawrence Trafficway from running through the Baker Wetlands is now officially over.
from: Smart Choices, Less Traffic: The 50 Best and Worst Transportation Projects In the United States, Sierra Club Beyond Oil Campaign, November 2012
http://content.sierraclub.org/beyondoil/content/smart-choices-less-traffic
The South Lawrence Traffic Way is a bypass to connect I-70 and K-10. This project was documented in the 2002 report as a "wrong direction" project and has returned to the list in 2012. The project has been considered since the mid-1980s, when gas cost $1.20/gallon. The completed highway would run through and disrupt water flow in the Haskell-Baker Wetlands, home to over 200 species of birds and other fauna and the location of historical and cultural sites for local Native Americans. The Haskell Indian Nations University refused to permit the construction of the 4-lane, 6-mile highway through their sacred wetlands, which are used for recreational and educational purposes. The wetlands are sacred because when Haskell opened as a mandatory Indian boarding school in 1884, many of the children forced to live there ran away to the wetlands and died there. Members of the 152 tribes whose children were sent to Haskell agree that it would be disrespectful to build a road over their dead. Many groups, including the Sierra Club, have engaged in legal battles over the last 20 years to stop the project. An appellate court ruled in 2012 that the final section of the road paving over the wetlands could move forward, and the road could open as soon as 2016.