Portland Western Bypass: 1988 to 1996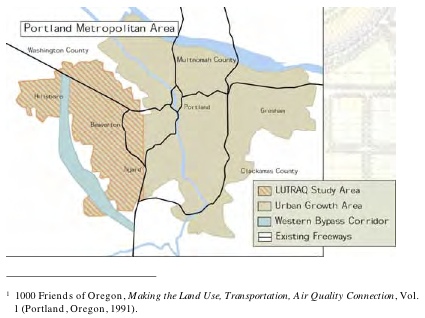 The Portland Western Bypass was proposed in 1988 and canceled in 1996.
The original proposal (in the 1960s) would have stretched from I-5 near I-205 south of Portland to I-5 north of Vancouver, Washingon, a giant sprawlway similar to I-205.
After I-205 was built in the 1980s, ODOT focused attention on the western side of the region. The "Western Bypass" was shorter than the original concept (which went north into Washington State). The bypass would have had termini of I-5 south of Portland and US 26 on the west side of Porland.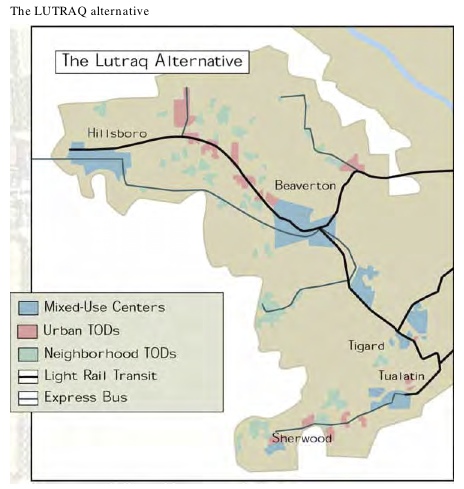 Two groups that helped prevent the bypass were Sensible Transportation Options for People (STOP, a group that is apparently defunct) and 1000 Friends of Oregon. 1000 Friends helped craft an alternative called LUTRAQ: Land Use, Transportation, Air Quality. The LUTRAQ alternative included modest road expansions (instead of a huge bypass), the light rail extension to Hillsboro, and most important, transit oriented development (TOD) around the light rail stops. The technical analyses showed that LUTRAQ had better transportation improvements than the bypass and would have less air pollution, and it is what was selected in the Environmental Impact Statement.
LUTRAQ has been widely praised in the transportation and land use planning movements, including by government agencies, but it is a "smart growth" approach that purports to address transportation and development needs without any acknowledgements of Peak Traffic, Peak Energy and other aspects of the limits to growth. Portland Metro's long range "2040" plan is based on LUTRAQ analysis but the fact that Portland's traffic has peaked and the Alaska Pipeline, which powers Portland traffic, is in steep decline is ignored by these projections.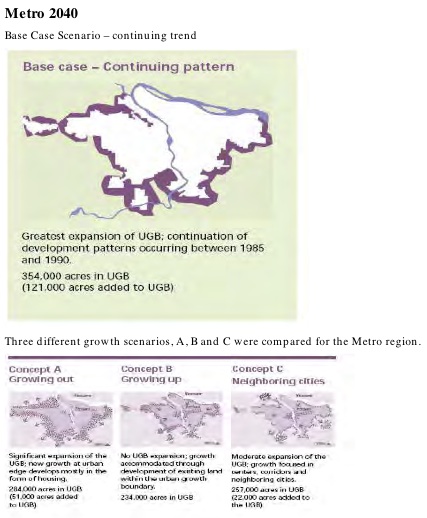 LUTRAQ was probably the "peak" of effectiveness of 1000 Friends. In the early 2000s, when planning advanced for the Sunrise Highway sprawlway in Clackamas County, the only mention the group had on their website was to give it tacit acknowledgement (via a map, but not a description) in a report called "Design Damascus." Around that time, the former board chair of 1000 Friends was invited to look at the West Eugene Porkway controversy by some of the environmentalists ostensibly opposed to it, and recommended a design for the WEP that would have been twice as long as the version being planned by ODOT. This writer was the main person on the "environmental" side who dared oppose this alleged "alternative," and got kicked out of the Friends of Eugene legal committee for refusing to give away our excellent legal position. Fortunately this refusal was recognized by ODOT, BLM and Federal Highway Administration, understood that not everyone supported undermining our legal position, and they ultimately selected No Build for the WEP in 2007. Offering new routes for a highway project usually results in the highway being constructed, it is rare for rerouting proposals to succeed in preventing the paving.
In 2008, 1000 Friends was part of the Governor's Transportation Vision Committee which recommended $18 billion in new and widened highways in Oregon.
---
http://oscdl.research.pdx.edu/docs/JPACT/1992/pdx0031211.pdf
JOINT POLICY ADVISORY COMMITTEE ON TRANSPORTATION
November 12, 1992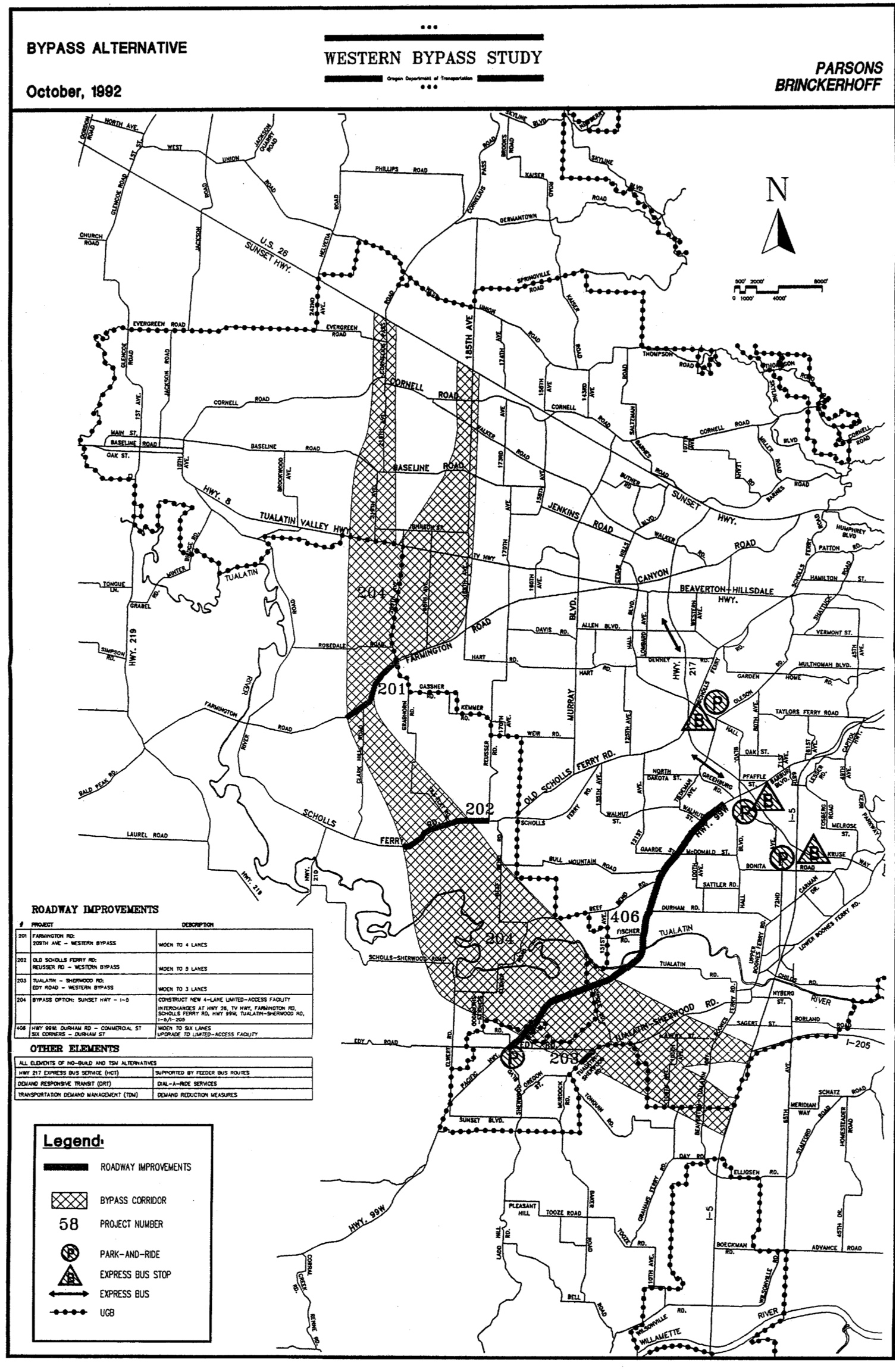 Efforts to revive and piecemeal a new bypass
The Mayor of Hillsboro is trying to revive the Western Bypass, here's two links with details:
www.portlandtransport.com/archives/2012/11/hillsboro_mayor.html
www.bikeportland.org/2012/11/16/hillsboro-mayor-pushes-massive-new-westside-freeway-project-80215
Portland Metro is planning a segment of the Western Bypass, but it is unfunded and no work has been done on this in years, apparently. The fact that the two new bypasses under construction in the Portland area have only segments being built due to lack of funds makes this project unlikely before gasoline rationing finally arrives. A map of one of the options is below.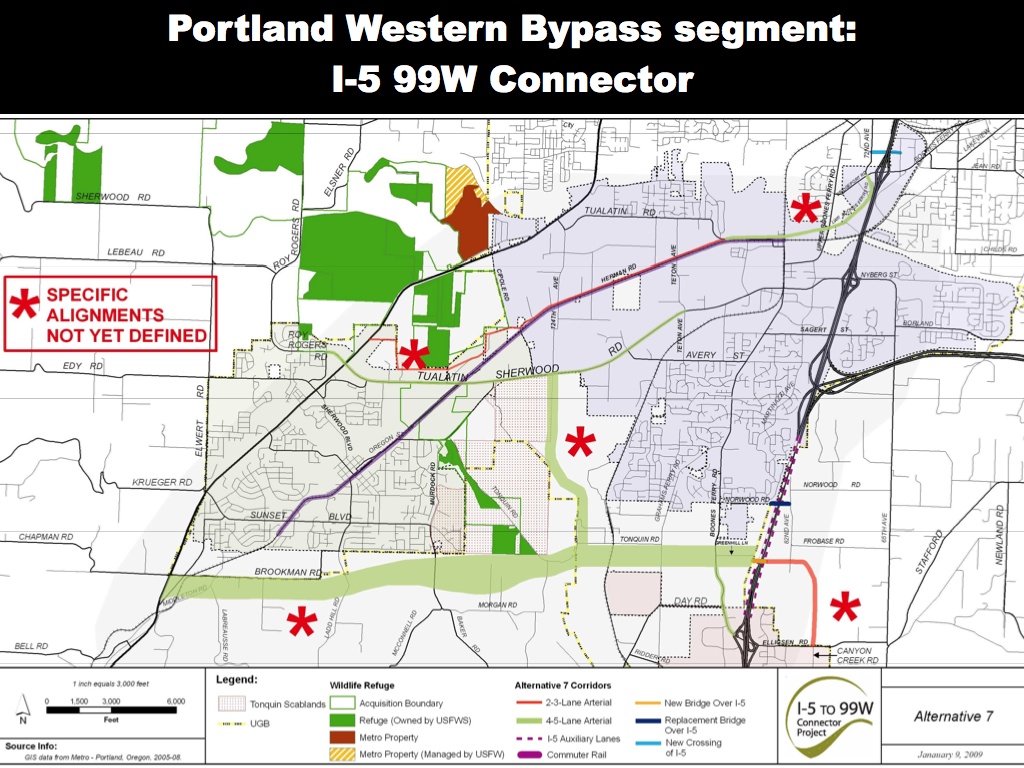 www.oregon.gov/odot/td/osti/docs/hb2186/orscenario.pdf
Alternative Land Use and Transportation Scenario Planning Analysis
A Review of Six Case Studies in Oregon
Prepared for
Oregon Department of Transportation
Prepared by
Fregonese Associates December 8, 2009
Making the Land Use, Transportation and Air Quality Connection Study (LUTRAQ) grew out of a proposal by Washington County and the Oregon Department of Transportation to build a Western Bypass in 1988. What began as opposition to the bypass project by an active citizens group, 1000 Friends of Oregon, evolved into a comprehensive planning effort to analyze five alternatives to accommodate growth projections on the west side of Portland. The findings of LUTRAQ informed the Metro 2040 Growth Concept and increased the attention paid to land use and transportation planning in Oregon. The project helped develop state-of-the-art transportation modeling to better forecast travel behavior associated with land use patterns and was instrumental in encouraging the development of integrated land use and transportation development scenarios across the country. LUTRAQ was an innovative process led by a non-profit advocacy organization that spent approximately one million dollars to perform a rigorous analysis and develop the LUTRAQ alternative scenario. It was the first time a land use alternative was included in a Draft Environmental Impact Statement for a new highway project. The project advanced modeling innovations and assisted in the planning and evaluation of the Westside light rail.

....

Schedule and Timeline of Implementation

The Western Bypass proposal was introduced in 1988 when Washington County and Metro included the bypass corridor in their transportation plans.
1000 Friends of Oregon released eleven technical reports associated with the analysis of the LUTRAQ alternative between 1991 and 1997.
In 1992 the LUTRAQ alternative was published.
In 1996 ODOT recommended a preferred alternative, which included many LUTRAQ components, along with a greater amount of roadway connections.

Alternative Land Use and Transportation Scenario Planning Analysis

In its Record of Decision, Metro adopted the preferred alternative. Since publication of the Western Bypass Study EIS, no major roadway improvements have been made in the corridor. However, new transit investments including the Westside light rail transit project and the Westside Express Service commuter rail were brought into service. In addition, a significant roadway improvement was constructed at the connection of Interstate 5 and Oregon Route 217 (north of the western bypass alignment). Studies have advanced the concept of significant improvements to Oregon Route 217 to its northern terminus at U.S. Route 26. Many of the LUTRAQ land use and transportation concepts have been incorporated into local land use plans and the Regional Transportation Plans (including the 1994, 1998, 2002, 2004 and 2009 update underway) have not included a western bypass project.