Oregon
download a one page summary of this information, useful for public meetings: oregon-highways.pdf
Trillion Dollar Highway Plans
= Multiple Bypass Surgery
a state by state list
High Priority Corridors
specified by Congress in 1991, 1995, 1998, 2005, 2012
NAFTA Superhighways
Corridors of the Future
J. Edgar Hoover Parkway: transportation surveillance,
mileage taxes, RFID & video tolling
Paving Appalachia:
Corridor A to X in AL, GA, MD, MS, NC, NY, OH, PA, SC, TN, VA, WV
Alabama
Nebraska
Alaska
Nevada
Arizona
New Hampshire
Arkansas
New Jersey
California
New Mexico
Colorado
New York
Connecticut
North Carolina
Delaware
North Dakota
Florida
Ohio
Georgia
Oklahoma
Hawai'i
Oregon
Idaho
Pennsylvania
Illinois
Rhode Island
Indiana
South Carolina
Iowa
South Dakota
Kansas
Tennessee
Kentucky
Texas
Louisiana
Utah
Maine
Vermont
Maryland
Virginia
Massachusetts
Washington
Michigan
Washington, D.C.
Minnesota
West Virginia
Mississippi
Wisconsin
Missouri
Wyoming
Montana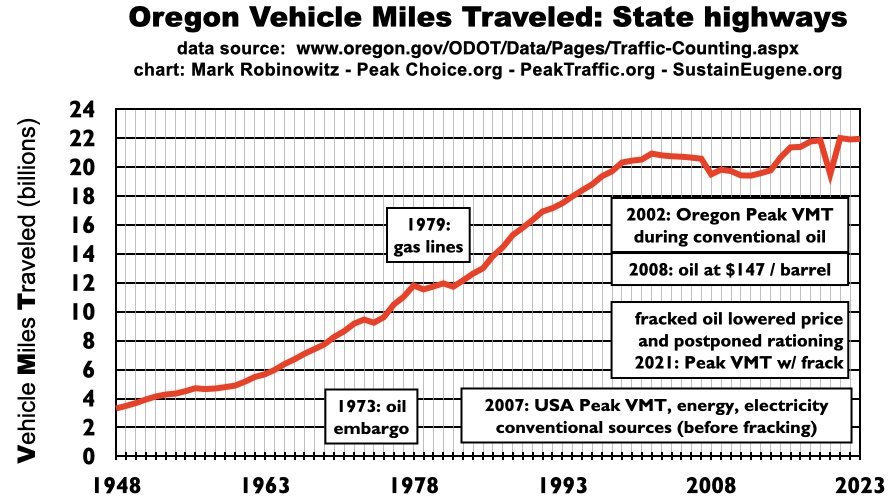 High Priority Corridor 19: United States Route 395
US 395 from Reno to Canada
would facilitate increased truck traffic to Hanford nuclear dump, among other purposes.

Route 395 in Oregon is extremely rural. It is difficult to understand why Route 97 through Bend was not specified instead - that is a major truck route with some expressway segments that passes through Klamath Falls and Bend, the major population centers in eastern Oregon. 395 passes through Pendleton, John Day, Burns, Wagontire (population 2), Lakeview.
High Priority Corridor 30: Interstate 5
The Columbia River Crossing (new, wider bridge from Vancouver, WA to Portland, OR) is part of this.
I-5 in Oregon is being widened from Washington to California, a piece at a time.
Widening I-5 is part of the Corridors of the Future Federal Highway Administration priority program.
---
Transportation Vision Committee
2008 plan for $18 billion of widenings and new bypasses
Governor Kulongoski's "Transportation Vision Committee" released a report in November 2008 that called for $18 billion in new and expanded state highways. A couple of Portland based, foundation funded environmental groups were part of this committee, but they were merely window dressing to show that all points of view were supposedly considered. (1000 Friends, Oregon Environmental Council, Environment Oregon) If the "environmentalists" had a minority report to dissent from the highway promotion, they kept it very quiet.
No substantial increases in transit systems (outside of Portland) were mentioned in the report. Portland's light rail expansion is a good thing, but far more money is being spent toward expanding the interstate highway network than public transit.
Washington State is making some modest upgrades to the train tracks that the Amtrak Cascdes train uses to have better passenger rail service. The Cascades train can go 200 kph (124 mph), making it the second fastest train in the country -- but the tracks are not able to handle it. Money planned to widen I-5 should be used to upgrade intercity passenger rail.
http://governor.oregon.gov/Gov/pdf/tvreport_final.pdf
2008 "Transportation Vision Report" - no longer on line
archived at www.sustaineugene.org/tvreport_final.pdf
some highlights:
$4.2 billion - Columbia River Crossing, wider I-5
(approved December 2011)
$1 billion - Sunrise highway, Clackamas County
(approved December 2010, only $130 million is available to build a segment)
$1.3 billion - I-5 / I-84 reconstruction, Portland
$2.1 billion - I-5 to Hwy 99, Tualatin-Sherwood
(part of Portland Western Bypass stopped in 1990s)
$2 billion - I-5 widening south of Portland
$600 million - I-5 widening, Salem to OR 34
(I-5 widening is underway from Canada to Mexico)
$670 million - new Salem Willamette River bridge
$550 million - Newberg Dundee bypass
(approved June 2010, only $262 million is available to build a segment, construction started 2013)
$100 million - North Corvallis Bypass
(Route 34 to north Corvallis, including new river bridge)
$200 million - Route 126 upgrade, Springfield
(wider mainline plus interchanges at 52nd and Main Street)
$250 million - Beltline widening, Eugene
(one option would widen Beltline to 11 lanes at the river)
$375 million - Route 62 freeway bypass, Medford
(approved at $450 million, May 2013)
$870 million, US 97 upgrades, Bend-Redmond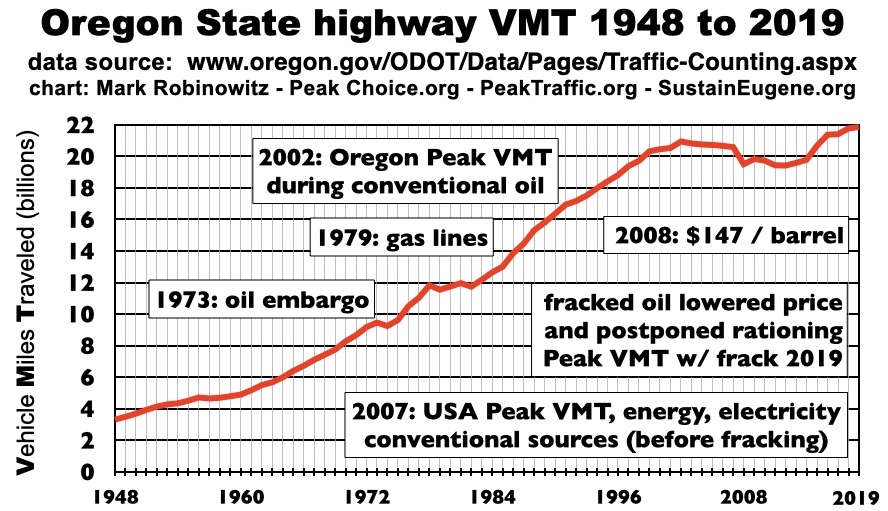 ODOT graphic of Peak Traffic in Oregon
---
Oregon environmental groups ignore ODOT's highway plans
(except the Columbia River Crossing)
www.oregonpriorities.org/increase-transportation-options/increase-transportation-options
(no longer online)
The "Oregon Priorities" website from 1000 Friends of Oregon, Environment Oregon and Oregon Environmental Council avoids mention of ODOT's plans to spend $18 billion to expand Oregon State Highways. They are also silent about Kulongoski's "Mileage Tax" proposal, which would track all trips to charge taxes on a per-mile basis. This surveillance system would reward speeders (who use more fuel) and SUV owners. Gas taxes are a less intrusive way to fund transportation projects than creating "spy roads" to monitor everyone's travels and charging Hybrids the same as Hummers.