Oregon
download a one page summary of this information, useful for public meetings: oregon-highways.pdf
Trillion Dollar Highway Plans
= Multiple Bypass Surgery
a state by state list
High Priority Corridors
specified by Congress in 1991, 1995, 1998, 2005, 2012
NAFTA Superhighways
Corridors of the Future
J. Edgar Hoover Parkway: transportation surveillance,
mileage taxes, RFID & video tolling
Paving Appalachia:
Corridor A to X in AL, GA, MD, MS, NC, NY, OH, PA, SC, TN, VA, WV
Alabama
Nebraska
Alaska
Nevada
Arizona
New Hampshire
Arkansas
New Jersey
California
New Mexico
Colorado
New York
Connecticut
North Carolina
Delaware
North Dakota
Florida
Ohio
Georgia
Oklahoma
Hawai'i
Oregon
Idaho
Pennsylvania
Illinois
Rhode Island
Indiana
South Carolina
Iowa
South Dakota
Kansas
Tennessee
Kentucky
Texas
Louisiana
Utah
Maine
Vermont
Maryland
Virginia
Massachusetts
Washington
Michigan
Washington, D.C.
Minnesota
West Virginia
Mississippi
Wisconsin
Missouri
Wyoming
Montana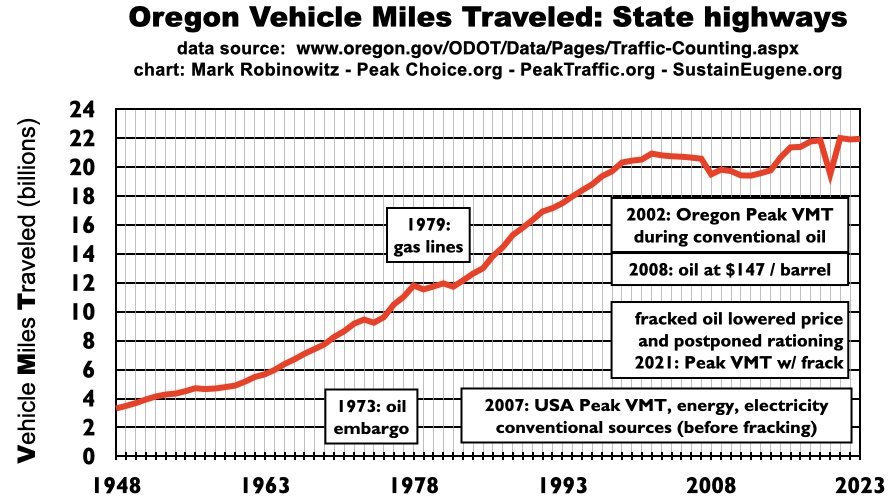 High Priority Corridor 19: United States Route 395
US 395 from Reno to Canada
would facilitate increased truck traffic to Hanford nuclear dump, among other purposes.

Route 395 in Oregon is extremely rural. It is difficult to understand why Route 97 through Bend was not specified instead - that is a major truck route with some expressway segments that passes through Klamath Falls and Bend, the major population centers in eastern Oregon. 395 passes through Pendleton, John Day, Burns, Wagontire (population 2), Lakeview.
High Priority Corridor 30: Interstate 5
The Columbia River Crossing (new, wider bridge from Vancouver, WA to Portland, OR) is part of this.
I-5 is being widened from Washington to California, a piece at a time.
Widening I-5 is part of the Corridors of the Future Federal Highway Administration priority program.
---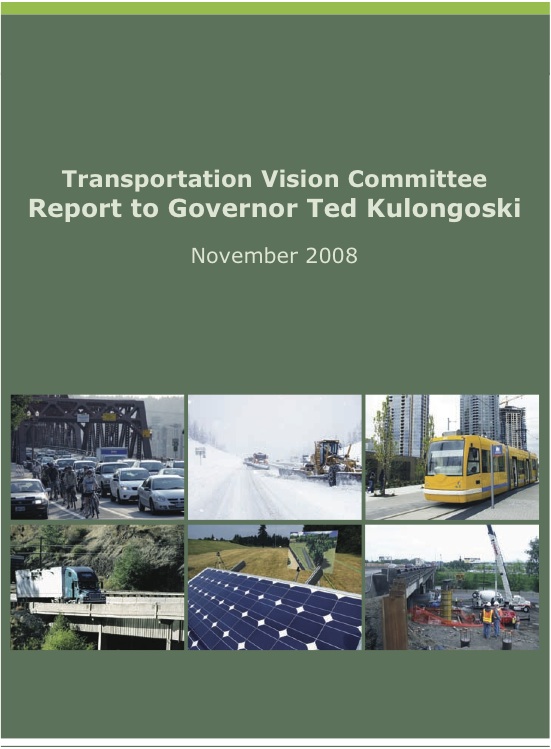 Governor Kulongoski's "Transportation Vision Committee" released a report in November 2008 that called for $18 billion in new and expanded state highways. A couple of Portland based, foundation funded environmental groups were part of this committee, but they were merely window dressing to show that all points of view were supposedly considered. (1000 Friends, Oregon Environmental Council, Environment Oregon) If the "environmentalists" had a minority report to dissent from the highway promotion, they kept it very quiet.
No substantial increases in transit systems (outside of Portland) were mentioned in the report. Portland's light rail expansion is a good thing, but far more money is being spent toward expanding the interstate highway network than public transit.
Washington State is making some modest upgrades to the train tracks that the Amtrak Cascdes train uses to have better passenger rail service. The Cascades train can go 200 kph (124 mph), making it the second fastest train in the country -- but the tracks are not able to handle it. Money planned to widen I-5 should be used to upgrade intercity passenger rail.
http://governor.oregon.gov/Gov/pdf/tvreport_final.pdf
2008 "Transportation Vision Report" - no longer on line
archived at www.sustaineugene.org/tvreport_final.pdf
some highlights:
$4.2 billion - Columbia River Crossing, wider I-5
(approved December 2011)
$1 billion - Sunrise freeway, Clackamas County
(approved December 2010, only $130 million is available to build a segment)
$1.3 billion - I-5 / I-84 reconstruction, Portland
$2.1 billion - I-5 to Hwy 99, Tualatin-Sherwood
(part of Portland Western Bypass stopped in 1990s)
$2 billion - I-5 widening south of Portland
$600 million - I-5 widening, Salem to OR 34
(I-5 widening is underway from Canada to Mexico)
$670 million - new Salem Willamette River bridge
$550 million - Newberg Dundee bypass
(approved June 2010, only $262 million is available to build a segment)
$100 million - North Corvallis Bypass
(Route 34 to north Corvallis, including new river bridge)
$200 million - Route 126 upgrade, Springfield
(wider mainline plus interchanges at 52nd and Main Street)
$250 million - Beltline widening, Eugene
(one option would widen Beltline to 11 lanes at the river)
$375 million - Route 62 freeway bypass, Medford
(approved at $450 million, May 2013)
$870 million, US 97 upgrades, Bend-Redmond
---
Oregon environmental groups ignore ODOT's highway plans
(except the Columbia River Crossing)
www.oregonpriorities.org/increase-transportation-options/increase-transportation-options
(no longer online)
The "Oregon Priorities" website from 1000 Friends of Oregon, Environment Oregon and Oregon Environmental Council avoids mention of ODOT's plans to spend $18 billion to expand Oregon State Highways. They are also silent about Kulongoski's "Mileage Tax" proposal, which would track all trips to charge taxes on a per-mile basis. This surveillance system would reward speeders (who use more fuel) and SUV owners. Gas taxes are a less intrusive way to fund transportation projects than creating "spy roads" to monitor everyone's travels and charging Hybrids the same as Hummers.
---
Portland
Columbia River Crossing - 10 lane bridge, widening I-5 to 16 lanes north of bridge on the Vancouver, WA side - Record of Decision signed December 2011
Columbia River Crossing Peak Traffic Alternative - www.peaktraffic.org/columbia-river-crossing.html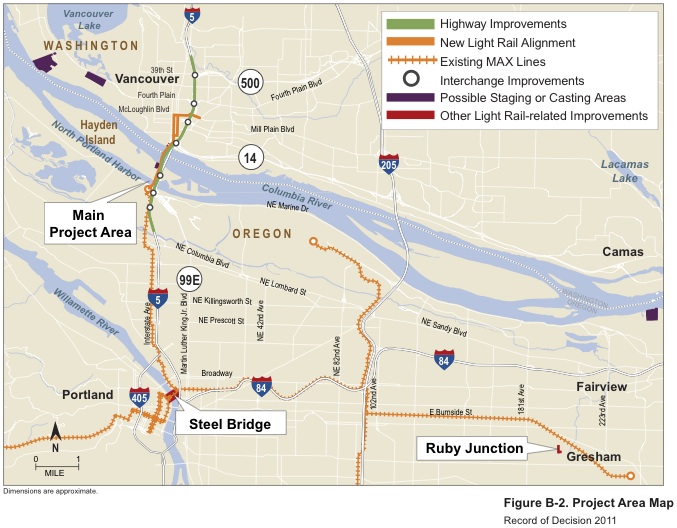 16 lane wide segment of I-5 Columbia River Crossing -- widest part of project would be bridge approach on Washington side. The graphic below taken from the Final Environmental Impact Statement.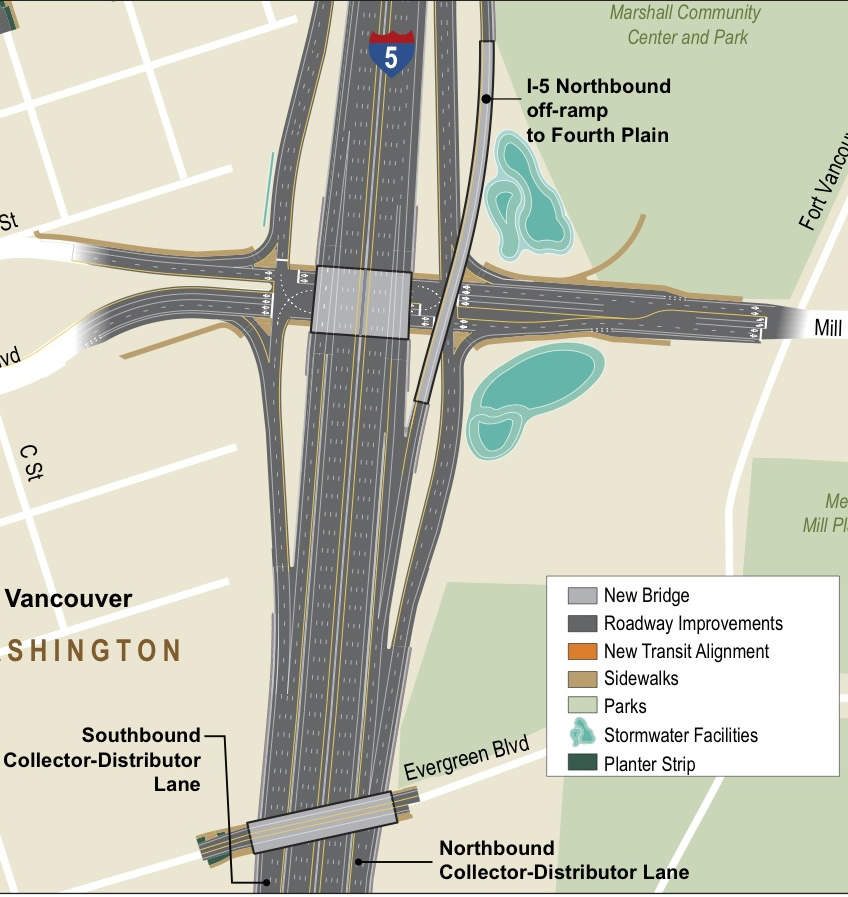 ---
Sunrise Highway
Clackamas County, near Portland - planned expressway between I-205 and US 26 through Damascus - Record of Decision signed 2011, construction started 2013
Mark Robinowitz comments on Sunrise Sprawlway Supplemental Draft EIS (2.6 megabyte PDF file)
ODOT plans to build a small part of the approved highway since the money for the full project does not exist. The yellow on the map below shows the approved project. The blue shows what ODOT plans to build, starting in 2013. The full project would cost over $1 billion. The smaller segment that ODOT will build first is about $100 million.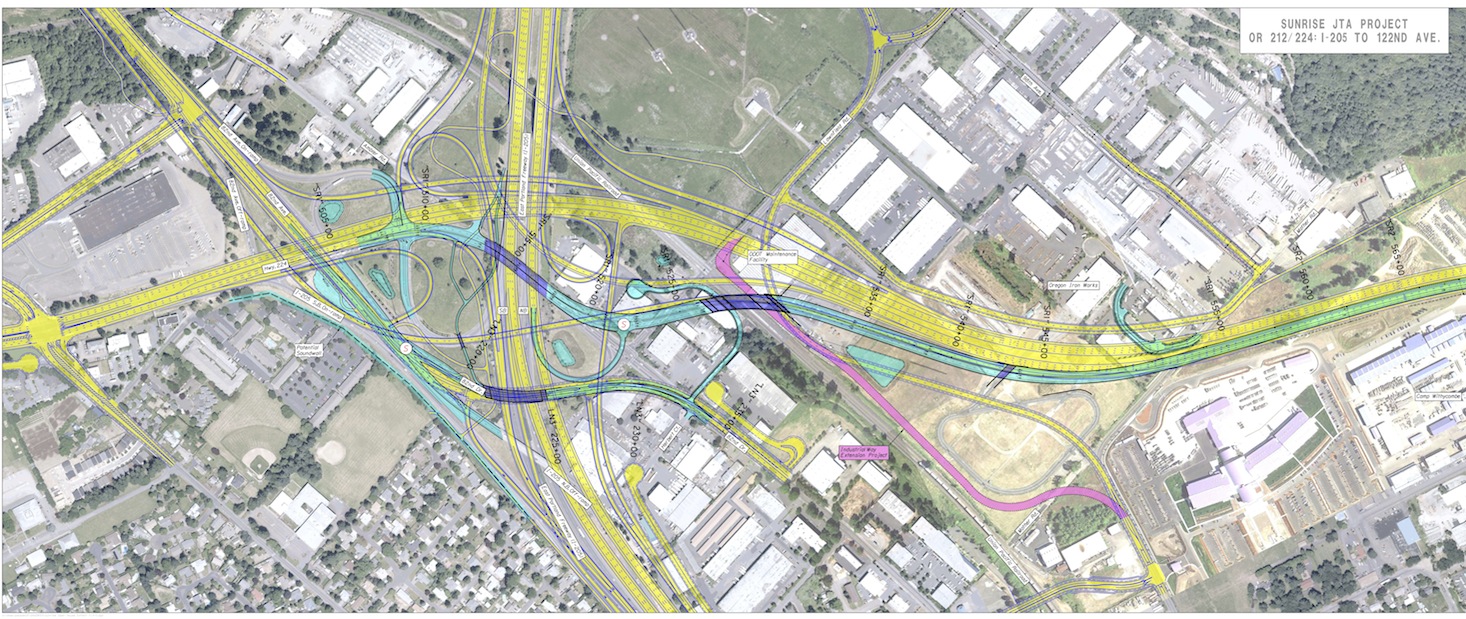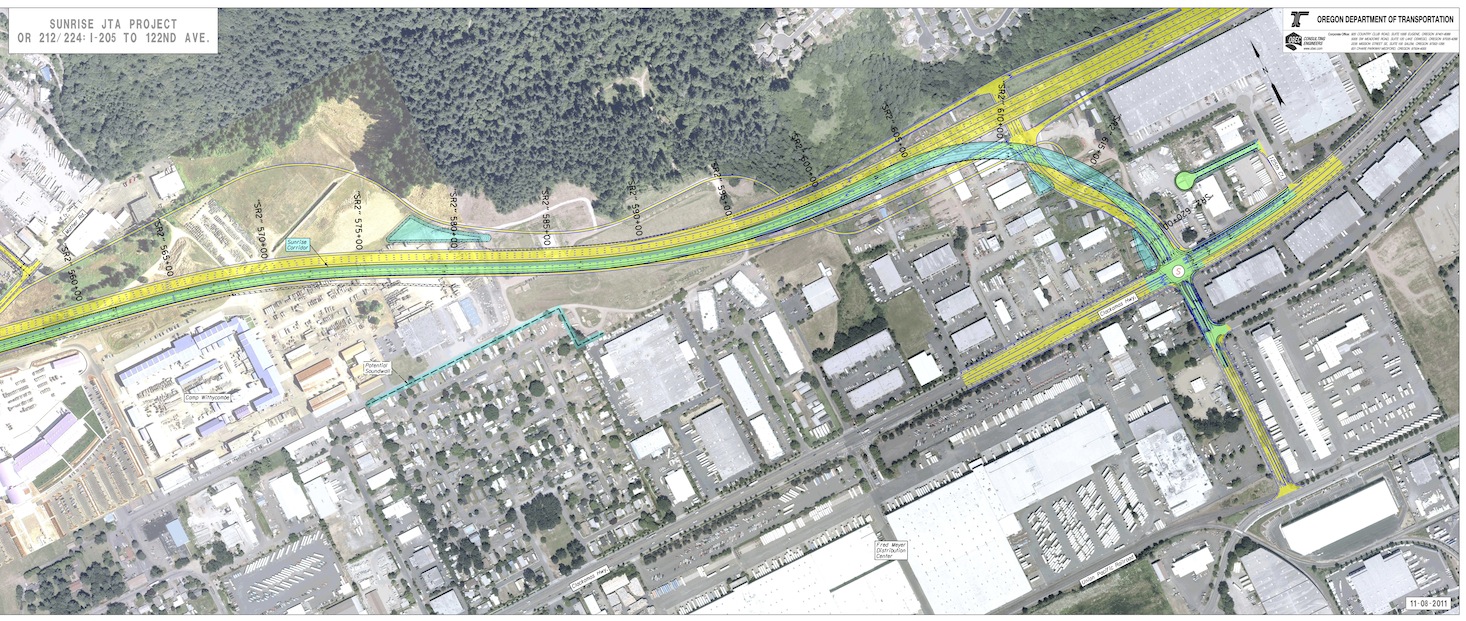 www.deainc.com/sunrise/index.html (consultant website)
www.oregon.gov/odot/hwy/region1/pages/sunrise_eis/index.aspx
On Feb. 22, 2011, the Federal Highway Administration signed a Record of Decision (ROD) on the Sunrise Project. The Sunrise Project is an approximately five-mile, east-west oriented, limited-access highway from I-205 to the Rock Creek Junction in Clackamas County. ...
Also on July 29, 2009, Gov. Ted Kulongoski signed the Jobs and Transportation Act, which specifically provides $100 million to begin work on the Sunrise Project. An additional $30 million in state and federal funds are also available for the project. The combination of these funds will provide the opportunity for initial elements of the project to be built in the next several years. The full project is estimated at just over $1 billion.

www.ci.damascus.or.us/FAQs.aspx?ID=fb4c9e4d-71af-418b-80dc-1a6e16d98c73#5
What are the plans for the Sunrise Project?
Sunrise Project Description - The Oregon Department of Transportation (ODOT) and Clackamas County propose to build a new, east-west oriented, limited-access highway between I-205 and the Rock Creek Junction. The purpose of the proposed Sunrise Project is to effectively address the existing congestion and safety problems in the OR 212/224 corridor between its interchange with I-205 and Rock Creek Junction, and to serve the growing demand for regional travel and access to the state highway system.
Project Status - Based on public input and early technical information, project committees narrowed the range of alternatives for the Sunrise Project in 2006. Two "build" alternatives and one "no build" (or "do nothing") alternative were selected for thorough study in a Supplemental Draft Environmental Impact Statement (EIS). That work has been completed and the findings are documented in a Supplement Draft Environmental Impact Statement document (SDEIS) released October 13, 2008. The SDEIS and supporting technical documents will be available for review on the project website as well as at Damascus City Hall, 19920 SE Hwy 212, Damascus OR 97089.

Sunrise Parkway - The exact route, character, and function of a "second phase" of the Sunrise Corridor, known as the Sunrise Parkway, has not yet been determined. An environmental impact statement (EIS) has not been funded; recent communication from ODOT and Clackamas County now contemplates a two to four-lane limited access scenic parkway south of the Highway 212 corridor that would connect with Highway 212 near 172nd Avenue on the west and east of 242nd Avenue outside the Damascus city limits on the east. An in-depth study must be completed before the final route and design are determined.
planned highway widenings of existing roads: 5, 84, others
---
Portland's Dead Highways: Mt. Hood Freeway
from Citizens for Sensible Transportation (a Portland regional group that helped stop the Western Bypass) no longer seems to have their website on line.
"Oregon's rapid population and economic growth between 1985 and 2000 led to proposals for new freeways to meet traffic demands and reduce congestion. Proposed projects included the Mount Hood Parkway, the Sunrise Corridor and the Western Bypass in the Portland area and the West Eugene Parkway in Eugene. For a variety of reasons including funding constraints, environmental concerns and citizen opposition, none of the projects was constructed."
– Atlas of Oregon, p. 104
www.cfst.org/articles/STIP_Sunrise_Comments.html and www.cfst.org/articles/TopTenReasonsNotSunriseFreeway.html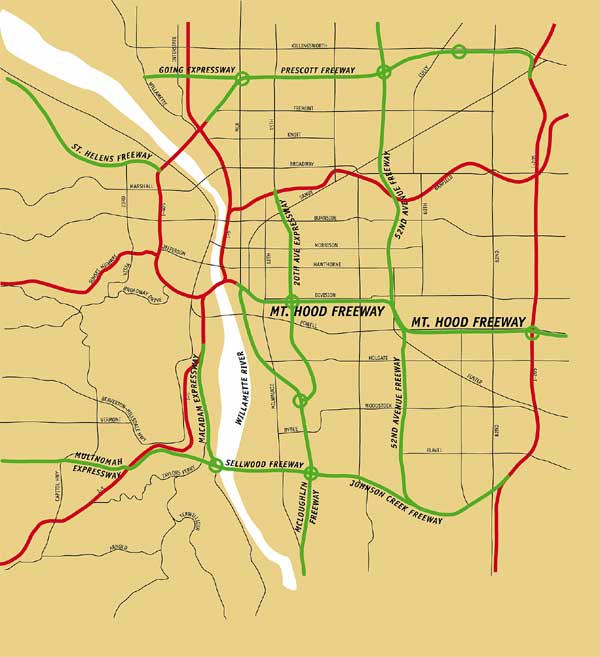 Mt. Hood Parkway was a proposed connection between I-84 and US 26. The Sunrise Freeway is a proposed expressway from Clackamas (I-205) to Boring (US 26) outside the Portland UGB (it is still being pushed as a core part of the recent UGB expansion around Damascus). The Western Bypass would have run from I-5 south of I-205 to the Columbia River, where it would have connected to I-5 north of Vancouver, WA. These roads would have been parts of a de facto Portland Outer Beltway.
This map from the Portland Planning Division's 1966 development plan illustrates Robert Moses' vision for a city girdled by freeways. Red indicates existing freeways; green indicates freeways that were never built.
1978 map of planned Mount Hood Parkway

Myth: Oregon's planning laws hinder development of highways and other large public facilities.
Reality: From 1979 to 1988, Oregon's Highway Division successfully completed 146 major transportation projects. Since Oregon's planning program began (in 1973), only two large project proposals have failed: the Mt. Hood Freeway (east of Portland) and the Roosevelt Freeway (in Eugene). A 1988 study by a multi-agency committee found "the overall record of siting public facilities in Oregon to be good – probably much better than that found in other states."
www.uoregon.edu/~pppm/landuse/myths.html
Department of Land Conservation and Development DLCD, 1992
www.portlandtribune.com/archview.cgi?id=30283
Thank you, neighborhood activists
People can drive past on Division or Clinton streets every day and never know it's there. Indeed, it wouldn't be there at all, if supporters of the Mount Hood Freeway had had their way.
The diminutive Piccolo Park (Southeast 28th Avenue between Division and Clinton streets, 503-823-7529) cuts a grassy swath through a residential block. The land was acquired by the state in the 1970s for a freeway, which would have roared through this historic neighborhood, but the freeway planning faltered and in 1989 the parcel was turned into a charming city park.
Piccolo means "small" in Italian, and Piccolo is a kid-size park, with plenty of slides, swings, bridges and other things to climb on and race around.
— AMD
www.wweek.com/story.php?story=6110
30TH ANNIVERSARY ISSUE
HIGHWAY TO HELL
3/9/2005
Nothing shaped Portland so much as the murder of the Mount Hood Freeway.
www.kurumi.com/roads/3di/i505.html
I-505 (cancelled) Oregon
Unbuilt 1.44-mile Portland spur [1]; I-505 would have followed US 30 (Yeon Ave). northwest out of Portland. Plans for this freeway were withdrawn in the late 1970s, culminating with an approval by President Jimmy Carter to cancel it on Dec. 14, 1979. [11]
The money was used for other construction projects in the Portland area, including an alternate design for I-505. (The source doesn't elaborate on this.) [11]
Part of the proposed route appears on a 1979 Gousha Portland city map. I-505 would have ended at I-405 at the Exit 3 ramps.
A 1970 proposal estimated the road at 0.7 miles and $3 million. [8] A 1972 report has this summary:
The statement concerns the proposed construction of an urban freeway (Interstate 505) extending from a junction with Interstate 405 westerly to a junction with St. Helens Road (US 30) in Northwest Portland, Multnomah County, Oregon.
The adverse environmental impacts include a general increase in land values in Northwest Portland, the relocation of individuals and commercial/industrial entities, changes in location and degree of noise levels, increased traffic density within the freeway corridor.
1. Route Log and Finder List - Interstate Highways, USDOT, 1978
2. Route Log and Finder List - Interstate Highways, FHWA, Oct. 31, 2002.
7. Summers, Stephen. "Interstate system route numbering." http://www.nwindianahwys.homestead.com/INTER_MAIN.HTML. (29 May 2003)
8. Congressional Hearings, Federal Aid Highway Act of 1970.
11. Oregon Department of Transportation. "A chronological history of ODOT: 1899 to 1993." http://www.odot.state.or.us/ssbpublic/bss/rmds/history/~chron.htm (12 March 2004)
---
Eugene, Oregon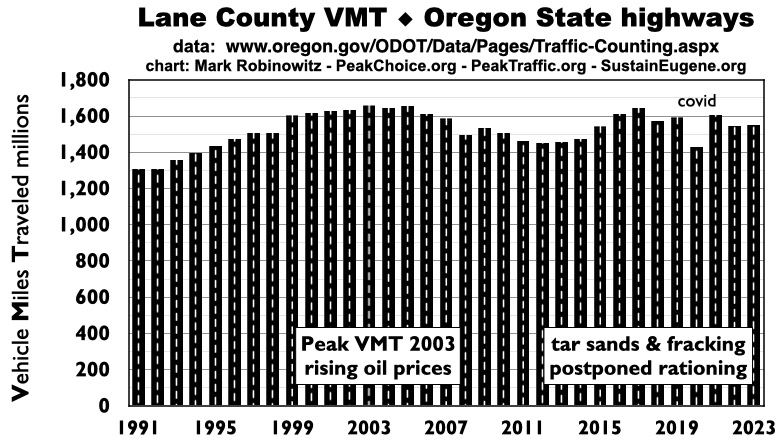 West Eugene Parkway - planned expressway on drawing boards since 1951 - canceled 2007
details at West Eugene Transportation, Land and Neighborhood Design Solutions (WETLANDS)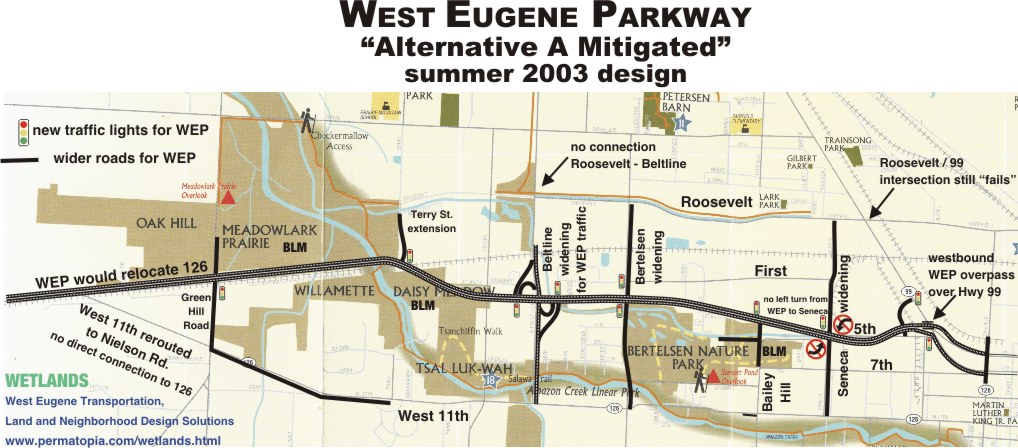 Roosevelt Freeway (1951): original route for WEP
Beltline extensions in south hills: canceled around 1971 (?)
Skinner Butte Freeway: downtown expressway in 1967 highway plan
widened Ferry Street bridge - stopped in 1990s
---
Eugene - Springfield: a billion dollars of planned projects
Beltline Highway
One option for widening Beltline would have 11 lanes.
www.oregon.gov/ODOT/HWY/REGION2/pages/oregon569_beltlinehwy_public.aspx
download these maps into a PDF reader and count the lanes where it crosses the river
Collector-Distributor Roadway Concept
Ramp Braid Concept
I probably would support some sort of a "low build" alternative (also on that page) to reduce weaving at Delta / Beltline. That would cost about the $3 million they're wasting on the study.
www.sustaineugene.org has details on road expansion plans in Eugene, Springfield and Lane County
Ramp Braid Concept

Beltline Highway widened to 11 lanes at river crossing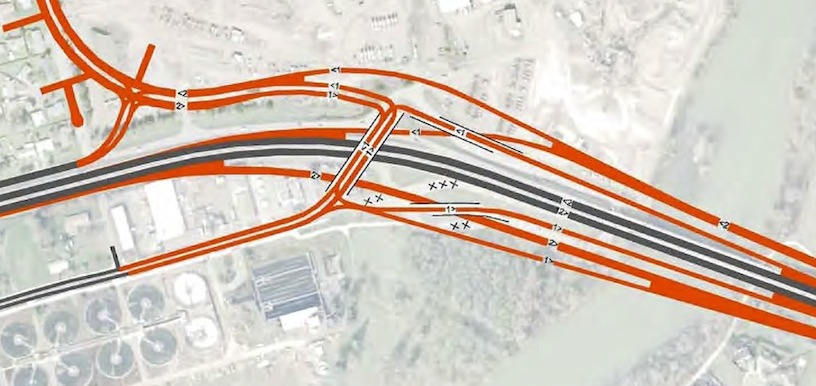 Delta Highway widened to 8 lanes south of Beltline interchange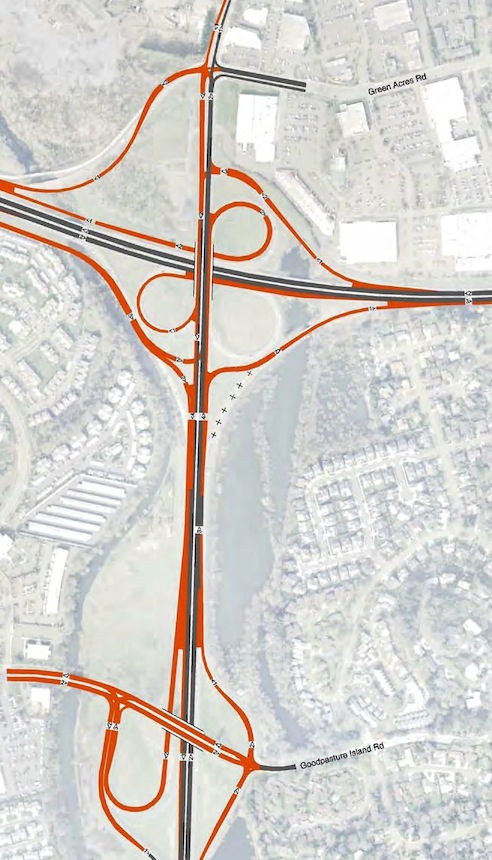 I-5 Beltline interchange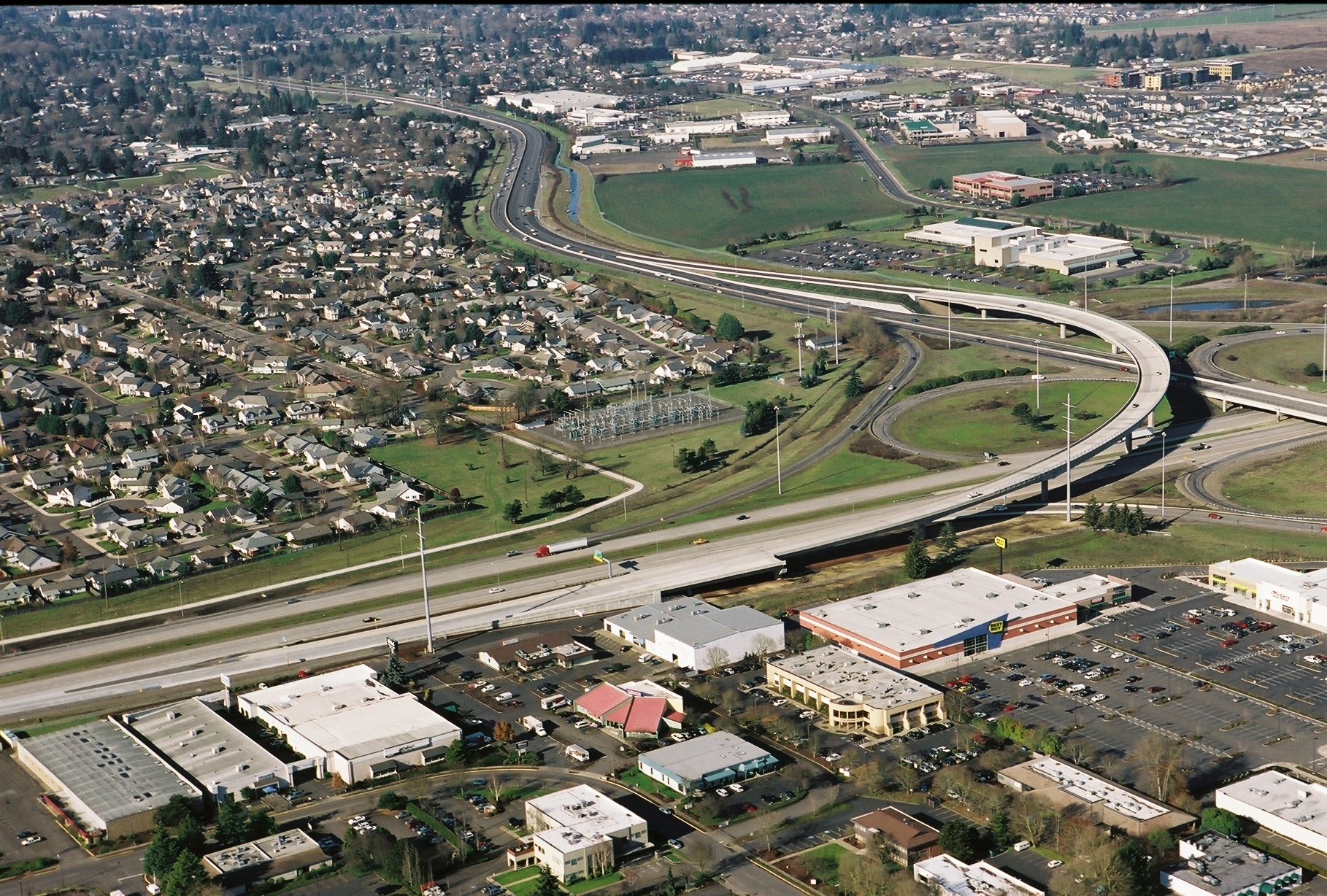 ---
Salem
new 2/3rds billion bridge across Willamette, going through review process now
Salem new bridge would connect Salem Parkway with Highway 22 on the west bank of the river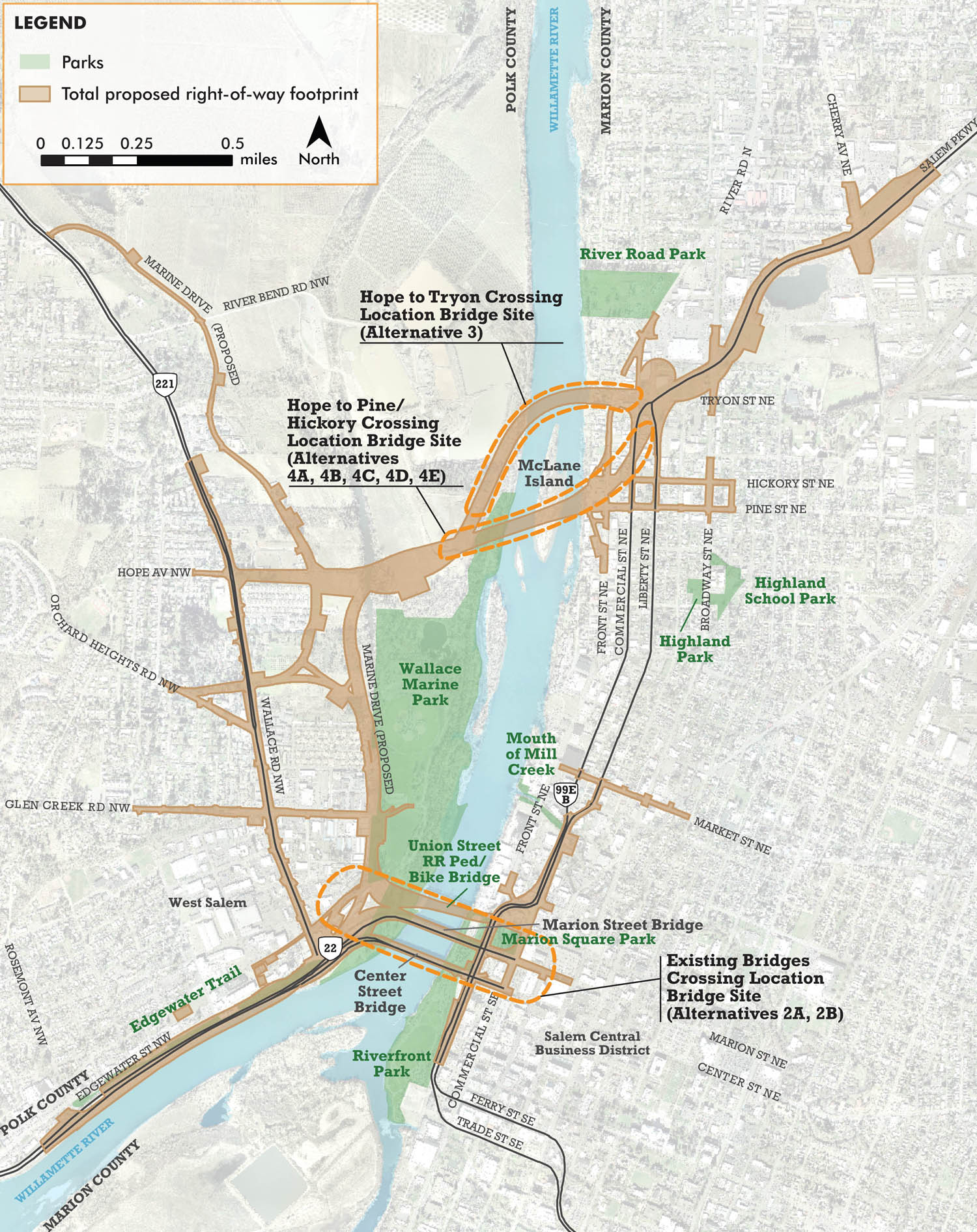 www.kurumi.com/roads/3di/i305.html
I-305 (cancelled) Oregon
This is the proposed but unbuilt Salem Spur, intended to connect I-5 to city streets in North Salem. I-305 would have followed the Salem Parkway (now Business Route 99E). Its official length in the federal highway log was 3.3 miles. [4]
In 1977, I-305 was withdrawn from the Interstate highway system. Funds were traded in for road projects in the area, including widening of the major bridge across the Willamette River to West Salem. [7]
I-305 still appeared in some later road atlases, including the 1985 nationwide edition by Rand McNally.
See also: Interstate 305 (Cancelled) (Mike Wiley)

4. Route Log and Finder List - Interstate Highways, USDOT, 1978
7. Oregon Department of Transportation. "A chronological history of ODOT: 1899 to 1993." http://www.odot.state.or.us/ssbpublic/bss/rmds/history/~chron.htm (12 March 2004)
---
Bend, Oregon
Bend Parkway (built, lawsuit unsuccessful)

Redmond Bypass recently built
---
Newberg Dundee bypass
new 2/3rds billion bypass through urban and rural areas, partly a faster route from Portland to the coast
would pave over farmland
Record of Decision has been signed. Construction started in 2013.
www.oregonjta.org/region2/?p=highway99w&expandable=2
Newberg Dundee Bypass Draft Environmental Impact Statement comments
from Mark Robinowitz, PeakTraffic.org (2 megabyte PDF file)
ODOT fact sheet, Autumn 2012 - ODOT will only build part of this because there is not enough money.
The full bypass will be an 11-mile, four-lane highway around the cities of Newberg and Dundee. While the entire bypass has been approved, funding is only available for the first part of the project.

By using a phased approach, a key segment will be complete by 2016. Construction of this segment, known as Phase 1, is projected to cost $262 million, with funds coming from the Oregon Legislature's Jobs and Transportation Act, the federal government and contributions by Yamhill County, the cities of Newberg, Dundee and McMinnville, and the Confederated Tribes of the Grand Ronde.