Pennsylvania
Trillion Dollar Highway Plans
= Multiple Bypass Surgery
a state by state list
High Priority Corridors
specified by Congress in 1991, 1995, 1998, 2005, 2012
NAFTA Superhighways
Corridors of the Future
J. Edgar Hoover Parkway: transportation surveillance,
mileage taxes, RFID & video tolling
Paving Appalachia:
Corridor A to X in AL, GA, MD, MS, NC, NY, OH, PA, SC, TN, VA, WV
Alabama
Nebraska
Alaska
Nevada
Arizona
New Hampshire
Arkansas
New Jersey
California
New Mexico
Colorado
New York
Connecticut
North Carolina
Delaware
North Dakota
Florida
Ohio
Georgia
Oklahoma
Hawai'i
Oregon
Idaho
Pennsylvania
Illinois
Rhode Island
Indiana
South Carolina
Iowa
South Dakota
Kansas
Tennessee
Kentucky
Texas
Louisiana
Utah
Maine
Vermont
Maryland
Virginia
Massachusetts
Washington
Michigan
Washington, D.C.
Minnesota
West Virginia
Mississippi
Wisconsin
Missouri
Wyoming
Montana
High Priority Corridor 9: United States Route 200 and the Appalachian Throughway Corridor
United States Route 220 and the Appalachian Thruway Corridor from Business 220 in Bedford, Pennsylvania, to the vicinity of Corning, New York , including United States Route 322 between United States Route 220 and I-80. [I-99]

Appalachian Corridors O and U
High Priority Corridor 21: United States Route 219
United States Route 219 Corridor from Buffalo, New York, to the intersection of Interstate Route 80.

Appalachian Corridor N is building a new 219 from Granstville, MD to Ebensburg, PA (south of the High Priority Corridor)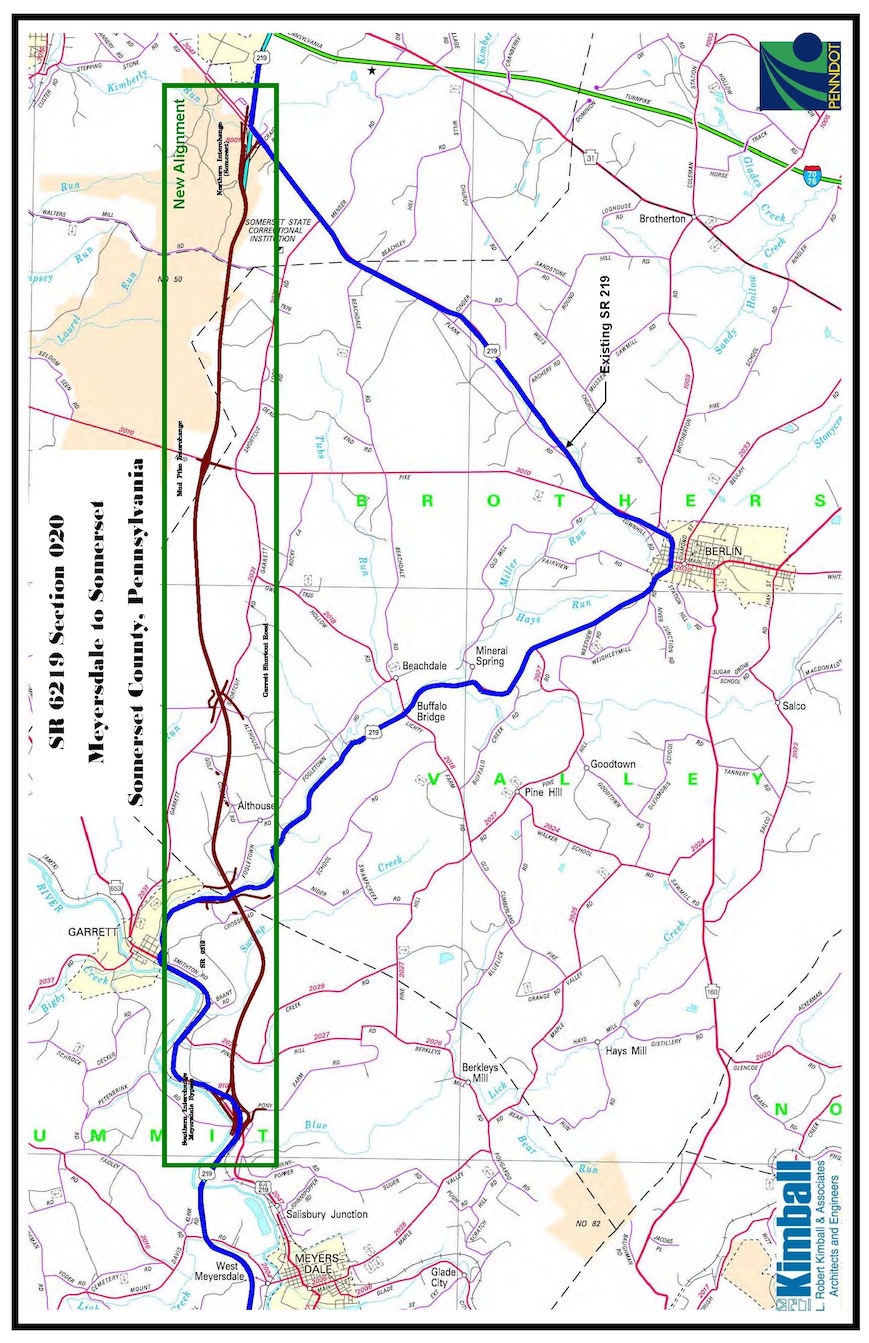 219 southern terminus at I-68 (Corridor E), Maryland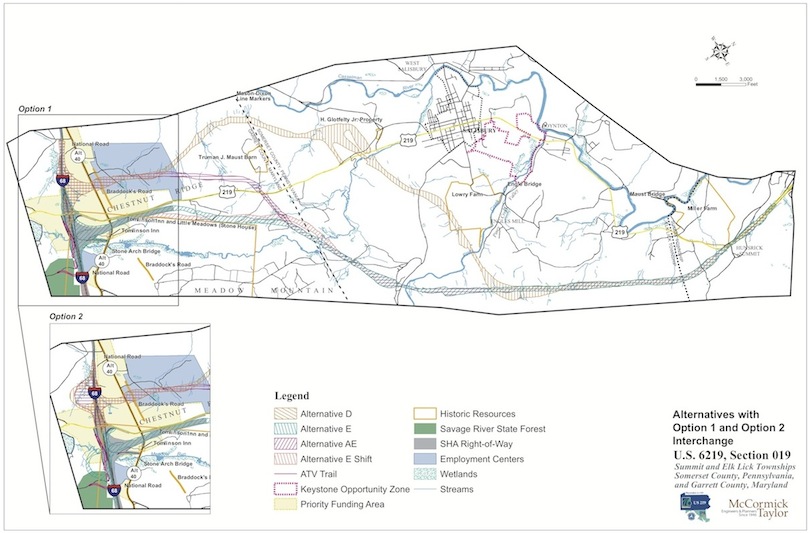 High Priority Corridor 31: Mon-Fayette Expressway and Southern Beltway
The Mon-Fayette Expressway is Tollroad 43. The Pittsburgh Southern Beltway would be Pennsylvania 576, perhaps a future I-576.
High Priority Corridor 36: New York and Pennsylvania Route 17 (I-86)
I-90 to Harriman, NY

(already completed in Pennsylvania)
High Priority Corridor 79: Interstate Route 376
Interstate Route 376 from the Pittsburgh Interchange (I/C No. 56) of the Pennsylvania Turnpike, westward on Interstate Route 279, United States Route 22, United States Route 30, and Pennsylvania Route 60, continuing past the Pittsburgh International Airport on Turnpike Route 60, to the Pennsylvania Turnpike (Interstate Route 76), Interchange 10, and continuing north on Pennsylvania Turnpike Route 60 and on United States Route 422 to Interstate Route 80. [I-376]
---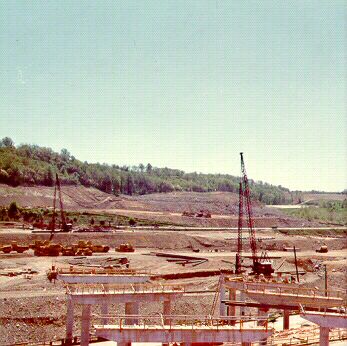 Philadelphia suburbs - I-476 "Blue Route" (built in 1990s, lawsuit unsuccessful)
I-476 under construction. One of the obstacles the highway faced was a local government that controlled a park in its path. They refused to allow the highway to be built through the park. Federal Highway used eminent domain to take the park from the local government and bulldozed the highway through the park.
---
I-695 (stopped)
---
I-99 from Altoona to Penn State recently completed (Bud Shuster's old Congressional District, the top pork barrel promoter for roads in Congress for many years)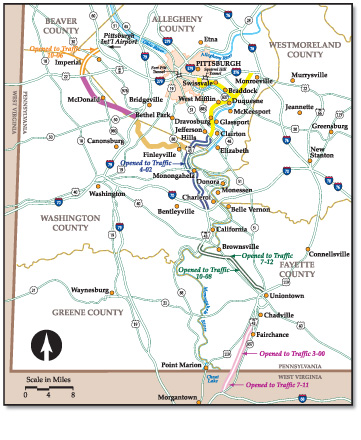 Monongahela - Fayette Expressway and Southern Beltway
Pittsburgh suburbs to West Virginia, part built, a mix of suburban and rural impacts
http://pittsburgh.cbslocal.com/2012/08/02/mon-bridge-opens-in-mon-fayette-express-project/
Mon Bridge Opens In Mon-Fayette Express Project
August 2, 2012 9:22 PM
PITTSBURGH (KDKA) -- Governor Corbett boarded a vintage car and was first to cross the impressive Mon River Bridge linking Washington and Fayette counties and two major sections of the Mon-Fayette Expressway.

"This bridge is carrying us into the future," he said. "It is connecting more than just two counties. It is connecting a nation."

But teachers who showed up at the event questioned construction spending when cuts are being made elsewhere.

"Larger class sizes, teachers layoffs, programs being cut," said one protestor.

"That's much more important than a stretch of highway," added another.

In fact, $2.5 billion have already been spent on the Mon-Fayette and there's currently no funding for the final link to Pittsburgh – perhaps the most important link.

If you take a drive down the existing toll road, you won't have much company.

And Sheehan: "Do you think it's been worth $2.5 billion?"

"I can't put a number on the worth on it right now," Corbett said. "I think this is something you have to take a long term look at. You can't take a look at the short term that we always tend to look at."

The governor supports the connection to Pittsburgh and the proposed southern expressway linking the Mon-Fayette to the airport corridor – projects that would add another $2 billion to the tab.

Andy Sheehan: "Well, there's no money to be had."

"Right now there's no money to be had, but I think if we start growing the economy of Pennsylvania that's certainly going to help," Corbett said.

This is not a bridge to nowhere. It's an important link between two counties.

But at $2.5 billion and counting the Mon-Fayette Expressway is far from reaching its potential and may never reach it.
www.post-gazette.com/stories/local/neighborhoods-south/mon-fayette-expressway-connecting-uniontown-browsville-set-to-open-monday-644466/
Mon-Fayette Expressway connecting Uniontown, Brownsville set to open Monday
July 12, 2012 3:01 pm

By Jon Schmitz / Pittsburgh Post-Gazette

The section of Mon-Fayette Expressway connecting Uniontown and Brownsville will open at noon on Monday, the Pennsylvania Turnpike Commission announced today.

With its opening, the expressway will be complete from Interstate 68 east of Morgantown, W.Va., to Route 51 in Jefferson Hills. Plans to build from there north to Pittsburgh are stalled by a lack of funding.

Construction of the second phase of the Uniontown-Brownsville segment began four years ago and included a $96 million Monongahela River Bridge, 3,022 feet long and 200 feet high, that connects Washington and Fayette counties.

The two-phase project cost $882 million for 17 miles between U.S. 119-Route 51 in Uniontown and Route 88 in Washington County.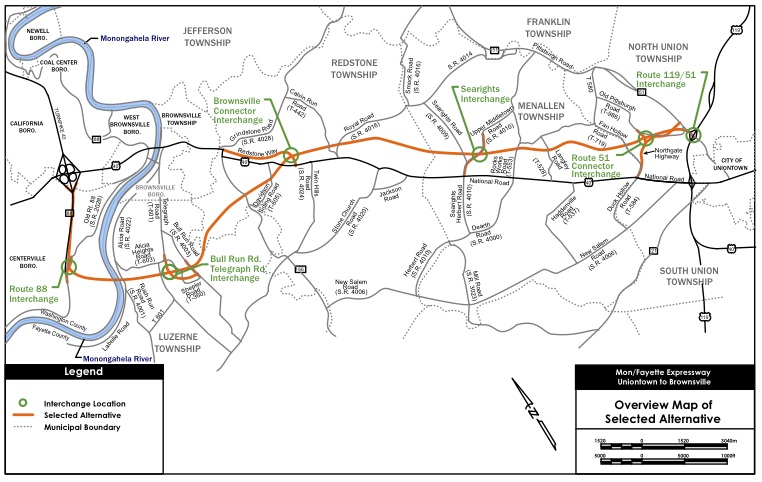 www.mfe-union-to-brown.com/newsroom/phase-2-opens.htm
Mon/Fayette Expressway's Uniontown to Brownsville Phase 2 Section Opens July 16
July 12, 2012
New Signature Bridge over the Monongahela River connects Washington, Fayette counties.

The Pennsylvania Turnpike Commission (PTC) announced today that Phase 2 of the Uniontown-to-Brownsville section of the Mon/Fayette Expressway (Pa. Turnpike 43) will open to traffic July 16 at 12 p.m.

Construction of the Uniontown-to-Brownsville Phase 2 project began in the spring of 2008 and extends the Uniontown-to-Brownsville Phase 1 project (opened in October 2008) in Redstone Township to a point near the Pa. Route 88 and Pa. Route 40/Turnpike 43 cloverleaf at the Centerville Borough/West Brownsville Borough line.

"With the completion this month of the Uniontown-to-Brownsville project, three of the four Mon/Fayette sections will be open to traffic, creating 60 continuous miles of new expressway from I-68 in West Virginia to Route 51 in Jefferson Hills Borough," said Chairman William K. Lieberman. "We're proud of the fact that we have completed three-fourths of the assigned Mon/Fayette projects, and will continue to seek new funding for the remaining segment."

Highlights of the Uniontown-to-Brownsville Phase 2 project include:

a new maintenance facility adjacent to the existing Searights Interchange (Exit 18);
a $96 million Monongahela River Bridge, 3,022 feet in length and 200 feet high, that connects Washington and Fayette Counties;
new exits at Redstone Way (Exit 22), Bull Run Road (Exit 26) and Pa. Route 88 (Exit 28); and
a new interchange (Exit 15) that connects the southern end of the Phase-1 project with Pa. Route 51 and U.S. Route 119.

The Mon/Fayette Expressway Uniontown-to-Brownsville Project (Phases 1 and 2 together) includes 17 miles of new, limited-access highway between U.S. Route 119 and Pa. Route 51 in Uniontown and Pa. Route 88 in Washington County.

Total combined cost of Phase 1 and 2 was $882 million, including environmental-impact studies, preliminary engineering, final design, utility relocations, right-of- way acquisition, design, construction management and construction.

"Completion of this project represents a major milestone in the development of one of the largest ground-transportation projects in the United States," said PTC CEO Roger Nutt. "With the support of PennDOT, the Turnpike Commission has invested in a roadway that will connect Fayette and Washington counties to 60 miles of high-speed, limited access highway and, with it, unprecedented economic development opportunities, especially in meeting the needs of the fast emerging natural-gas industry."

Route 22
Route 422