Washington, D.C.
Trillion Dollar Highway Plans
= Multiple Bypass Surgery
a state by state list
High Priority Corridors
specified by Congress in 1991, 1995, 1998, 2005, 2012
NAFTA Superhighways
Corridors of the Future
J. Edgar Hoover Parkway: transportation surveillance,
mileage taxes, RFID & video tolling
Paving Appalachia:
Corridor A to X in AL, GA, MD, MS, NC, NY, OH, PA, SC, TN, VA, WV
Alabama
Nebraska
Alaska
Nevada
Arizona
New Hampshire
Arkansas
New Jersey
California
New Mexico
Colorado
New York
Connecticut
North Carolina
Delaware
North Dakota
Florida
Ohio
Georgia
Oklahoma
Hawai'i
Oregon
Idaho
Pennsylvania
Illinois
Rhode Island
Indiana
South Carolina
Iowa
South Dakota
Kansas
Tennessee
Kentucky
Texas
Louisiana
Utah
Maine
Vermont
Maryland
Virginia
Massachusetts
Washington
Michigan
Washington, D.C.
Minnesota
West Virginia
Mississippi
Wisconsin
Missouri
Wyoming
Montana
High Priority Corridor 33: The Capital Gateway Corridor
The Capital Gateway Corridor following United States Route 50 from the proposed intermodal transportation center connected to ''and including the I-395 corridor'' in Washington, D.C., to the intersection of United States Route 50 with Kenilworth Avenue and the Baltimore-Washington Parkway in Maryland.
---
I-395 freeway extension into downtown DC (proposed)
I-95 through College Park and northeast DC
I-270 through northwest DC
I-270 through Rock Creek Park
I-266 from Arlington VA to Georgetown, DC
North Central Freeway
Barney Circle Freeway -
stopped mid 1990s, ultimately replaced by 11th Street bridge replacement project in Anacostia. I-295 / 695 connector.
Inner Loops
Fort Circle freeway (all stopped)
www.kurumi.com/roads/3di/i270.html
Inside the Beltway: A direct route to central D. C. proposed Proposed as a "new route [US] 240" in July 1957, I-270 was originally planned to be called I-70S and to extend into Washington, D. C. The exact location was under discussion. Circa 1958 and 1959, I-70S was to end at I-66 near Georgetown. [9] Later, a terminus at I-95 near Takoma Park was considered. All plans met considerable opposition, and in 1975 I-270 inside the Beltway was cancelled.
www.historictakoma.org/about/htihistory.html
History of Historic Takoma, Inc.
The historic preservation movement in Takoma began over a quarter of a century ago. As the Washington metropolitan area expanded in the early 1970s, the Takoma Community faced a number of development-related threats. The most controversial of the proposed developments was the planned construction of the North Central Freeway, which would have built an interstate highway through the city and dramatically changed its character.
www.washingtonpost.com/ac2/wp-dyn/A25814-2004May13?language=printer
John D. Kelly Dies at 80; Advocated for Brookland
By Yvonne Shinhoster Lamb
Washington Post Staff Writer
Friday, May 14, 2004; Page B06
John D. Kelly, 80, who worked during the 1960s and 1970s in the District's Brookland community to revitalize the business district and to block plans for an expressway through the neighborhood, died of lung cancer May 1 at Providence Hospital in Washington.....

.... when local and federal agencies made plans to run an expressway through Brookland, Mr. Kelly joined Sam Abbott, Thomas and Angela Rooney and others in forming the Emergency Committee on the Transportation Crisis, said his son Peter T. Kelly of Aspen, Colo.
The committee "held protests at the Three Sisters Bridge site, at various blocks around our neighborhood which the government had seized by eminent domain, and at congressional hearings and city council meetings," his son said. It was "ultimately successful in having the planned I-95 expansion canceled and the Metro rail system built."
John Kelly was quoted in a 1978 Washington Post article about residents of Brookland who fought the plans for the North Central Freeway and advocated the Brookland-Catholic University Metro station.
"Our answer has been yes to urban transit, no to highway," Mr. Kelly said. "The subway is a welcome addition to the community. We're not interested in high-density development here. We're concerned about preserving and refining the quality of life that exists."
In the 1960s, Mr. Kelly also was active in the strike against the D.C. Transit System, the precursor company to Metro that was privately owned by businessman O. Roy Chalk.
"I can remember the 'Erase Chalk' posters around the house and my dad driving around D.C. in our station wagon giving free rides to people who were participating in the strike," his son said.
1950s - 1970s
this page is under construction
1950s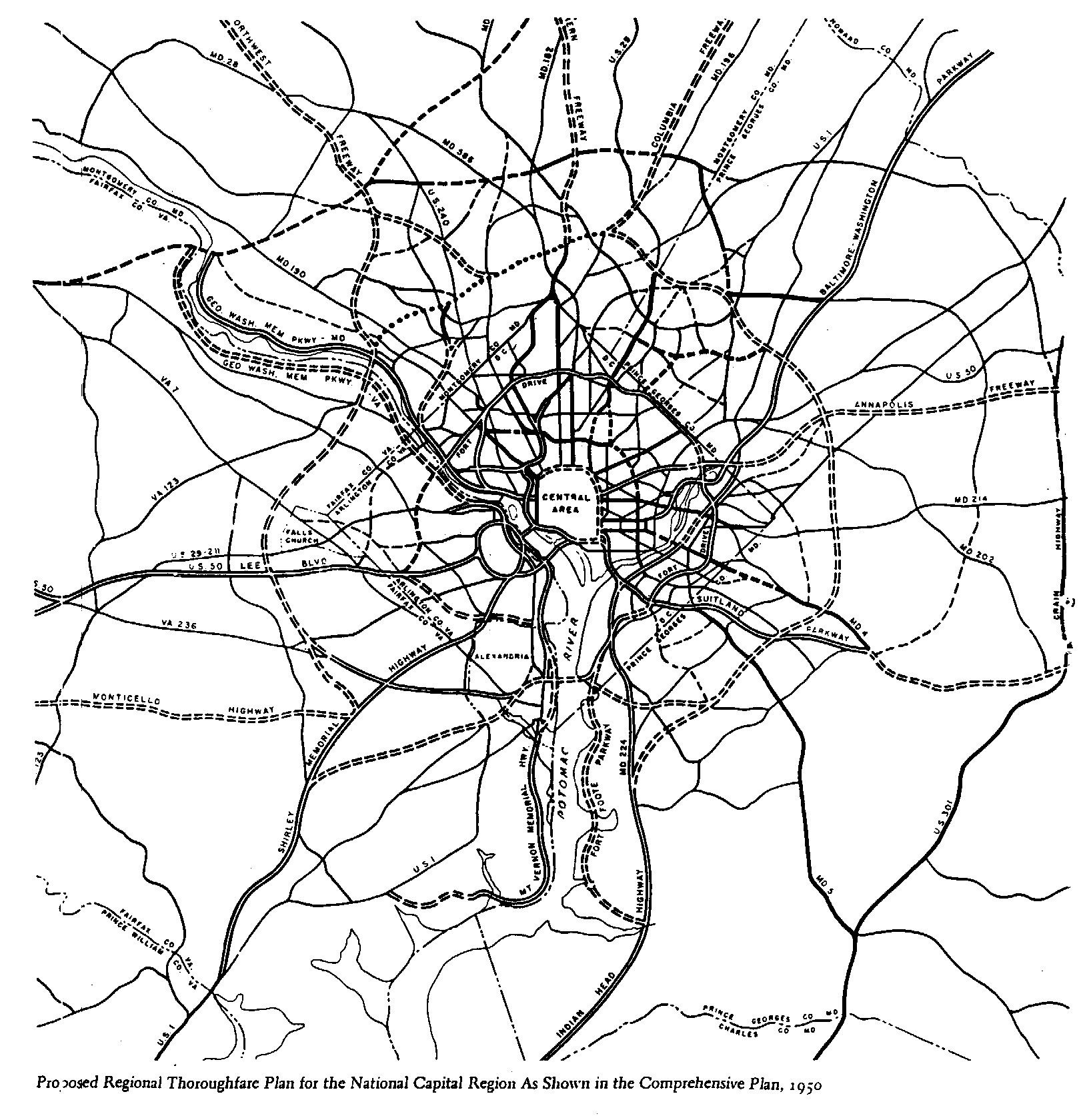 1955: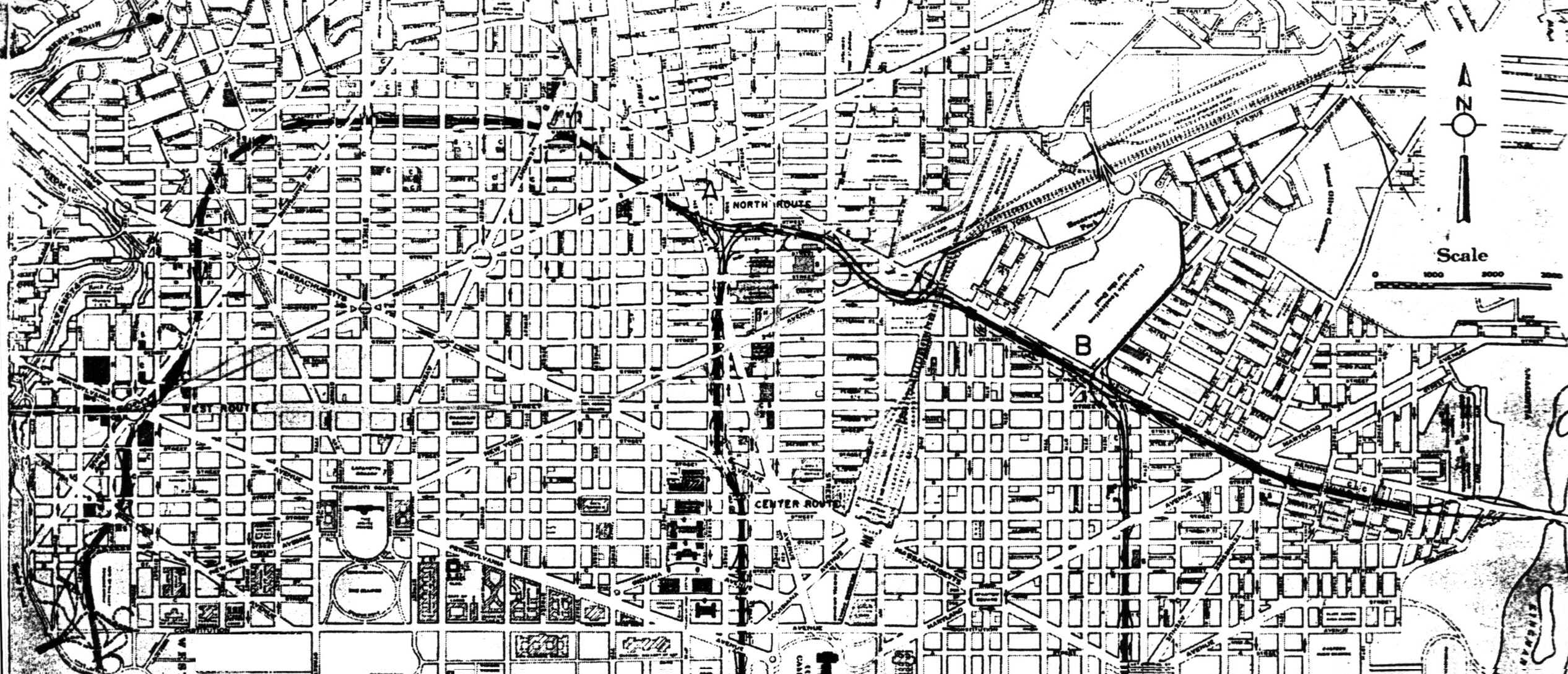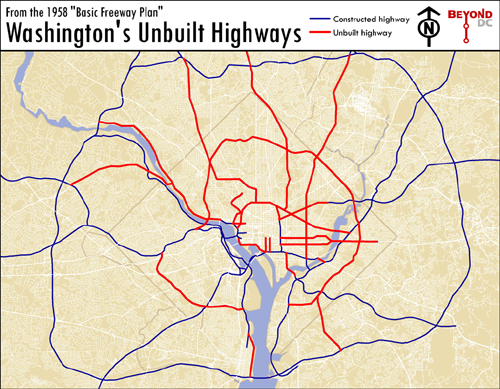 1959: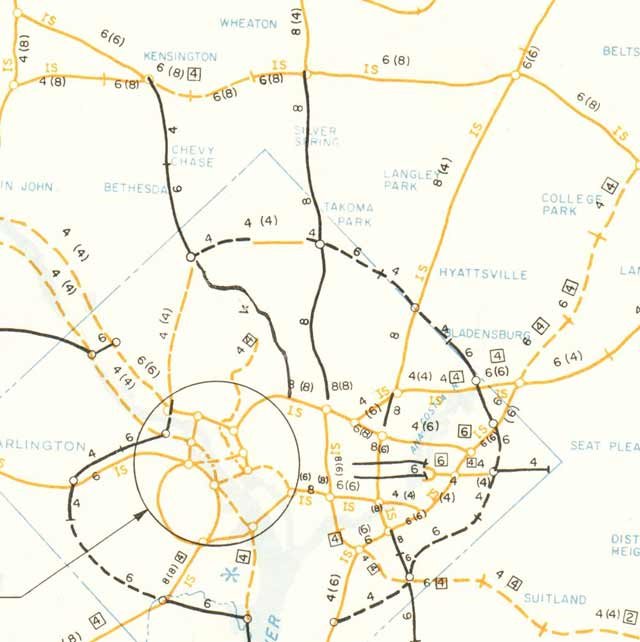 1960s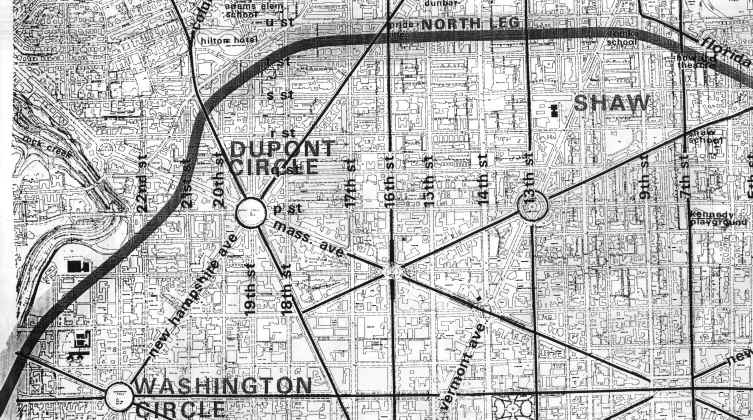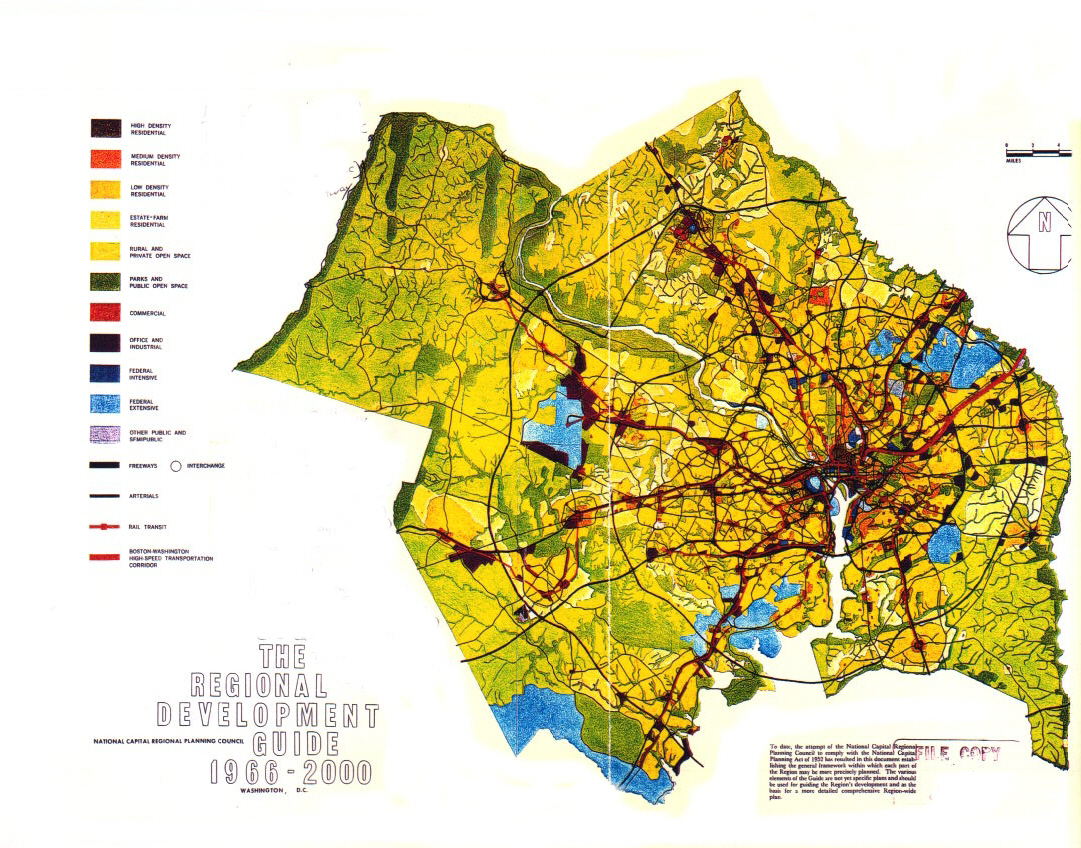 North Central Freeway: 1964 study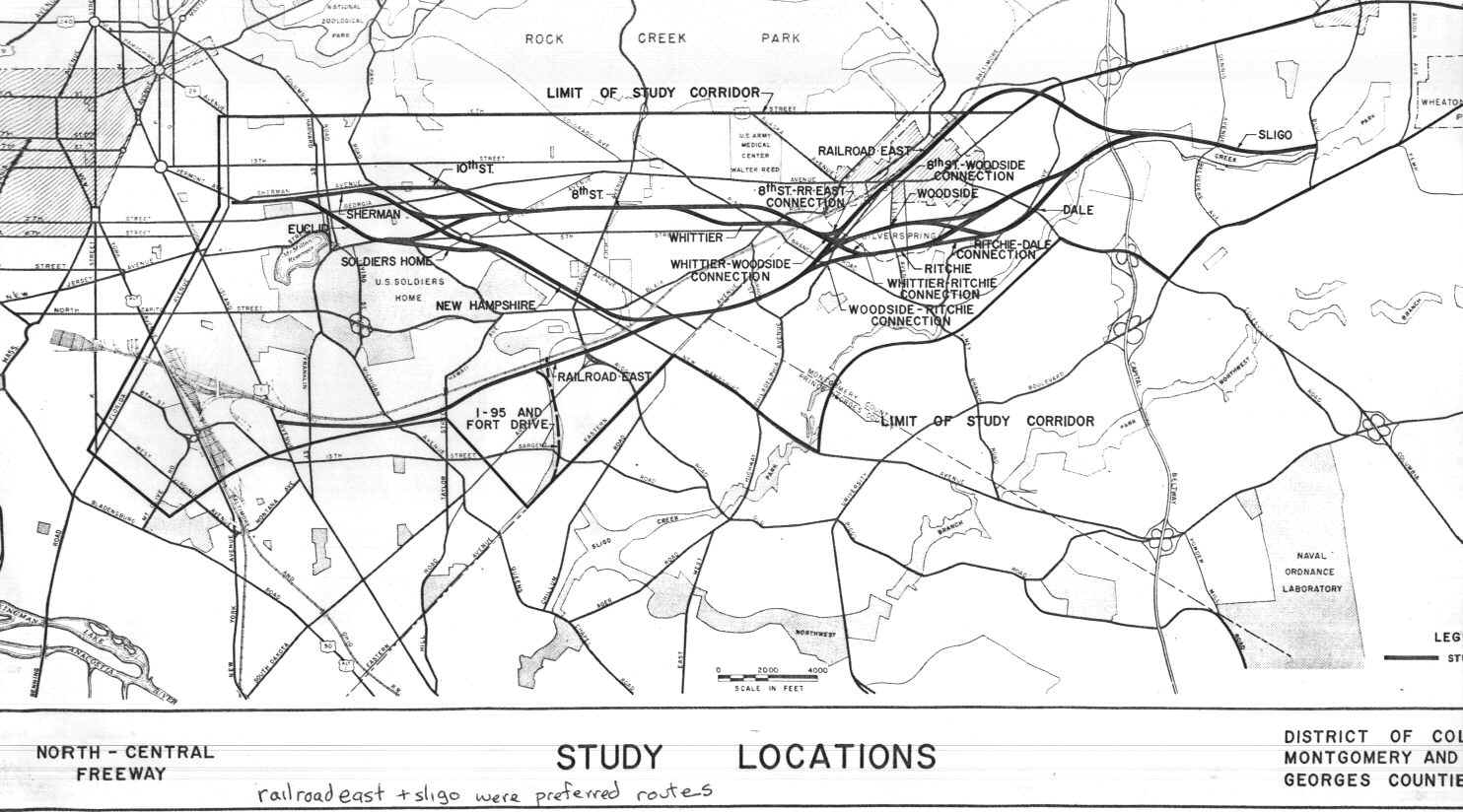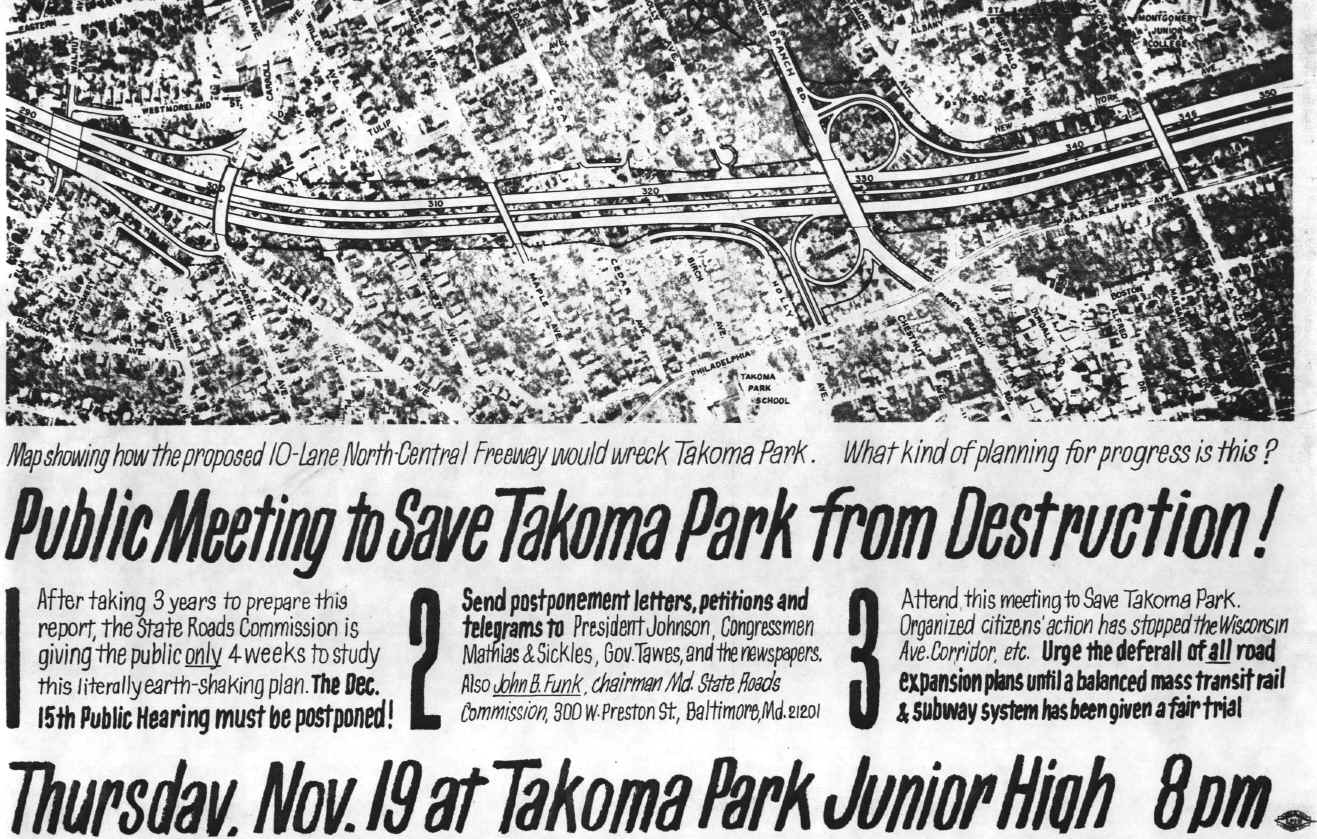 North Central Freeway, Montgomery County 1967 Master Plan

1972 Outer Beltway plan
The Outer Beltway east of I-270 is the route of the Intercounty Connector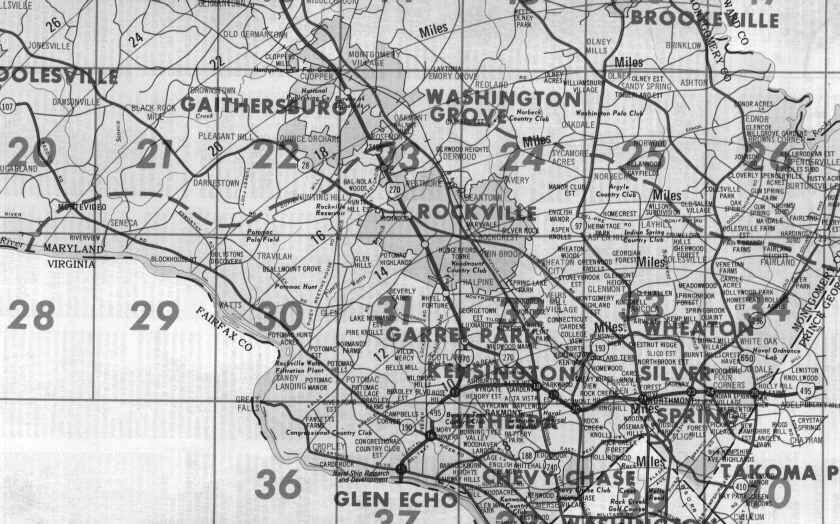 1972 Outer Beltway and Rockville Freeway
Part of the Rockville Freeway has been built and is called Montrose Parkway. The eastern part of the Rockville Freeway right of way is a forested corridor, part has a bike path but there are no roads for cars. A segment was made Matthew Henson State Park by the late Senator Idamae Garrott to stop this highway.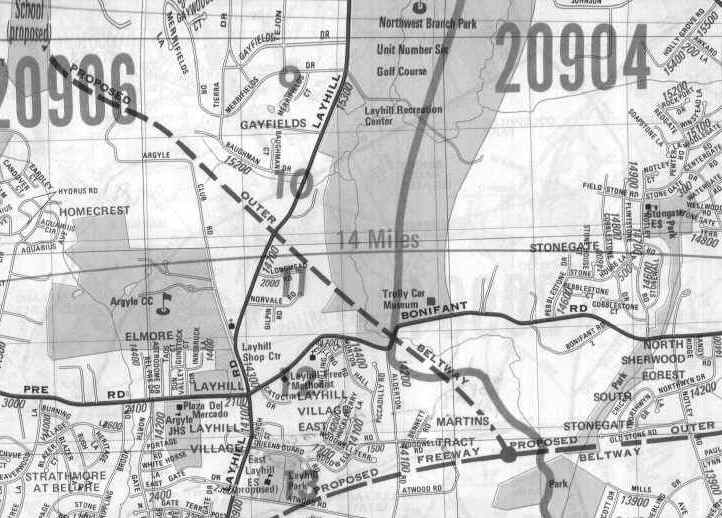 1976 Outer Beltway plan from Council of Governments

Washington Council of Governments (which guides transportation plans for the region)
their logo resembles the original triple beltway proposal from the 1950s and 1960s.
1960s plans: