Portland, Oregon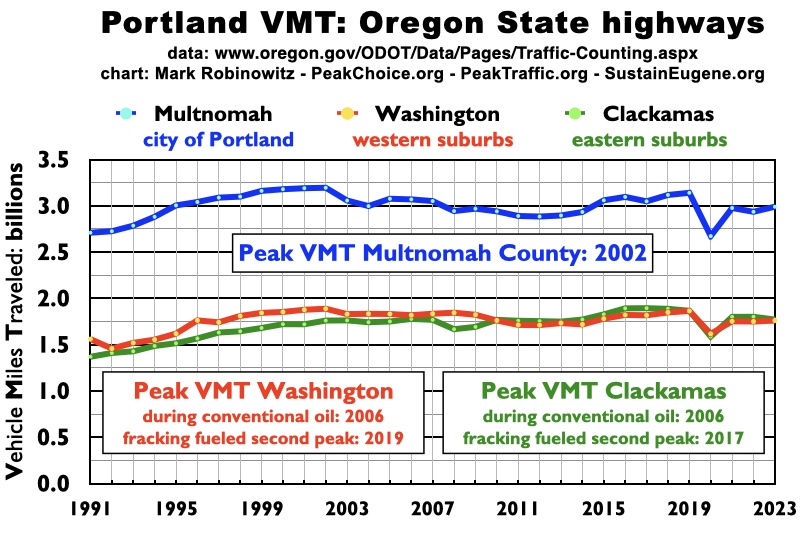 Portland's Dead Highways: Mt. Hood Freeway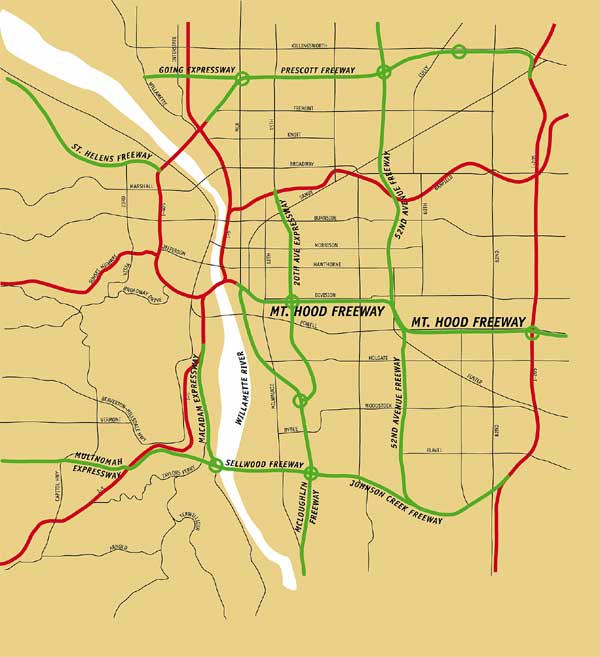 Mt. Hood Parkway was a proposed connection between I-84 and US 26. The Sunrise Freeway is a proposed expressway from Clackamas (I-205) to Boring (US 26) outside the Portland UGB (it is still being pushed as a core part of the recent UGB expansion around Damascus). The Western Bypass would have run from I-5 south of I-205 to the Columbia River, where it would have connected to I-5 north of Vancouver, WA. These roads would have been parts of a de facto Portland Outer Beltway.
This map from the Portland Planning Division's 1966 development plan illustrates Robert Moses' vision for a city girdled by freeways. Red indicates existing freeways; green indicates freeways that were never built.
"Oregon's rapid population and economic growth between 1985 and 2000 led to proposals for new freeways to meet traffic demands and reduce congestion. Proposed projects included the Mount Hood Parkway, the Sunrise Corridor and the Western Bypass in the Portland area and the West Eugene Parkway in Eugene. For a variety of reasons including funding constraints, environmental concerns and citizen opposition, none of the projects was constructed."
– Atlas of Oregon, p. 104
Myth: Oregon's planning laws hinder development of highways and other large public facilities.
Reality: From 1979 to 1988, Oregon's Highway Division successfully completed 146 major transportation projects. Since Oregon's planning program began (in 1973), only two large project proposals have failed: the Mt. Hood Freeway (east of Portland) and the Roosevelt Freeway (in Eugene). A 1988 study by a multi-agency committee found "the overall record of siting public facilities in Oregon to be good – probably much better than that found in other states."
www.uoregon.edu/~pppm/landuse/myths.html
Department of Land Conservation and Development DLCD, 1992
1969 Portland transportation plan (for completion by 1990)
copied from http://bickenland.lonaf.com/Maps/PVMATS.htm - which has descriptions of each of these proposed highways, built, unbuilt and partly built.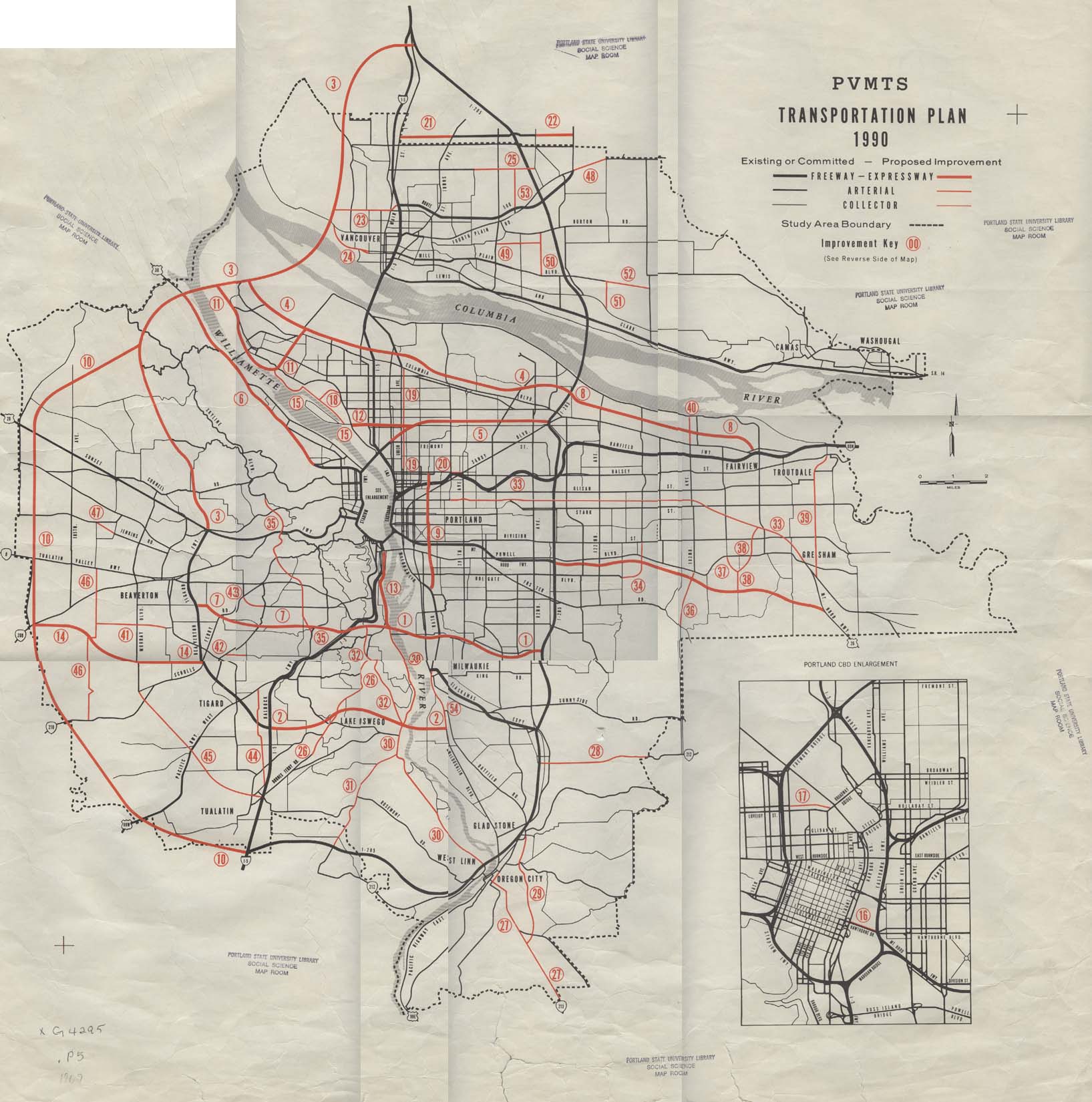 1978 map of planned Mount Hood Parkway

ftp://ftp.odot.state.or.us/techserv/Geo-Environmental/Environmental/Other%20Enviromental%20Materials/
OTIA%20III%20Environmental%20Program/Historic%20Context%20Studies/
Oregon%20Interstate%20Highway%20Overview%202004.pdf
THE INTERSTATE HIGHWAY SYSTEM IN OREGON A HISTORIC OVERVIEW
Prepared for the Oregon Department of Transportation Salem, Oregon
Prepared by George Kramer, M.S., HP Senior Preservation Specialist Heritage Research Associates, Inc. Eugene, Oregon
May 2004
Good summary of highway expansion in Oregon. The sections about freeway fights in Portland seems to be accurate although it claims there were not similar efforts to stop roads in Eugene. Perhaps ODOT has lost the records and institutional memory about the 1960s efforts that kept I-105 from slicing through south Eugene.
This map of Mt. Hood Freeway alternatives is from this ODOT report.

www.portlandtribune.com/archview.cgi?id=30283
Thank you, neighborhood activists
People can drive past on Division or Clinton streets every day and never know it's there. Indeed, it wouldn't be there at all, if supporters of the Mount Hood Freeway had had their way.
The diminutive Piccolo Park (Southeast 28th Avenue between Division and Clinton streets, 503-823-7529) cuts a grassy swath through a residential block. The land was acquired by the state in the 1970s for a freeway, which would have roared through this historic neighborhood, but the freeway planning faltered and in 1989 the parcel was turned into a charming city park.
Piccolo means "small" in Italian, and Piccolo is a kid-size park, with plenty of slides, swings, bridges and other things to climb on and race around.
— AMD
www.wweek.com/story.php?story=6110
30TH ANNIVERSARY ISSUE
HIGHWAY TO HELL
3/9/2005
Nothing shaped Portland so much as the murder of the Mount Hood Freeway.
www.kurumi.com/roads/3di/i505.html
I-505 (cancelled) Oregon
Unbuilt 1.44-mile Portland spur [1]; I-505 would have followed US 30 (Yeon Ave). northwest out of Portland. Plans for this freeway were withdrawn in the late 1970s, culminating with an approval by President Jimmy Carter to cancel it on Dec. 14, 1979. [11]
The money was used for other construction projects in the Portland area, including an alternate design for I-505. (The source doesn't elaborate on this.) [11]
Part of the proposed route appears on a 1979 Gousha Portland city map. I-505 would have ended at I-405 at the Exit 3 ramps.
A 1970 proposal estimated the road at 0.7 miles and $3 million. [8] A 1972 report has this summary:
The statement concerns the proposed construction of an urban freeway (Interstate 505) extending from a junction with Interstate 405 westerly to a junction with St. Helens Road (US 30) in Northwest Portland, Multnomah County, Oregon.
The adverse environmental impacts include a general increase in land values in Northwest Portland, the relocation of individuals and commercial/industrial entities, changes in location and degree of noise levels, increased traffic density within the freeway corridor.
1. Route Log and Finder List - Interstate Highways, USDOT, 1978
2. Route Log and Finder List - Interstate Highways, FHWA, Oct. 31, 2002.
7. Summers, Stephen. "Interstate system route numbering." http://www.nwindianahwys.homestead.com/INTER_MAIN.HTML. (29 May 2003)
8. Congressional Hearings, Federal Aid Highway Act of 1970.
11. Oregon Department of Transportation. "A chronological history of ODOT: 1899 to 1993." http://www.odot.state.or.us/ssbpublic/bss/rmds/history/~chron.htm (12 March 2004)