Ohio
Trillion Dollar Highway Plans
= Multiple Bypass Surgery
a state by state list
High Priority Corridors
specified by Congress in 1991, 1995, 1998, 2005, 2012
NAFTA Superhighways
Corridors of the Future
J. Edgar Hoover Parkway: transportation surveillance,
mileage taxes, RFID & video tolling
Paving Appalachia:
Corridor A to X in AL, GA, MD, MS, NC, NY, OH, PA, SC, TN, VA, WV
Alabama
Nebraska
Alaska
Nevada
Arizona
New Hampshire
Arkansas
New Jersey
California
New Mexico
Colorado
New York
Connecticut
North Carolina
Delaware
North Dakota
Florida
Ohio
Georgia
Oklahoma
Hawai'i
Oregon
Idaho
Pennsylvania
Illinois
Rhode Island
Indiana
South Carolina
Iowa
South Dakota
Kansas
Tennessee
Kentucky
Texas
Louisiana
Utah
Maine
Vermont
Maryland
Virginia
Massachusetts
Washington
Michigan
Washington, D.C.
Minnesota
West Virginia
Mississippi
Wisconsin
Missouri
Wyoming
Montana
High Priority Corridor 4: Hoosier Heartland Industrial Corridor
Expressway upgrade of Routes 24 and 25 from Lafayette, IN to Toledo, OH. The Fort Wayne to Toledo segment was built to interstate highway design but is not planned to get an Interstate number.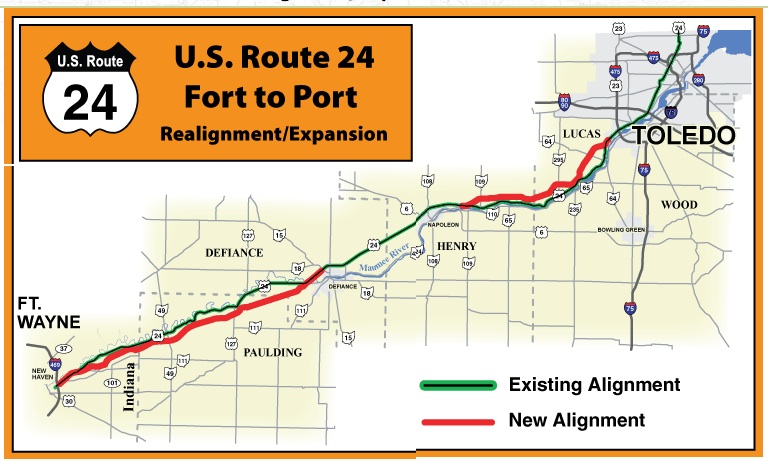 www.dot.state.oh.us/projects/us24/Pages/default.aspx
Construction of the new alignment, from Napoleon to Toledo began in 2008 and is now complete. The U.S. Route 24, from Fort Wayne, Indiana to Toledo is open in both directions.
High Priority Corridor 5: I-73/74 North-South Corridor
I-73, I-74, routes 27, 127, 223, 23, 52, 220, 501
In the States of West Virginia, Kentucky, and Ohio, the Corridor shall generally follow--

United States Route 460 from the West Virginia State line to United States Route 52 at Bluefield, West Virginia; and
United States Route 52 to United States Route 23 at Portsmouth, Ohio.
High Priority Corridor 76: Interstate Route 75
I-75 from Toledo to Cincinnati
High Priority Corridor 77: US 24
Route 24 from State Line to Toledo (part of Corridor 4)
High Priority Corridor 78: Interstate Route 71
I-71 from Cincinnati to Cleveland
---
http://ohio.sierraclub.org/issues/transportation/reports/worstproposals.htm
Leading to Destruction: Ohio's Worst Proposed Highways
April 10, 2001
www.clevelandmemory.org/freeways/index.html
Cleveland's Forgotten Freeways
http://web.archive.org/web/20101122023719/
http://ecocitycleveland.org/pdf_files/ohio_nepa_final_report.pdf
no longer on the "ecocitycleveland" site nor on the elpc.org site
"Breaking the Heart of it All: How ODOT Subverts the NEPA Environmental Review Process and Damages Ohio's Environment and Communities" October 2002
SUMMARY OF REPORT

During the next decade, the Ohio Department of Transportation (ODOT) is planning to complete more than 650 miles of new and expanded interstate and rural highway construction at a cost of at least $4.5 billion. The figure below illustrates the major road corridors that ODOT has targeted for expansion in the agency's Access Ohio plan, primarily through construction of four- and six-lane highways.

In this report, the Environmental Law & Policy Center (ELPC) explains ODOT's pervasive pattern of segmentation of major road construction projects. The report includes five case studies where ODOT has avoided serious environmental review for major highway corridors, including U.S. 30 across most of the State, and interstates and other highways connecting the State's major metropolitan areas. In every case ODOT has segmented lengthy highway projects into smaller pieces, thereby more easily justifying decisions — approved by Federal authorities — not to perform the detailed environmental review otherwise required by NEPA.

The five road projects discussed in this report include:

1. U.S. Route 30 across Ohio (page 7 of this report). ODOT already has constructed substantial portions of this high- way without performing detailed environmental reviews, and ODOT is planning to construct seven additional seg- ments of four-lane highways along the corridor without performing any detailed corridor-level environmental review.

2. Interstate 71 between Cleveland and Columbus (page 8 of this report). ODOT is planning to expand more than 75 miles of this major north-south highway to three lanes in each direction without performing any review of the sprawl- inducing consequences of increasing the highway's capac- ity by 30 percent. ODOT segmented this project into four pieces, thereby allowing ODOT to evade a detailed regional review of the environmental impacts of the expansion.

3. U.S. Route 24 in Northwestern Ohio (page 9 of this report). By dividing the so-called "Fort to Port" highway project into three pieces, ODOT avoided a systemic evaluation of the regional environmental and transportation impacts of the costly expansion project.

4. U.S. Route 33 Southeast of Columbus (page 10 of this report). ODOT's segmentation of this highway project into at least four segments means that ODOT will never sys- tematically evaluate the regional environmental and economic impacts of the expanded highway corridor.

5. State Routes 161, 37 and 16 from New Albany to Muskingum County (page 11 of this report). ODOT is expanding this regional corridor in at least four segments, including one absurdly short one-mile long segment, and because of a fragmented planning process ODOT has not analyzed alternatives to the road expansion or examined the environmental consequences in a full review.
---
Cincinnati
Ronald Reagan cross county expressway - recently built in Cincinnati
an Outer Beltway around Cinnicinnati has been considered for decades
Highway 129 north of Cincinnati is sort of an Outer Beltway arc. There does not seem to be any "reserved right of way" for extending it much further, especially to its east.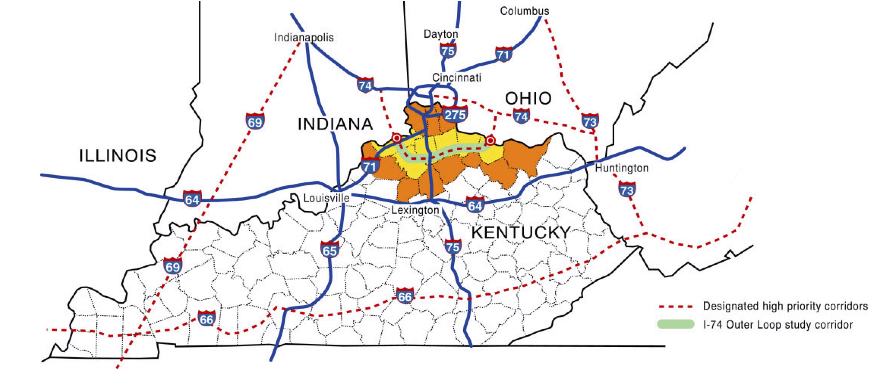 CONCEPTUAL FEASIBILITY OF NORTHERN KENTUCKY OUTER LOOP (I-74)
FINAL REPORT
Prepared For
Kentucky Transportation Cabinet
by American Consulting Engineers
March 2003
---
Eastern Corridor Project - Cinncinnati eastern suburbs (connects to Appalachian Corridor D)
official site: www.easterncorridor.org
The Eastern Corridor Program is divided into four core projects. ...
Red Bank Corridor Project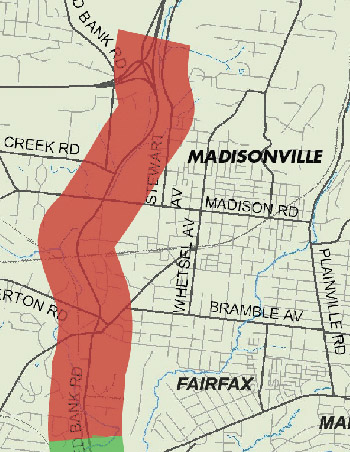 State Route 32 (SR 32) Relocation Project [the bulk of the project, shown below in yellow with different potential routes]
The proposed SR 32 Relocation project is intended to address these issues and provide direct, multi-modal access to US 50, the Red Bank corridor and I-71.
PROJECT ELEMENTS
The SR 32 Relocation project will:
• Expand capacity and consolidate access points on SR 32
• Improve safety and decrease travel time
• Implement roadway network improvements to improve mobility
• Incorporate accommodations for new rail transit, expanded bus service, bicyclists and pedestrians
• Shift the western end of SR 32, which currently intersects with Beechmont Avenue, north to create a new link between SR 32, US 50 (Columbia Parkway) and the Red Bank Road business corridor
• Construct a new, multi-modal clear-span bridge across the Little Miami River to connect SR 32, US 50 and Red Bank Road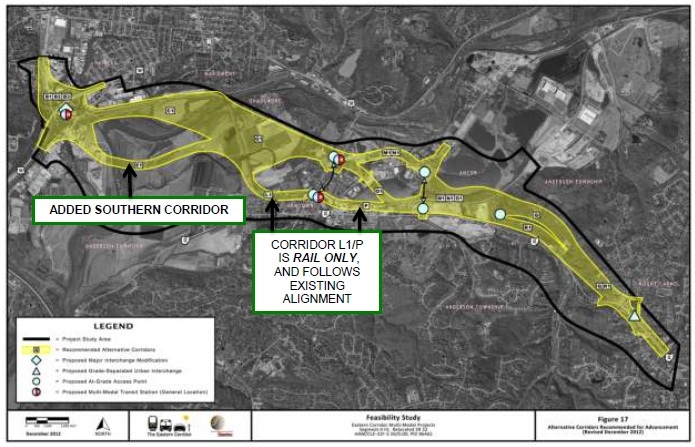 State Route 32 (SR 32) Improvements, Eastgate Area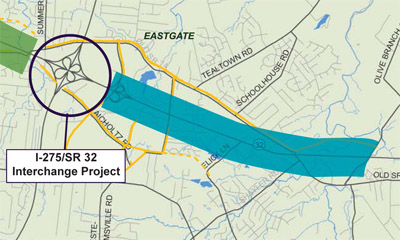 In the Eastgate area, SR 32 is a key connector between businesses, shopping and residential neighborhoods. However, high levels of congestion and frequent accidents hamper travel on this section of SR 32. The SR 32 Improvements, Eastgate Area project focuses on the length of SR 32 that extends between Eastgate Boulevard and Olive Branch-Stonelick Road.
Project goals are to better serve current and projected travel demand, ease congestion, reduce travel delays and improve motorist safety.
PROJECT ELEMENTS
The SR 32 Improvements, Eastgate Area project would:
• Expand capacity
• Consolidate entrance and exit points to SR 32
• Construct a bridge over SR 32 at Glen Este Withamsville Road
Oasis Rail Transit
The proposed Oasis Rail Transit is a regional rail line designed to transport residents, workers and visitors between downtown Cincinnati and the City of Milford, and the communities that lie in between. The rail corridor extends 17 miles between downtown's Riverfront Transit Center and I-275 in Milford. The line would serve communities throughout the Eastern Corridor and stations have been proposed for 10 possible locations.
The rail line is divided into four segments and would run on tracks that follow a combination of new and existing rail alignments:
• Segment 1: Riverfront Transit Center to the Boathouse (1 mile)
• Segment 2: Boathouse to US 50 in Fairfax (7 miles)
• Segment 3:* US 50 in Fairfax to Ancor area, slightly northeast of Newtown (4 miles)
• Segment 4: Ancor area to Milford (5 miles)
* Segment 3 will run in conjunction with relocated portions of SR 32 and across the Little Miami River.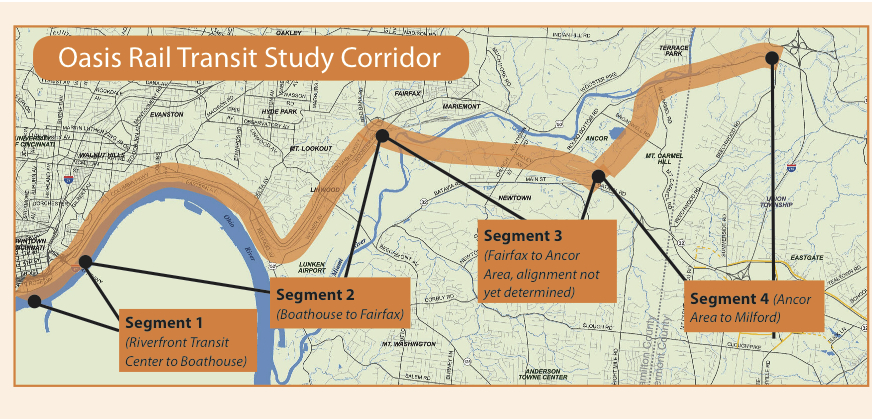 from: Smart Choices, Less Traffic: The 50 Best and Worst Transportation Projects In the United States, Sierra Club Beyond Oil Campaign, November 2012
http://content.sierraclub.org/beyondoil/content/smart-choices-less-traffic
The Eastern Corridor Highway in Cincinnati, Ohio was first proposed in 1999 when the price of gas was $1.14. The project is currently under study, with plans to convert a road into a 10-mile, four- to six-lane expressway. The Highway poses a significant threat to the scenic Little Miami River. The route parallels the river and plans to cross it in an ecologically threatened area, where numerous rare, threatened and endangered species live. Furthermore, the highway will slice the historic village of Newtown in half, which would disrupt the community and its tax base, adding traffic and pollution. The village's mayor has been an outspoken critic of the project. The Cincinnati highway project is expected to cost upwards of a billion dollars.
Columbus
Toledo