Georgia
Trillion Dollar Highway Plans
= Multiple Bypass Surgery
a state by state list
High Priority Corridors
specified by Congress in 1991, 1995, 1998, 2005, 2012
NAFTA Superhighways
Corridors of the Future
J. Edgar Hoover Parkway: transportation surveillance,
mileage taxes, RFID & video tolling
Paving Appalachia:
Corridor A to X in AL, GA, MD, MS, NC, NY, OH, PA, SC, TN, VA, WV
Alabama
Nebraska
Alaska
Nevada
Arizona
New Hampshire
Arkansas
New Jersey
California
New Mexico
Colorado
New York
Connecticut
North Carolina
Delaware
North Dakota
Florida
Ohio
Georgia
Oklahoma
Hawai'i
Oregon
Idaho
Pennsylvania
Illinois
Rhode Island
Indiana
South Carolina
Iowa
South Dakota
Kansas
Tennessee
Kentucky
Texas
Louisiana
Utah
Maine
Vermont
Maryland
Virginia
Massachusetts
Washington
Michigan
Washington, D.C.
Minnesota
West Virginia
Mississippi
Wisconsin
Missouri
Wyoming
Montana
High Priority Corridor 6: United States Route 80 Corridor
Proposed I-14, proposed I-85, US 80
Meridian, Mississippi, to Savannah, Georgia.
Part would be the "Fall Line Freeway" in central Georgia.
High Priority Corridor 7: East-West Corridor
Route 72, I-565, Georgia 20, Route 411 to I-75
Memphis, Huntsville, Atlanta, Chattanooga
part of this is on Appalachian Corridor V
High Priority Corridor 62: Georgia Developmental Highway System Corridors
The Georgia Developmental Highway System Corridors identified in section 32-4-22 of the Official Code of Georgia, Annotated.

Georgia 515, U.S. 82, U.S. 319, U.S. 341, Fall Line Freeway, Georgia 72, Savannah River Parkway (U.S. 25, Georgia 21), U.S. 19, U.S. 1, Georgia 17, U.S. 27, U.S. 441, U.S. 84, Georgia 133, U.S. 280, East-West Highway (U.S. 76), Georgia 40, Georgia 32, Georgia 125, Georgia 15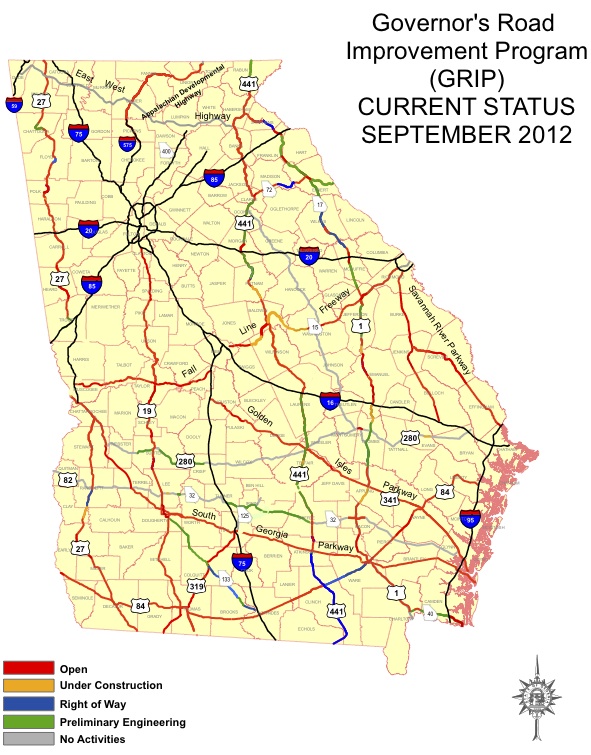 www.dot.ga.gov/informationcenter/programs/roadimprovement/GRIP/Pages/default.aspx
Governor's Road Improvement Program
GRIP corridors, from GDOT fact sheets, September 2012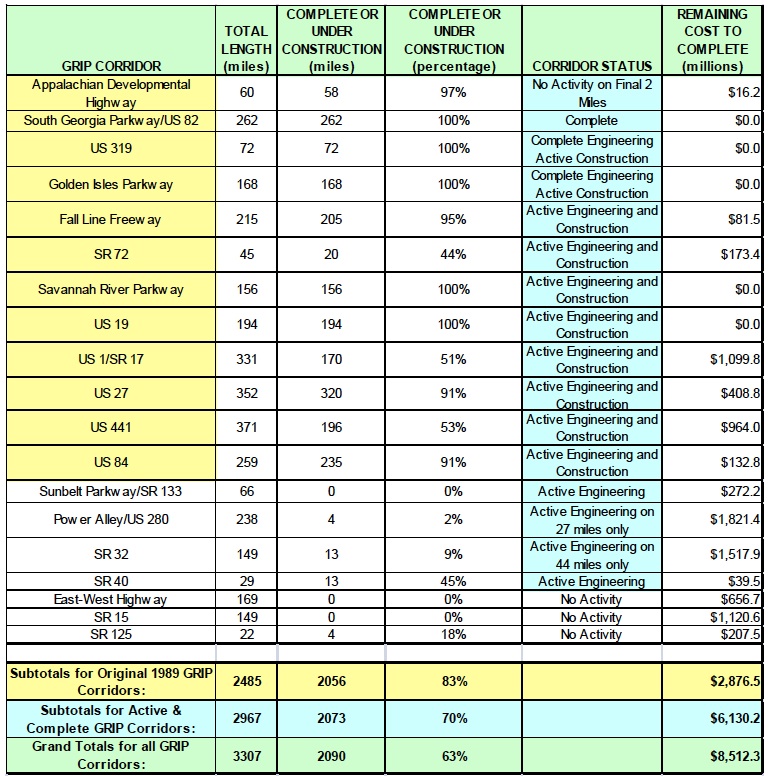 ---
Outer Perimeter (canceled, a northern arc of it is still possible)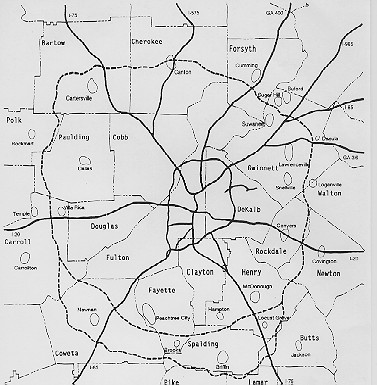 Atlanta Perimeter planned to get massive widening on the north (white) side of town
Atlanta
I-485 and Stone Mountain tollway (stopped)
www.ourgeorgiahistory.com/year/1975
April 18, 1975
Both the plans for I-485 and the Stone Mountain Tollway are officially discontinued by the Georgia Department of Transportation

www.atlantamagazine.com/article.php?id=83
Road Rage
If you enjoy the parks and green spaces of intown Atlanta, thank the residents who banded together to fight highway construction.
By PATRICIA SPRINKLE

www.candlerpark.org/cpnews/cpnews.html
Candler Park Neighborhood Organization (CPNO)
The Candler Park Neighborhood Organization (CPNO) is one of the most active neighborhood groups in Atlanta. It is committed to preserving the open, inclusive nature of the neighborhood --a place where a diverse population of mixed races and income levels live together in harmony. We wish to maintain and enhance the Candler Park neighborhood as a residential community.
The organization is made up of individuals who are interested in improving living conditions and the quality of neighborhood life. The people unite around common goals and problems. Our fight to stop the Stone Mountain Tollway, because of the harm it would have done the residential character of our neighborhood, exemplifies the spirit. We worked closely with the city in planning renovations for Candler Park. We worked to make sure the local MARTA station is an asset to our community. CPNO provides a means for neighborhood residents to get involved in decisions that affect their lives, thus realizing the ideal of democratic self-government.

www.southeastroads.com/ga-010.html
Georgia 10 (Planned Interstate 485)
Georgia 10 is a remnant of a grand proposal to construct an east-west freeway, named Interstate 485, between Interstate 75-85 in downtown Atlanta east to join Interstate 285 (beltway) at Exits 39A-B in Clarkston. This route was never built, but two segments remain from the original freeway proposal: the Georgia 10 boulevard east of Interstate 75-85 and the U.S. 78 Stone Mountain Freeway in Clarkston.
The Georgia 10 segment was initially constructed in the 1960s and was to be designated as Interstate 485/Georgia 410 (most Interstates in Georgia have a Georgia 4xx hidden designation). As the freeway construction marched eastward, communities rose in protest to this new corridor cutting through their neighborhoods. The protest reached a fever pitch when construction began during Governor Jimmy Carter's tenure in Georgia. Governor Carter let a construction contract to extend Georgia 410/Interstate 485 east; however, residents protested by chaining themselves to construction equipment associated with the roadwork. This protest resulted in the end of the freeway construction, and Interstate 485 was scuttled.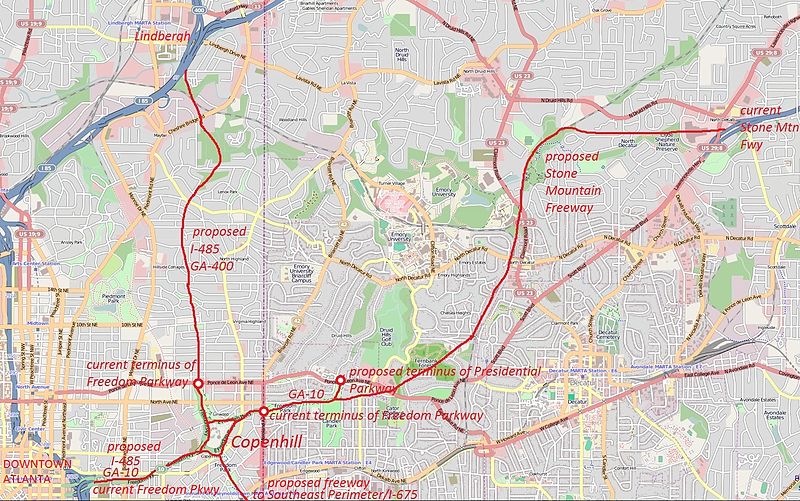 source: http://en.wikipedia.org/wiki/File:Proposed_freeways_in_intown_Atlanta.jpg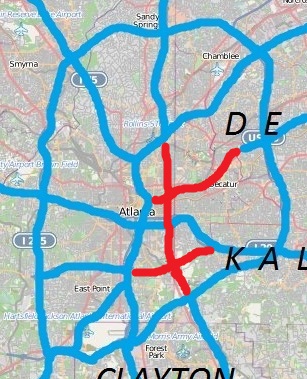 source: http://en.wikipedia.org/wiki/File:Unbuilt_freeways_in_atlanta.jpg
1970 highway department map showing I-485 and Stone Mountain Freeway through east Atlanta
---
Georgia 400 (built through north Atlanta, lawsuit unsuccessful)
---
www.dot.ga.gov/informationcenter/programs/studies/i75study/Pages/I75North.aspx
I-75 North (Atlanta to Chattanooga)
Georgia DOT Office of Planning has initiated the I-75 North (Atlanta to Chattanooga) Corridor Study to develop a Strategic Improvement Plan along the I-75 corridor from north of Barrett Parkway in Kennesaw, Georgia to I-24 near Chattanooga, Tennessee.
www.dot.ga.gov/informationcenter/programs/studies/i75study/Pages/I75South.aspx
I-75 South (Atlanta to Macon)
---
www.dot.ga.gov/informationcenter/programs/studies/atlantaathens/Pages/default.aspx
Atlanta-Athens Connectivity and Mobility Study
The Georgia DOT Office of Planning is conducting a study to evaluate and improve the transportation system in the Atlanta-Athens corridor, which encompasses portions of DeKalb, Gwinnett, Barrow, Walton, Oconee, Rockdale, Clarke, and Jackson Counties. GDOT will take a comprehensive look at the entire Atlanta-Athens Corridor, particularly focusing on travel patterns between these two metro areas, as well as various activity centers in between.
---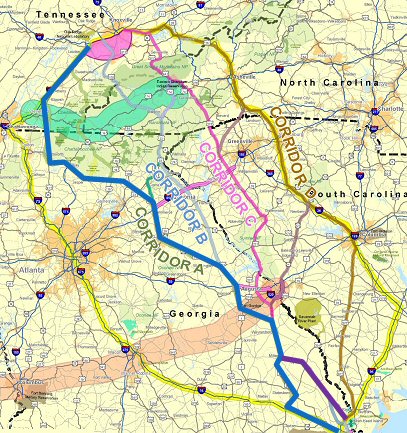 Georgia / North Carolina / Tennessee - I-3
www.wayssouth.org/2012/03/a-brief-history-of-the-stop-i-3-effort/

A Brief History of the Stop I-3 Effort

www.wayssouth.org/2012/03/i-3-plans-stopped-in-their-tracks/

I-3 Plans Stopped In Their Tracks
Posted by WaysSouth on March 19, 2012 with 2 Comments
After seven years, the legislatively required feasibility study of I-3 is completed, has been presented to Congress, and is now available for all to read at this link.
The study finds "fatal flaws" in all of the potential routes through the Southern Appalachians and eliminates all routes as infeasible except for one. That route travels west of Augusta, east of Athens and Gainesville, to Dahlonega and from there into Tennessee. Estimated costs range from $701 million to connect highways with basic two lane roads, to $4.845 billion for an interstate level highway on this route.
The study acknowledges the strong public opposition to building an additional major highway through the Southern Appalachians. Ways South supporters can be proud of their success in stopping this bad idea.

www.stopi-3.org/research/nuccon.html

However, a glance at the map of the proposed route shows that I-3 would go right by the massive Savannah river Site (SRS) nuclear complex in South Carolina across from Augusta, Georgia and would terminate, not in Knoxville itself, but at the recently completed I-140 spur running from Maryville-Alcoa to the nuclear facilities at Oak Ridge, Tennessee.

While rarely mentioned by I-3 proponents, it is likely that this nuclear connection is a key reason why this interstate project is being proposed. The nuclear weapons complex, composed of widely dispersed sites throughout the West and the Southeast, has for years depended on transporting dangerous radioactive materials, including plutonium and tritium, on our highways. The new nuclear weapons complex being planned will have production facilities concentrated at Oak Ridge, TN, Watts Bar, TN, Savannah River Site, SC, and the Pantex facility in Amarillo, Texas.

Currently there is a large amount of nuclear material shipped between Oak Ridge and the Savannah River Site (see www.nirs.org/factsheets/ashevillenuclearcrossroads2004.pdf). And the nuclear power industry, having no solution to the problem of providing safe long-term storage for reactor wastes, seems to just want to move them around.

Problems with the dump which has been proposed for Yucca Mountain, Nevada, mean that the Savannah River Site may also soon be on the receiving end of large amounts of radioactive waste. The guidelines for routing I-3 as proposed by Rep. Charlie Norwood call for the new interstate to run as "a direct, Savannah to Knoxville Interstate. That's not Statesboro to Anderson, or Savannah to Gainesville - but Savannah, Augusta, and Knoxville tied together in as straight a line as practical." That is to the west side of Knoxville (i.e. Oak Ridge). Isn't it obvious that Interstate 3 would be a very busy radioactive highway?
from: Smart Choices, Less Traffic: The 50 Best and Worst Transportation Projects In the United States, Sierra Club Beyond Oil Campaign, November 2012
http://content.sierraclub.org/beyondoil/content/smart-choices-less-traffic
Interstate 3 is a proposed highway linking Savannah, GA and Knoxville TN. The highway was originally proposed in 2004. I-3 would traverse mountains in Georgia, North Carolina, and Tennessee, threatening four National Forests and the Great Smoky Mountains National Park. The route would cut through the heart of the wild country near Brasstown Bald, Georgia's highest peak. The pristine Upper Chattahoochee River would be subjected to increased pollution from highway runoff as would the whole Chattahoochee National Park. The proposed I-3 is a great example of superfluous highway-building: a shorter interstate highway route from Savannah to Knoxville already exists. Despite opposition by local groups, including Sierra Club Chapters in three states, the planning committee completed a study of proposed routes in late 2011.
Foothill Freeway - Columbus, Macon, Augusta - part might be future I-14